Despite concerted efforts toward evidence-based and quantified conservation, understanding the effects and the effectiveness of conservation interventions lags far behind most other policy fields, such as poverty reduction or educational enrollment (Ferraro and Pattanayak 2006).
For example, one of the primary tools of maintaining the diversity of life on Earth has been the establishment of legally protected areas. But conservation is still lacking quantifiable answers to important questions about their true effectiveness: Do protected areas conserve species, habitats, and other forms of biodiversity? Do protected areas protect the health, opportunities, and income of local people?
Until now, the tools needed to answer those separate, but related questions have been in two distinct silos – conservation and natural science on one side, and economic and social science on other. But now, for the first time, scientists can track the effects of designating protected areas on the outcome of additional forest area, what those trees mean in terms of carbon storage, what that carbon represents in terms of a global good of climate-change mitigation and in terms of a local good of alleviating poverty in communities.
Co-led by environmental economists Paul Ferraro and Merlin Hanauer, the study, "Estimating the impacts of conservation on ecosystem services and poverty by integrating modeling and evaluation," published earlier this year in the Proceedings of the National Academy of Sciences examined the effects of protected-area networks on carbon storage in forests of the Brazilian Amazon, Costa Rica, Indonesia, and North and Northeastern Thailand.
A Focus on Forests
The study, which I contributed to as an author, focused on forests because they store 70-80 percent of total land-based carbon, and because notable advances have been made in measuring and monitoring carbon storage and carbon emissions from forests (e.g., Baccini et al. 2012). We chose those four countries because Brazil and Indonesia contain 35 percent of the total carbon stored in tropical forests and have the highest rates of carbon emissions from forest loss, and because we could credibly estimate the effects of protected areas on both carbon and poverty in neighboring communities in those countries.
The clear problem statement: "to what extent have a) carbon sources and sinks, and b) local livelihoods been affected by the environmental policy of protecting land?" enabled us to focus our efforts to break down the silos between the separate measures toolkits of conservation and the social sciences (education, policy or economics).
We found that the protected forests we studied stored 1000 Mt (megatons, one million metric tons) of CO2 more than they would have stored had they not been protected, carbon worth up to $5 billion USD*. The effect of protected areas was economically and statistically significant in all four countries.
What was the effect on poverty? On average, protected areas reduced poverty. Yet the analysis also highlighted tradeoffs, in that areas where the most additional carbon was stored were not necessarily the areas where poverty was reduced the most. We created a way of visualizing these trade-offs, highlighting areas that provided win-win solutions.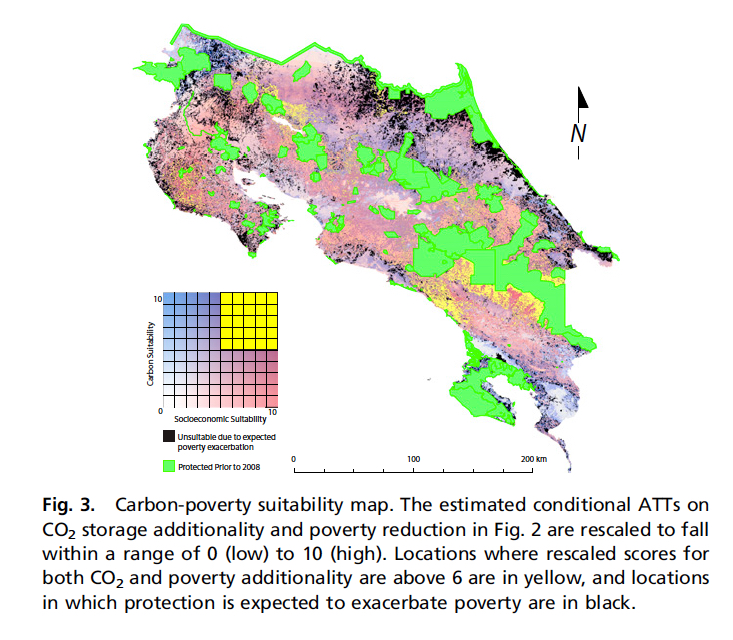 Having examined what protected areas have done over the course of decades – what happened – we can infer from those results where to put protected areas in the future. In this case, using the tradeoff map we created, we can answer the question: where are the optimal locations for protected areas to store carbon and promote livelihoods at the same time?
What Does this Mean for Quantifying the Effectiveness of Conservation?
The short answer: it means we have to continue to breakdown the silos between the natural sciences and the social sciences and the way each specialty quantifies their findings.
The toolkit from social sciences "Impact Evaluation" tracks the impact of a policy or program to its outcome. This empirical outcome is measured and compared to an estimate of what would have happened had a given program not been instated. The toolkit from natural sciences focuses on "Ecosystem Services," the benefits we receive from nature, and is generally measured by mapping and modeling biophysical supplies of goods or services and their value(s).
Within ecosystem services, it's helpful to distinguish among the structure and function of ecological systems (the supply), the service actually used or enjoyed by people (the service), and the change in people's well-being that results (the benefit) (Tallis et al. 2012).
The problem is that social scientists have the best suite of theory and tools to demonstrate the impacts of policies – but their outcomes tend to be stated in the form of, for example, avoided deforestation or avoided fire-ignition, either a supply or human behavior that is not yet a supply – and natural sciences have the best suite of theory and tools to map where nature's benefits are used by people and the change in people's well-being, but don't know the why or how of policies that would maintain those services.
Clearly, we need both sides to make effective connections and decisions about conservation and human well-being.
In addition to showing the value of connecting the tool kits, this study means we can use the results as an example to create other causal chains from conservation policies to ecosystem services to human well-being: change the conservation program of interest, change the ecosystem services of interest, or the outcomes for people's health or livelihoods.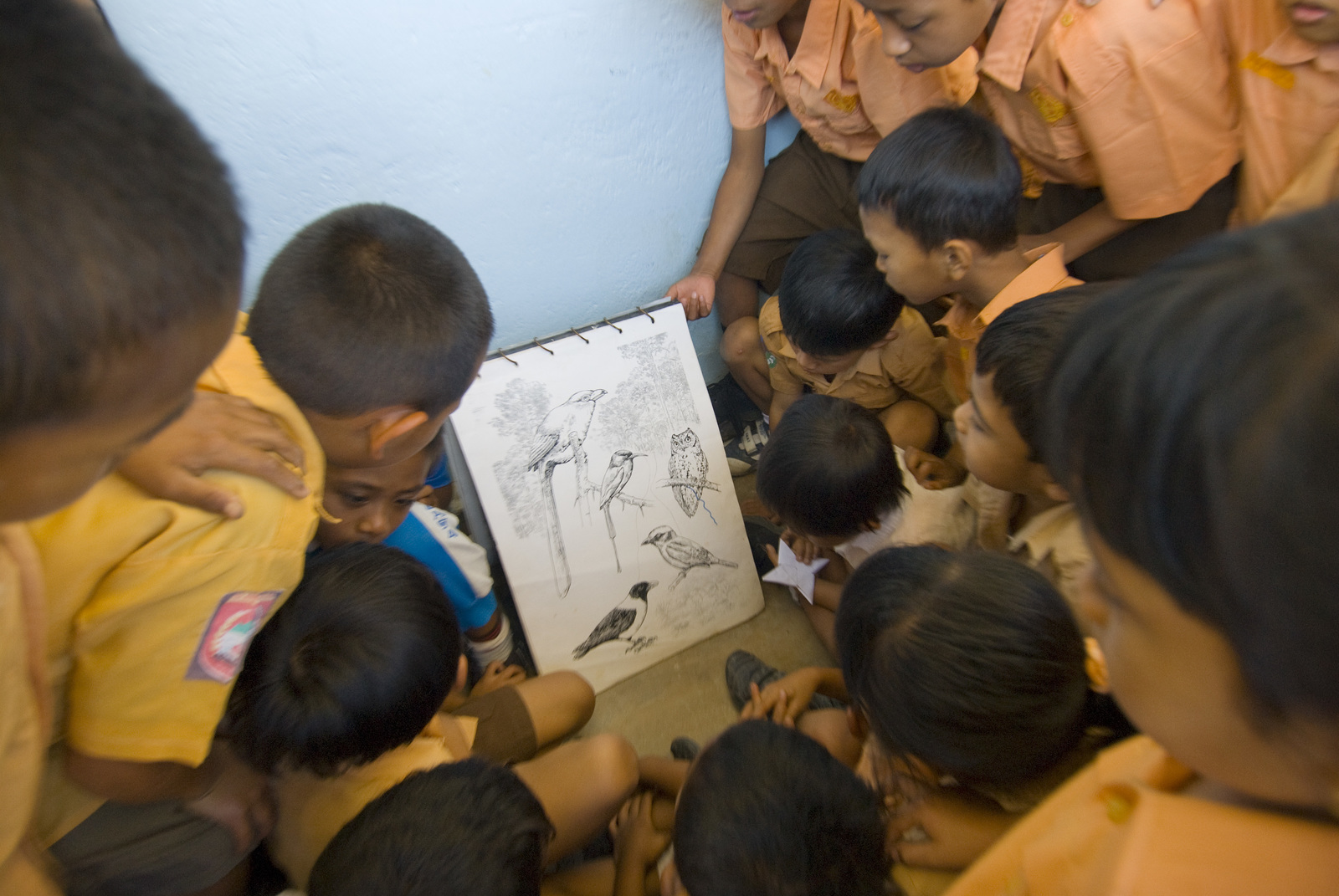 What else do forests mean? Instead of just looking at the value of forests for carbon storage, we could consider their values to clean water, free time, and education.
Why can't we do this right now? Just plug and play and get the answers? The missing piece is, of course, data.
A New Frontier for Science
Our research evaluated protected areas that were created decades ago, with remotely sensed data of forest cover and formal boundaries. We had large sample sizes on the order of thousands of points – within protected- and matched areas – that gave us robust statistical power.
When we anticipate or imagine new policies and institutions, we may need to call on impact-evaluation methods that address the challenge of data scarcity (e.g., McConnachie et al. 2015). If we want to look at ecosystem services with more complexity or spatial interactions – such as water-related services in water funds or pollination services, we're at a new frontier.
Our team acknowledges this new frontier and envisions it sparking a new research-and-practice agenda. The way forward involves stitching more pieces together, filling more gaps, creating more maps. We propose improving conservation planning by (i) studying impacts on other ecosystem services, (ii) uncovering the mechanisms through which conservation programs affect human welfare, and (iii) more comprehensively comparing costs and benefits of conservation impacts.
*The "social cost of carbon" provides an estimate of the monetized damages from an incremental increase in carbon emissions in a given year. To be conservative, we used a value of $5/ton of CO2, similar to payments in current REDD+ arrangements. To address the claim that the SCC should be much higher, we also presented results using $100/ton.
Joanna Nelson, Ph.D., was in the first cohort of our Conservancy NatureNet Science Fellows, at Stanford University. A pursuit of The Nature Conservancy and leading research universities, the NatureNet Science Fellows program is a trans-disciplinary postdoctoral fellowship aimed at bridging academic excellence and conservation practice to confront climate change and create a new generation of conservation leaders who marry the rigor of academic science and analysis to real-world application in the field. 
Joanna is currently Lead Scientist and Senior Ecologist with an ecologically-based, native-habitat restoration firm in the Central Coast of California. She draws on her Conservancy work with water funds to investigate the benefits of sustainable land management for clean, consistent water supplies; carbon storage; biodiversity, and improved human well-being.