You have seen the news. It is an El Niño year, and heat maps of the equatorial Pacific are red-hot with high ocean temperatures. For California, and especially for southern California, this means that there is a high likelihood of our receiving more than the average amount of precipitation this winter.
Since 1950, there have been 12 weak, 6 moderate, 3 strong, and 2 very strong El Niño years; 2015 is shaping up to be our third very strong El Niño year.
El Niño years are the stuff of legend in southern California: storms associated with the El Niño conditions flood streets and sweep cars off the road, necessitating valiant rescues by helicopter; they liquefy drought-stricken hillsides, triggering mudslides that crush homes and kill people; and they swell floodwaters until rivers jump their banks and tear out infrastructure and vegetation as former floodplains are scoured clean. All this occurs within weeks of our wondering if the drought would be our undoing, and if it would ever rain in California again.
Some compare our on-again, off-again rainfall to trench warfare: months of boredom punctuated by moments of extreme terror. But as compellingly dramatic as El Niño years have been in the past (just try not to picture Chris Farley in his wrestling garb announcing, "El Niño is Spanish for…the Niño!"), there are conservation questions here too—questions that El Niño's extreme rain events can help us to answer. One of these has to do with the resilience of urban habitats.
While parks and open space in cities are sometimes the result of painstaking planning, in many cases, important habitat within cities arises in an impromptu manner—the Los Angeles River bottom, for example. Once alluvial in nature, the river historically ran freely across the Los Angeles Basin. It carved numerous channels through this floodplain, and its path was unstable and unpredictable. The mouth of the river naturally moved from the Long Beach area to Ballona Creek at various times in history, and much of the channel had extremely low flow except during large winter rainfall events.
The city of Los Angeles grew around the river over time, and catastrophic flooding of homes and businesses occurred in 1914, 1934, and again in 1938, leading the Army Corps of Engineers to attempt to set the Los Angeles River on a fixed course and line the river bed and banks in concrete. Only a few areas remain where the river has non-concretized surfaces, including a stretch east of Griffith Park known as the Glendale Narrows.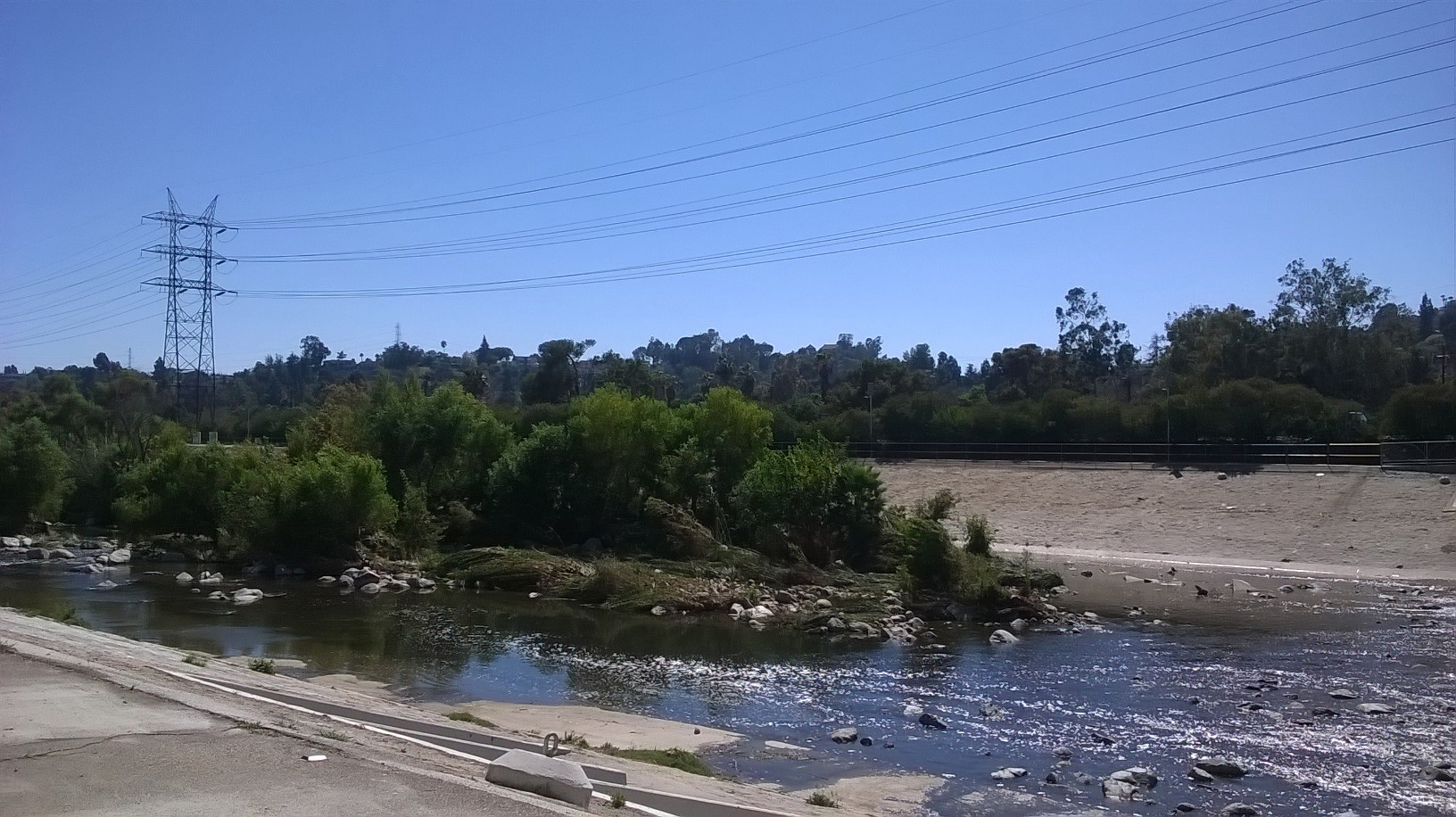 It is widely acknowledged that the channelization of the Los Angeles River led to the local extirpation of most of the region's fish, and great losses of many other aquatic and streamside plants and animals. Nonetheless, studies over the past 20 years have found that some native plant and animal species can still be found along the river bottom, particularly within the soft-bottom stretches of this otherwise bleak-looking flood control channel.
In fact, there are over 230 species of resident and migratory birds that occur along the river, supported by the vegetation that has managed to grow within the flood channel. This is why The Nature Conservancy is currently working with many partners to enhance habitat along the river.
But what will happen to this precious urban habitat when the river floods again, as is expected to occur during this El Niño year? Will all of the riparian vegetation be torn out? Will it recover in the same way as before, or will it be different?
These are questions that The Nature Conservancy is well-poised to answer, using the Los Angeles River as our laboratory. Over the past year, our Urban Conservation program has collected data that will allow us to prepare a restoration plan for the river: this includes vegetation maps and information on a variety of species: birds, insects, mammals, reptiles, and amphibians.
So we have our "before" picture of the river, and we're now just waiting to capture the "after", once El Niño sweeps through and gives the river its extreme makeover. We'll let you know what we find.