Development happens, and conservationists must live with that reality. Wind turbines will be erected, forests will be logged, and dams will be built.
Mitigation is often the weapon of choice against rampant environmental harm: It is widely acknowledged as a means to lessen the cumulative impact of unavoidable development. That's why conservationists spend much time and effort encouraging governments and financial institutions to require that developers assess the potential environmental impacts of each project.
But there's a problem with traditional mitigation planning, one that has serious consequences for the environment and for the people who depend upon it for their health and well-being.
"Mitigation is usually done solely from an environmental perspective," says Heather Tallis, acting chief scientist at The Nature Conservancy. "This is a key place to start, but if we don't explicitly think about people we can miss them entirely and make social inequality worse through mitigation." 
This problem is true in both the developed and developing world. Examinations of U.S. wetland mitigation programs revealed that mitigation frequently reroutes the benefits people get from wetlands away from urban areas, resulting in a loss of ecosystem service benefits to marginalized communities. In British Columbia, where oil and gas development threatens salmon runs that provide an important food source for First Nations communities, mitigation efforts have so far left out about half of the communities potentially affected by development.
"Both developers and conservationists need a way to ensure that mitigation doesn't unintentionally hurt people," says Tallis.
Tweet this quote
Using Servicesheds to Track Environmental Benefits
Tallis and her colleagues have a solution — incorporating ecosystem services into traditional mitigation planning.
Ecosystem services are benefits that people gain from the environment. The list of these benefits is myriad: clean drinking water, food, renewable energy, plant-based medicines, carbon sequestration, and pest control are all examples of key services that the environment provides. These services can be mapped into what scientists call servicesheds, boundaries on a map that show where a particular ecosystem service is provided to a particular individual or group of people.
Joined by Lisa Mandle and Adrian L. Vogl from the Natural Capital Project and Leonardo Sotomayor of the Nature Conservancy, Tallis designed a new mitigation strategy that incorporates servicesheds for a proposed trans-Amazonian highway connecting Pucallpa, Peru with Cruzeiro do Sul, Brazil.
Tallis and her colleagues combine ecosystem services models with data on where people live and how they use the environment to create a new method to track how people are affected by environmental degradation. The area near the proposed road is home to nearly 250,000 people, including more than 15,000 members of indigenous Amazonian communities.
"This type of an assessment forces you to have a broader view about what the ecosystem is doing," says Tallis. "It forces you to do better job of accounting for what functions are being damaged in that ecosystem and to consider how to fully replace them."
Using this new method, they designed a mitigation strategy for the proposed road that incorporates four ecosystem services — erosion control, pollution control for both nitrogen and phosphorous, and carbon storage — and then compared it to the results of traditional mitigation planning.
In both cases, they kept track of how much loss — and recovery — was possible for both indigenous groups and non-indigenous residents. This method helps identify who will lose ecosystem services through development, and whether mitigation efforts can fully recover those losses to the same people.
"If they can't," says Tallis, "winners and losers are created and inequality is a problem."
Mitigation strategies they considered included restoration of degraded land and protecting the surrounding forest, which Tallis says is subject to high local deforestation rates and is likely to be lost if it's not protected.
Published recently in Frontiers in Ecology and the Environment, Tallis's results show that the serviceshed method is an effective tool to identify where mitigation could exacerbate social inequality if not planned well. In this case, traditional mitigation siting would leave indigenous communities disproportionately impacted, even after offsets are in place.
"We can massively reduce inequality by keeping track of environmental benefits and who they flow to when we site mitigation with people in mind," says Tallis. "So using the serviceshed approach can really help with equity issues."
In the case of the proposed Amazonian road, Tallis and her colleagues improved the equity of mitigation outcomes by siting offsets with servicesheds, but couldn't find a way to offset all of the negative impacts to indigenous or non-indigenous peoples.
"That suggests that we need to think further if we want equity to be an outcome," she says. "Perhaps re-siting the pathway of the road, or coming up with other offset or mitigation practices beyond those considered here."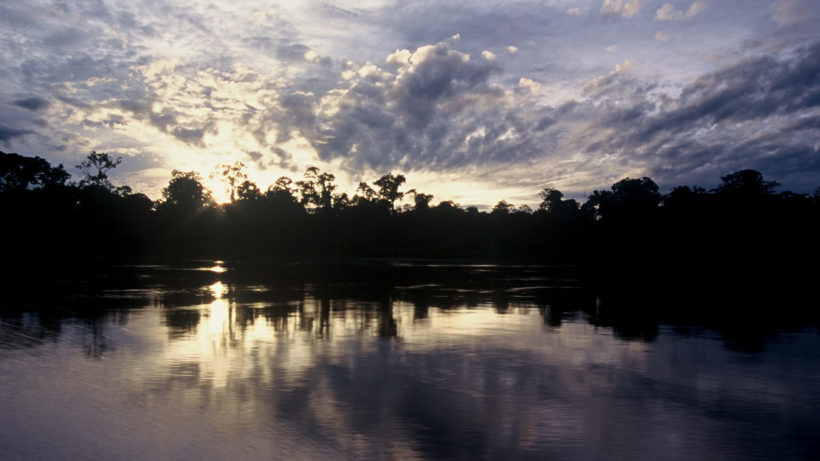 Beyond the Peruvian Amazon
Next, Tallis and her colleagues plan to make the serviceshed method simpler and more accessible for a longer list of ecosystem services, and then apply it to a wider range of mitigation scenarios. For example, she says they could apply these methods to restoration efforts in the Gulf of Mexico to show how they can equitably benefit everyone from Vietnamese subsistence fishing communities to tourism developers. Tallis also says that the serviceshed method could be useful to U.S. federal agencies who need to incorporate ecosystem service planning under the new rules concerning forest planning and water use.
"If you look at the language of pretty much any legislation that has been put in place that requires mitigation, the initial impetus was to protect people from environmental harm caused by development," says Tallis. "But the way we enforce those regulations now, we miss that piece. So as conservationists pushing for the use of environmental regulations, we need to help them reach their full intent which includes how people are affected by the environment."