Zero to Hero: Birding Edition Dispatch #4
"You should use a real field guide," said the angry-sounding man next to me in the bird blind at Jug Bay Wetlands Sanctuary.
I glanced up from my phone where Merlin, Cornell's Bird Identification App, was helping me determine if the bird I'd been observing was a Greater Yellowlegs or a Lesser Yellowlegs.
The man jerked his chin at my phone. "I'm so tired of seeing people supposedly out here birding staring at their phones. That's not how you bird." Then he walked away shaking his head.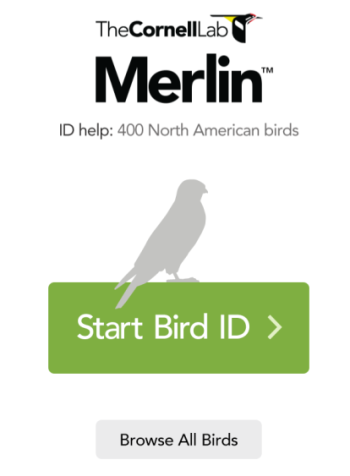 That encounter still bothers me.
Not just because I lost the opportunity to defend my honor as a birder by dropping my backpack (with its 15 pounds of "real" field guides) on his foot, but also because maybe I could have changed his mind. "Merlin is a real guide," I should have said. "It's from Cornell!" And then I could have surprised him by sympathizing with him because I get it.
He was clearly cranky, but I know what he meant. I used to think the same thing whenever I saw someone on the side of a trail or in a kayak or standing on top of Hurricane Ridge in Olympic National Park, busily scrolling through some electronic device.
"That's not how you [insert specific activity here]. Put your phone away," I always wanted to tell them, preferably kindly. "Look around. Experience your experience. You're missing the point."
But then Merlin came into my life, and I realized I was the one who'd been missing the point.
Merlin, How Do I Love Thee?
If you are unfamiliar with Merlin, the free app from the geniuses at the Cornell Lab of Ornithology, I am not sure I can do its brilliance justice, so you should check it out for yourself. It's the kind of thing you need to experience to truly appreciate.
Tweet this quote
From the perspective of a neophyte birder, though, let me count the ways I love Merlin. Starting with the most important one — as my best birding friend.
Merlin unlocked birding for me. It turned out to be the bridge I needed to successfully navigate the gap between the field and the field guide. It was that gap — the distance between the bird in my notes and the one in the book — that proved fatal to all of my previous attempts at birding.
I would make careful observations about the birds I saw, field marks, where they were, what they were doing, but when I went through the field guide (even after I'd just seen the bird), I could never feel confident I'd identified the right one. It was incredibly frustrating.
Merlin changed all that. Birding is still a challenge and a puzzle — but now it's no longer a mysterious black box.
Birding with Merlin is like birding with an expert friend who's trying to teach me. (Granted, an app is not as good as having Tim Boucher and his wife Ellen as your guides, but it's a big step up from my days of winging it with binoculars, a field guide, a dwindling store of patience, and an apparent need for some kind of instant birding gratification.)
In Defense of App-Aided Birding
So just how does Merlin stand in as a substitute for Boucher?
Based on your location (using the GPS in your phone), the date, and some observed variables (size, colors, activity), Merlin presents you with a selection of the most likely birds, with pictures and a link to their songs. And even if I'm out of cell phone service areas (which I try to be as much as possible), I can combine my field notes with Merlin when I have a signal.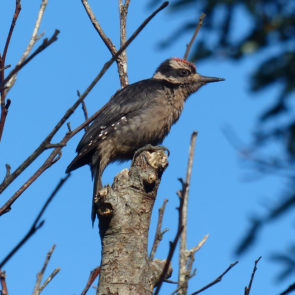 For me, the great thing about Merlin is I can narrow my selection, and then go back to my field guides to confirm and learn more about the bird.
Every week I add a new species to my repertoire. It's slow going, for sure, but it's the most progress I've ever made as a birder. On some walks in my local park I haven't even needed to go to Merlin anymore. I know the birds (and their songs) myself now. Robins, Wood Thrushes, mockingbirds, catbirds, and goldfinches can't hide from me. Even if I can't see them, their songs and calls are as clear to me now as the voices of close friends.
I know the bend in the trail where the Wood Thrush is usually poking in the leaves beside a small stream. And I know the snag the Pileated Woodpecker will be drumming away on around the same time every morning. I know the tree where the Barred Owl roosts. I see and listen to my park in ways that make it an adventure and a meaningful connection to nature every day.
Technology Does Not Have to Separate Us From Nature
That's what I wish I could have told the angry birding man at Jug Bay. Technology can bring us closer to nature. And perhaps more importantly, technology can clear paths for people who might not otherwise know how to begin to engage with the natural world around them.
Merlin is one of a growing number of mobile apps that combine sophisticated tech with rigorous science. In Merlin's case, the Cornell Lab of Ornithology provides the science that powers the app and gives users confidence in their identification. It is a real field guide, an interactive one. It's not a replacement for "real" field guides, it's an amazing complement.
Taking Merlin into the field doesn't blunt my connection to the world around me. On the contrary, it widens that world by leveraging and satisfying one of our most valuable human impulses: curiosity.
I have no idea how many times I've said (or my kids have said), "I wonder what kind of bird that was." In the past, we'd go to the field guide and usually end up with a best guess, and that was about as far as the conversation went. Well, those days are over. Because now there's Merlin.
Postscript: Spreading the Merlin Love
Since downloading the app as one of my first assignments in my Zero to Hero project, I've used Merlin from Maryland to Illinois, and from Seattle to San Francisco and it has never let me down. Back in July, I even used it on a trail in Olympic National Park to identify a Horned Lark for a family from Los Angeles.
The parents were standing beside a subalpine fir listening to the beautiful notes of the lark's song and their two sons (about 12 and 10) wanted to know what kind of bird it was. I knew it was a Horned Lark because I'd done some research before my hike into what kind of birds were common on the trail to Hurricane Ridge (and the ranger at the trailhead said he'd seen some earlier that morning).
When the parents said they didn't know what species it was, I pounced. It was a polite pounce, but still, I did accost strangers to share my bird knowledge. (A first for me)
"It's a Horned Lark," I said and became that person on the trail in Olympic National Park with her phone in her hand. I had no signal. No problem — you can browse birds in Merlin without a signal — so I scrolled to the Horned Lark and showed them pictures. The boys and I matched the field markings in the images to the bird in the tree above us.
The mother asked me for the name of the app and I wrote it down for her on a scrap of paper from my notebook. Score another love match for Merlin, and hopefully score some new lifelong birders, as well.
Blog updated September 10, 2015 — Special thanks to commenter Paul Dubois who noted (below) that my Downy Woodpecker is actually a Hairy Woodpecker. I missed the longer bill length. And Pileated Woodpeckers are apparently still the only woodpecker I know by sight.
Author's Note: This is the fourth in an ongoing series of blogs exploring whether or not it's possible for someone (me) who can't tell a house finch from a song sparrow to become an expert birder in four months. The answer is clearly "no." At least I couldn't become an expert in four months, but what I have become — after many years of failure — is an engaged and dedicated birder. And I can also now tell the difference between a house finch and a song sparrow. My goal is to identify and record 100 species by the end of the year. I'm at 52 right now so hopefully the fall migration will be good to me.