Miranda Bertram has a rare skill ⎯ she can identify whooping crane feces on sight.
She's certainly had a lot of practice. A Ph.D. candidate at Texas A&M University, Bertram spent the last two winters tramping around Texas's Aransas National Wildlife Refuge in search of whooping crane feces to research and document which parasites are present in the population, and if they could be affecting the recovery of this endangered species.
Untangling the Effects of Disease on Endangered Species
Whooping cranes are one of the most well-known endangered bird species in the United States. Habitat loss and hunting reduced their population to just 16 birds in 1941. In the 1970s scientists began captive breeding programs, where captive-raised cranes were eventually released back into the wild to bolster the population.
Today there are 308 wild whooping cranes in the Aransas population, which accounts for the the vast majority of wild whoopers, and they winter in just a few brackish marshes along a narrow strip of the Texas coast. The Aransas population is growing ⎯ 39 juveniles were counted in last winter's survey ⎯ but whoopers still have a long way to go before the population can be considered stable.
"The population is definitely fragile," says Bertram, "and at a point where it's highly susceptible to disease or other catastrophic events."
Knowing what diseases a species is susceptible to, and what affect those diseases have on a population is critical for conservation efforts. This is especially true for species like whooping cranes, which narrowly avoided extinction only after painstaking and expensive conservation efforts.
"Individual birds may appear to be healthy, but if there are low-level effects caused by parasites it could be having a big impact on population, perhaps slowing down growth," says Bertram. "But we first need to figure out what those parasites are before we can see what effect they have on the crane population."
Bertram and her colleagues decided to investigate the presence of coccidian parasites in the Aransas population, the first major study of parasites in wild whooping cranes. They chose coccidian parasites because they can cause a disease called disseminated visceral coccidiosis, or DVC. A known cause of chick mortality in captive crane breeding programs, DVC causes inflamed intestine, spleen, heart, liver and lungs.
Parasite-caused diseases like DVC could be affecting wild cranes, but first researchers need to determine how prevalent those parasites are in the wild birds.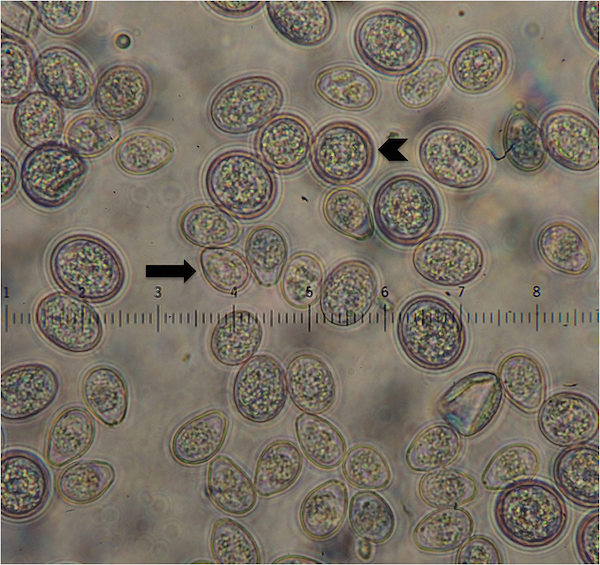 Searching for Scat on the Marsh
As it turns out, feces are a very effective way to assess the health of a crane population.
"The biggest advantage to using feces is that it's noninvasive, so we minimize disturbance to the birds," says Bertram. "We don't have to capture them, touch them, or take blood samples, so we can let the cranes live their normal lives."
Bertram and her field team collected whooping crane fecal samples from 10 freshwater ponds at Aransas National Wildlife Refuge during the winters of 2012 to 2013 and 2013 to 2014.
Finding cranes on a 46,400-hectare refuge isn't easy, so they deployed infrared game cameras near the ponds to help figure out how often and when cranes used the ponds. As the cranes moved from pond to pond, Bertram and her crew would search the grassy areas around each pond for fresh feces.
"Whooping crane feces are fairly substantial," she says, "and different enough from other bird feces that they are fairly easy to recognize." Apparently they have a salty scent, too.
Back in the lab, Bertram uses a technique called fecal flotation to extract parasite eggs from the feces. "Its essentially the same procedure that you use to look for parasites in dog or cat feces," she says.
The feces are mixed with a solution of zinc sulphate, causing the parasite eggs to float to the surface while the rest of the fecal debris sinks to the bottom. "That procedure concentrates the parasites eggs and separates them from the other debris."
Then she counts and identifies the parasite eggs under a microscope, and uses DNA sequencing to confirm the presence of two different coccidian species that can infect cranes: Emeria gruis and Emeria reichenowi.
Bertram's results, recently published in PLoS One, revealed that coccidia parasites are present in the wild cranes, found in 26.5 percent of crane fecal samples from both winters. Next, Bertram plans to examine levels of other parasites in the Aransas crane population, including roundworms and flatworms.
Bertram says that documenting what parasites affect wild whooping cranes is a first step for conservationists looking to protect this species.
She adds that it would be interesting but challenging for further research to look at how prevalent the same parasites are on the breeding grounds, and if the adult cranes are transmitting them to their young. "With the levels we are seeing here," she says, "we suspect wintering grounds aren't the primary place where transmission is occurring."
"If we could figure out how to do that it would add a lot of information," adds Bertram, "and will help us tell where intervention would have the biggest conservation effect."
The researchers would like to acknowledge the support of the United States Fish and Wildlife Service Region 2, Division of Migratory Birds, Avian Health and Disease Program and the American Association of Zoo and Wildlife Veterinarians Wild Animal Health Fund in funding the research.