Mention engineering to a typical conservationist, and thoughts turn to concrete. And lots of it.
Certain images come to mind: Big dams. Levees that strait-jacket rivers. Hardened coastlines.
Even when these projects help communities, there are often consequences for natural systems. The dams interrupt fish runs. Seawalls hold back sediment, starving beaches of sand.
This, of course, has not gone unnoticed by the conservation community.
But perhaps these thoughts are a bit unfair. We enjoy the benefits of dams and infrastructure projects, after all. And engineers have often developed solutions that have improved resource management. Think fish ladders.
Now, many engineers are going beyond that. They do not see nature as something to control, or even something they have to take into account as they design a project. No. They see opportunity: They see that nature and ecosystems can be part of the solution.
Marshes absorbing floodwaters. Mangroves and reefs protecting coastal communities. Trees cleaning our air.
They are increasingly seeing that these new nature-based solutions – whether on their own or in combination with others – can meet community needs, while often being more resilient than built solutions to changes like sea level rise and climate change.
Now the conservation community is wisely working directly with engineers – not just to reduce their impacts, but to jointly find solutions for both people and nature.
The Conservancy is partnering with engineering firms like CH2M HILL to build nature into post-Sandy coastal resilience plans in New York City. And providing protection of communities along the Gulf of Mexico with oyster reefs.
I think this is an exciting advance – working together to bring nature into the engineer's toolbox.
But as with any cross-cultural collaboration, I've also seen challenges arise as conservation scientists work with engineers.
Scientists are driven to discover how the world works. They are comfortable with – and often relish – ambiguity and investigating the unknown.
Engineers use knowledge to solve problems and deliver new products and solutions. They seek to create innovative solutions by building on a base of established evidence.
Bringing these disciplines together can result in misunderstandings; things get lost in translation.
Full disclosure here: while I've been a conservation scientist for over a dozen years at the Conservancy, I began my career as an environmental engineer cleaning up pollution. A foot in each camp, so to speak.
I have seen the challenges, and can understand each perspective. But I also see huge opportunities if we can bring these disciplines together.
Evidence Base for Nature-based Solutions
"Engineers are too risk averse."
I've heard that from our scientists working to incorporate nature in engineers' designs.
But it is natural for engineers to need to know how likely it is that a solution will fail.
They are going to ask how likely it is that a marsh will reduce a storm's surge, just like they would ask how tall a levee or seawall needs to be to hold it back. They don't deal in abstractions, because abstractions aren't going to protect a community from flooding. They want – if you'll pardon the pun – concrete answers.
Engineers are used to drawing on an established body of evidence and well-tested solutions. The need for this is reinforced by the personal liability that licensed professional engineers take on when they stamp designs as approved.
It is not that they don't want any risk, but they want to plan for a known likelihood of failure. A levee might be tall enough if it can withstand a category 3 hurricane, based on local conditions and acceptance of risk.
But ecosystems don't come with specifications or technical standards for how they will perform.
Conservation scientists need to learn to translate the roles that ecosystems play into terms that an engineer can use.
One challenge in doing this is ecosystems are heterogeneous and performance can depend on local conditions. A marsh is a living ecosystem that isn't going to perform as uniformly as a concrete wall in the face of a flood.
So nature-based solutions may have wider ranges of risk and performance. But their heterogeneity can also add to their resilience to change – and a living marsh can adapt to rising sea levels.
We need to continue testing the role ecosystems can play, working with engineers to increase both the evidence-base of their performance and engineers' comfort in using these new kinds of solutions.
Collaborating to Scale Up Solutions
There are examples of well-tested nature-based solutions, like bioswales for managing stormwater and marshes for treating wastewater.
To add more to this suite of options, conservation scientists can collaborate with engineers to design research that can lead to the data and evidence needed.
This often starts with pilot analyses in specific places. For example, a case study by Conservancy scientists and Dow engineers showed that forests could be an economically-viable solution to reduce air pollution in Texas.
Then we need to understand how nature can play a role more broadly. We need to move from 'proof of concept' pilot tests towards developing technical standards for how ecosystems can offer solutions. We need to build that evidence base that engineers can draw from for their designs.
Conservancy scientists are doing this with cross-sectoral partners in a SNAP working group collecting evidence for how coastal ecosystems reduce risk for communities around the world.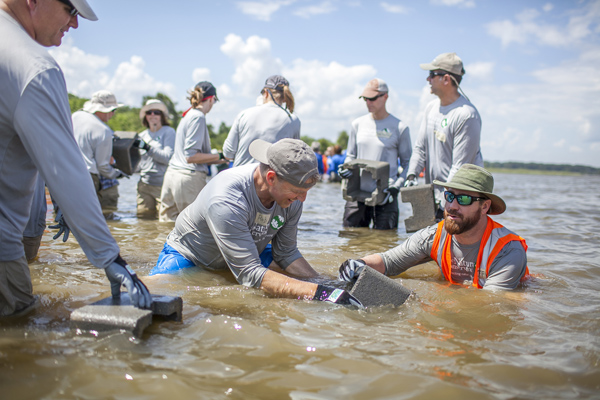 Bridging World-Views
"I'm looking forward to seeing the world through the Conservancy's glasses."
I was struck by this statement by a partner at an engineering company after a productive meeting about bringing ecosystems into her team's water scenario planning.
The Conservancy is beginning to hire engineers to help navigate this science/engineering divide – but this statement shows that isn't the only solution.
We can also better succeed when we can start to see the world through the other's glasses. Being open to each other's perspectives, while also being aware of our own biases.
There are big opportunities if we can collaborate effectively across these disciplines.
By showing how nature provides solutions for society, we can increase investment in it – to better sustain both wildlife and our communities.