Here's a citizen science project combining nest cams and one of our coolest raptors.
American kestrels are both unmistakable and fabulously colored, with deep russet backs and tails, feathers dappled with black and cream, and slate-blue wings on the male. Also look for the distinctive black-and-white stripes on their head.
They're also the smallest falcon species in the United States.
The Bosch Kestrel Cams, supported by the American Kestrel Partnership (AKP), bring you into the home (a.k.a. nesting box) of a pair of American kestrels as they raise their family.
While enjoying the view, you can contribute to the scientific knowledge on the behavior and diet of kestrels that could be key in restoring these once common birds.
"Many populations of American Kestrels are in decline and nobody knows why.  Although kestrel declines are mysterious, there's plenty that the average person can do to help us figure out what's going on!" says Chris McClure, Director of the AKP.
In addition to the nest cams, you can join the AKP by monitoring a kestrel nest box or boxes in your area.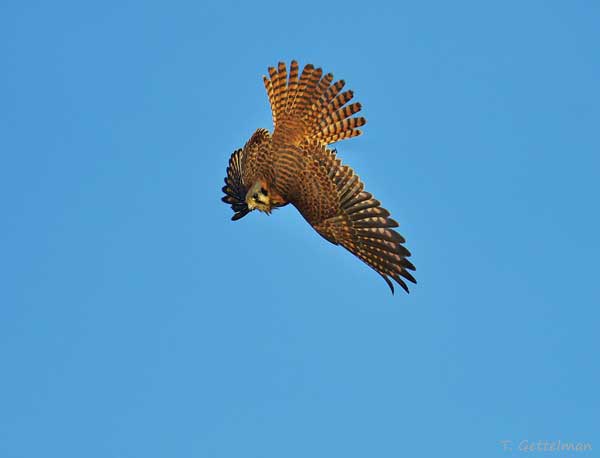 "The AKP was founded by The Peregrine Fund in 2012 as a cooperation between citizen and professional scientists to study American Kestrels across the Western Hemisphere," says McClure. "Our partners are currently monitoring over 1600 nest boxes ranging from Alaska to Argentina."
Why Are the Bosch Kestrel Cams Important?
Something is behind the declines in kestrel populations.
Scientists have many theories (from climate change to depredation to environmental contaminants) about possible causes, but they need more data.
"Raptors are some of the most awe-inspiring animals on Earth, but they can also serve as indicators of environmental health. In other words, raptors can be the measuring stick by which we judge our stewardship of the environment," McClure notes. "Just as the decline of the Peregrine Falcon and Bald Eagle warned us of the dangers of DDT, the decline of the American Kestrel might be warning us of something awry."
Observations from the Bosch Kestrel Cams and from citizen scientist's nest boxes around North America will be analyzed for trends that could help scientists zero in on the cause(s) of kestrel decline.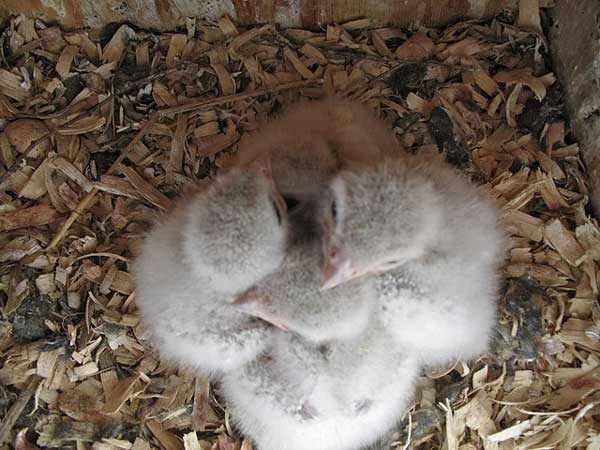 Their research will relate measures of nesting performance (timing, number of chicks, etc.) to environmental factors surrounding the nesting box (urban setting, climate variation, etc.).
The resulting information will inform conservation of kestrels and their habitat.
The Kestrel Cam has already captured new evidence for one theory: that European starlings compete with kestrels for nesting space.
"Our KestrelCam caught the first-ever known fight between an American Kestrel and European Starling within a nest cavity. It's great to know that our kestrels can hold their own in a tussle!" McClure says. 
What Can You Do to Get Involved?
Getting started making observations on the Kestrel Cams is easy.
Simply go to the Kestrel Cams page, and use the "Report what you see!" box to share your observations. There are clear drop-down options and you don't even need to sign up for an account.
Pro Tips for Observations:
* You can tell the male and female kestrels apart because the male has more blue on his head and wings.
* Kestrels will eat a wide variety of prey besides rodents — if it's small it's fair game — butterflies, beetles, grasshoppers, small songbirds, and even bats.
If you have the resources and a location to install a kestrel nest box, then you can join the AKP by creating a Partner Profile. You can find helpful tips on their Partner Network Start Page and FAQ.
"Joining the AKP is a fun and easy way to contribute to the study and conservation of America's smallest and most colorful falcon," McClure remarks.
See Matt Miller's recent post on how efforts by the Peregrine Fund brought another raptor, the peregrine falcon, back from the brink.