Citizen Science Tuesday connects you with opportunities to be a part of conservation science with outdoor projects around the world and online projects to try from the comfort of your own home.
By Lisa Feldkamp, senior coordinator, new science audiences, The Nature Conservancy
What is the Lichen Monitoring Project
Welcome to the exciting world of lichens. And no, that's not oxymoronic.
A lichen is actually a composite organism: algae or cyanobacteria living with a fungus symbiotically. That definition, admittedly, doesn't help their charisma factor.
But look at them closely and you'll see a wonderful, colorful tapestry.
Get out a hand lens or microscope and an even more amazing world is revealed.
"One of the cool things about lichens is their ability to survive extremes," says Tiffany Beachy of Great Smoky Mountains Institute at Tremont. "When it's dry they shrivel and look like they've dried out, but with a drop of water they turn green."
One of the most unique inhabitants of lichen is the tardigrade (a.k.a. water bear) is the first life-form with a proven ability to survive in the vacuum of space.
However, lichens have an Achilles' heel: air pollution.
The Lichen Monitoring project began in the Great Smoky Mountains National Park in order to monitor the effects of air pollution, especially sulfur, on lichen density and biodiversity.
Why is Lichen Monitoring Important?
Lichens act as a natural sentinel of air quality.
"I learned about a project in England that had been tracking the impacts of air pollution on lichens since the 1970's," says Susan Sachs of the Appalachian Highlands Science Learning Center. "They were able to see sensitive lichen species repopulate in areas that were successful in reducing sulfur in air pollution."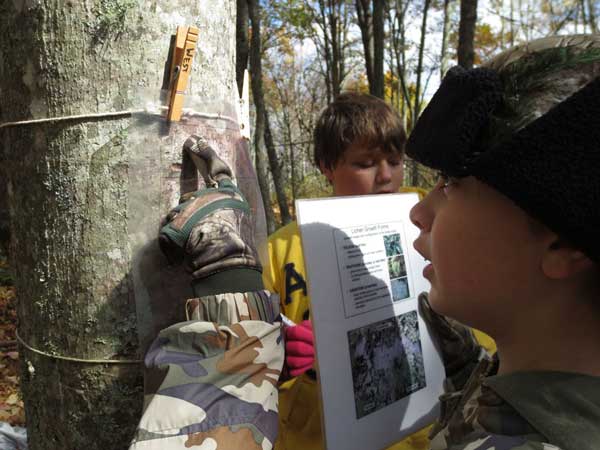 Sachs worked to replicate that study in Great Smoky Mountains National Park, a hotbed of lichen diversity.
"We started monitoring the composition of lichens on select trees in plots throughout the park during the height of air pollution in the early 2000's," Sachs explains. "We are now seeing a decrease in the amount of sulfur in our air in the park so I am hoping we see improvements in the composition diversity of lichens on our trees."
Citizen scientists study the lichen composition on trees over time noting how cover type and amount change and check this against air quality data to look for relationships.
You can look at lichens in your own community for signs of air quality.
"The types of lichens most impacted are foliose [leaf-like] with a larger area. You can see the damage to the lichen; it looks like necrosis," Beachy explains. "The crustose [forming crusts] kind is most tolerant to air pollution — you see them more often in the city."
Beachy hopes that people taking note of lichens will make simple personal decisions to improve air quality.
"Watch the lichen on tree in your driveway. Does it change over time? Have you noticed more cars around? Have you been idling your car in front of a particular tree? Seeing a change in lichens can encourage a change in driving behavior," Beachy says.
How Can You Get Involved in Lichen Monitoring?
If you are a teacher or student living near the Great Smoky Mountains, contact the Appalachian Highlands Science Learning Center or the Great Smoky Mountains Institute at Tremont to enroll in their lichen monitoring classes.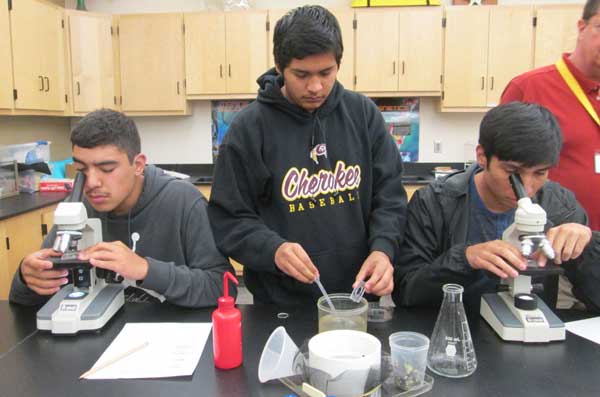 Or, start your own lichen monitoring program!
Researchers designed the study to be easily replicable and hope that more people will set up citizen science lichen monitoring programs and share data through Hands on the Land.
All you need to start are six trees with lichen on them to monitor, some string, and a transparency grid. Details on getting started are available online and you can contact Tiffany Beachy for more information.
A close look at lichens could transform your view of the little things in nature!
---
Is there a citizen science project that you think deserves more attention? Contact Lisa Feldkamp, lfeldkamp[at]tnc.org or leave a comment below with a link to make a recommendation for Citizen Science Tuesday.
Opinions expressed on Cool Green Science and in any corresponding comments are the personal opinions of the original authors and do not necessarily reflect the views of the Nature Conservancy.