Big Data – it's the latest silver bullet that can spot business trends, prevent disease, combat crime, and even revolutionize the health of fisheries.
Or can it?
Two large NGOs recently rolled out big data technology platforms that utilize satellite information to monitor and detect illegal fishing activity.
"Project Eyes on the Seas" (Pew/ Catapult) and "Global Fishing Watch" (Oceana/Google/Skytruth) claim groundbreaking technology that will transform surveillance, monitoring and enforcement of fishy fishing operations around the world.
And make no mistake, those illegal, unreported and unenforced (IUU) fishing activities are a huge and growing problem globally — so the search for a silver-bullet solution is understandable.
IUU threatens sustainable fisheries worldwide, with devastating environmental and socioeconomic consequences. It accounts for 20 percent of global fish catch, contributing to economic losses of $10 to 23 billion annually and threatening the livelihoods of millions who rely on healthy fisheries.
Small, fishing-dependent nations like Palau are the most impacted by IUU. Illegal fishing combined with the negative impacts of unsustainable fishing practices are taking a heavy toll on Palau's marine resources.
Adding insult to injury, only a small percentage of revenues from big commercial fisheries like tuna, worth an estimated $7 billion for western and central Pacific stocks, end up in Pacific Island coffers. Palau takes home chump change at $1 to $1.5 million annually.
(Being the second largest importer of seafood, the United States plays a big role in illegal fishing. The Obama administration commissioned a Presidential Task Force on IUU Fishing and Seafood Fraud which recently released an action plan to combat the issue.)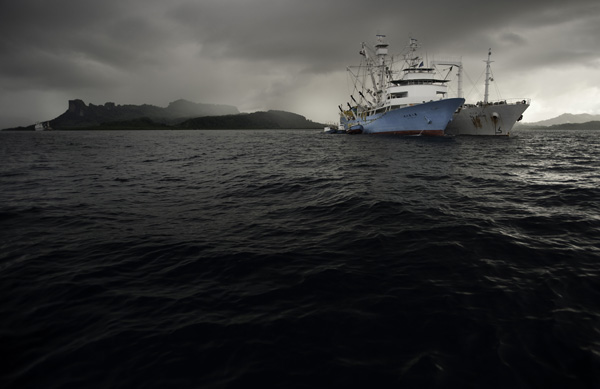 Why Big Data Alone Isn't Enough
But can Big Data alone save big fish — like tuna and other commercially lucrative fisheries — from pirates of the sea?
No. Like much of the hype about Big Data applications today, it isn't nearly enough by itself to solve the IUU problem or tackle overfishing.
Big Data can help to identify patterns of suspicious fishing activity using enormous data sets derived from Automated Identification Systems (AIS) — automated tracking used on ships and vessel traffic services used for identifying and locating vessels.
Both Pew and Oceana's Big Data efforts are promising as they seek to aggregate and visualize AIS data to aid in monitoring and surveillance of IUU. But they are not without serious limitations.
For starters, these Big Data platforms only work if fishing boats use AIS transponders and have them turned on. Many boats do not.
Furthermore, many of the boats fishing illegally in the waters off Palau and other Pacific island nations — waters home to over 60 percent of the world's tuna supply — are small, wooden outriggers undetectable through remote-sensing and Big Data technology systems.
And Big Data systems, despite cost-savings in boat patrol efforts to track and locate illegal fishers, are still pretty darn expensive.
These shiny new Big Data systems also do not address the problem of lacking the physical manpower and systems in place for enforcement and interdiction — how you actually catch and bust the bad guys in the real world, and not virtually.
That part of the formula requires social and political change at the national and international level to take IUU and overfishing activity more seriously and allocate resources to tackle these issues.
Big Data is not enough to save fish and solve IUU and overfishing problems. More often than not, local enforcement entities already know where much of the illegal fishing activities are taking place, but simply lack the resources (boats, fuel, people) to patrol and enforce their waters.
So while Big Data can be a part of the overall solution to combat IUU and overfishing, we still need the basics — good old-fashioned boots in the water — to make a difference.