How will the Pacific Northwest's coastal rainforests — and the ecosystem services they provide — be affected by a changing climate?
New research from Conservancy scientists and their partners provides a revealing look at changes under different climate scenarios.
"In coastal Alaska and British Columbia, our average winter temperatures are very close to freezing, so even a small increase in winter temperatures will have big ecological implications," says Colin Shanley, conservation planner and GIS analyst with The Nature Conservancy's Alaska Chapter.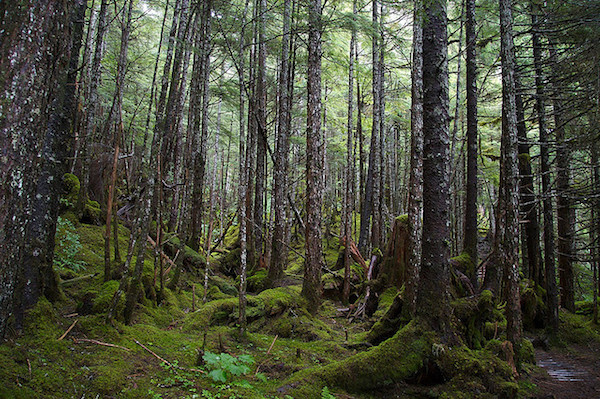 An Ecosystem Driven By Water
The northern coastal temperate rainforest is both the largest and most intact coastal temperate rainforest in the world, but little baseline climate science exists for the region.
To fill that gap, Shanley and a team of experts analyzed how climate change scenarios would affect different elements of the rainforest ecosystem, including fish, wildlife, forests, hydrology, and ecosystem services.
"Large-scale climate models aren't really designed to capture local or regional changes," he says, "so we need this type of collaborative approach to understand how different scenarios will affect the rainforest and ecosystem services."
The team's results, published recently in Climatic Change, show that the coastal rainforest and surrounding region will experience a cascade of ecosystem-level changes caused by increased temperature­ and increased precipitation, but with less of that precipitation falling as snow.
Those changes will lead to reduced snowpack at the headwaters of the region's rivers, shrinking glaciers, an increasing frequency of seasonal floods, and changes in the timing and strength of stream flows.
The researchers predict that these changes will allow lowland and subalpine forests to expand. Meanwhile, warming temperatures will force alpine habitats and species to higher elevations, where they may become isolated on mountaintops or literally run out of space.
These changes will also have important implications for ecosystem services that the rainforest provides for many rural communities. 
For example, changes to the region's river systems could affect the timing of the salmon runs and local shellfish availability, creating challenges for both commercial and subsistence fisheries dependent on these species. And changes to local wildlife populations could indirectly affect ecotourism in the region, which is an important supplier of local jobs.
"This region is really connected to the land — we have a huge commercial fishing industry, subsistence fishing and hunting, forestry, and a large recreation and tourism industry," he says. "So changes to our weather and climate will make a big difference to the people that live here."