Unless you've been hiding under a rock since 1782, you can recognize a bald eagle.
Haliaeetus leucocephalus has got it going on.
As American as baseball, NASCAR, or apple pie, their undeniable charisma and occupation as a national symbol has relegated them to next-to-Godliness status. Even veteran birders jump when someone calls out: "Bald eagle overhead!"
Today, we are lucky enough that bald eagle sightings aren't rare. But for a while there, DDT and shooting were poised to have us reverting to Plan B as far as national symbols go. And no, that wasn't the turkey, although history buffs will enjoy this rather hilarious account of how our national symbol came to be.
March's Featured Cam
March's nest cam of the month is a bald eagle nest in Decorah, Iowa. The cam is hosted by the Raptor Resource Project, a nonprofit dedicated to creating, improving, and maintaining nests sites for hawks, eagles, ospreys, falcons and owls.
Broadcast live streaming video on Ustream
Home Sweet Nest
This cam is trained on one of two nests that these eagles have used since 2007. Bald eagles build some of the largest bird nests out there — the nest in this cam is an estimated 4 feet wide and 3.5 feet deep, weighing a whopping 460 pounds, give or take a few sticks.
The eagles will add on to the nest each year, resulting in a gain of about 200 pounds each nesting season, according to the Raptor Resource Project. The eagle's first nest, located nearby, measured 6 feet wide and 5 feet deep, and weighed close to 1,367 pounds before the pair abandoned it to build the current nest in the fall of 2012.
The female eagle laid three eggs between February 18 and 25, which will incubate for between 34 and 36 days. That means viewers should be on hatch watch right now! Once they've hatched, the chicks will stay in the nest for anywhere between 56 and 98 days.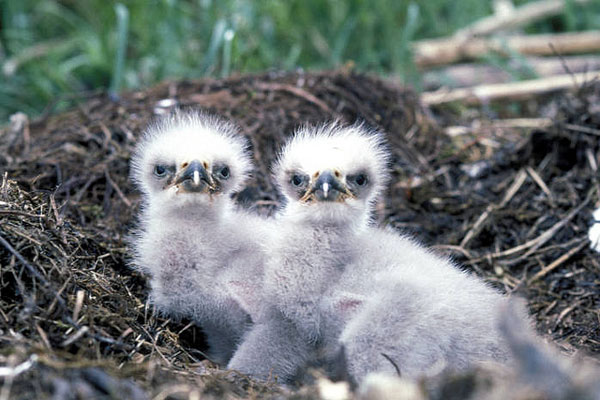 Name that Bird Call
If you think you've heard a bald eagle's cry before, think again. That majestic, powerful keeee-ar you've heard on the Colbert Report and elsewhere? It's not a bald eagle. Not even close. It's the cry of a red-tailed hawk.
I suspect that sound producers across America are engaged in a decades-long conspiracy to cover up the true bald eagle's cry — a series of unmistakable, high-pitched barking whistles. Admittedly, these calls don't jibe well with the USA-chanting and fist-pumping view of American masculinity typically attached to bald eagles, but that's not the birds' fault.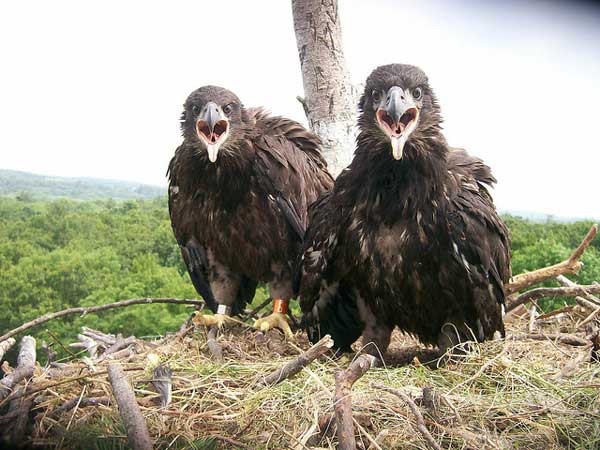 Tips for Watching
Bald eagles are diurnal, so keep an eye on the cam throughout the day. (For the record: we absolutely endorse tuning in during work. Just don't tell my boss.) But if workday nest watch isn't possible, then catch up on the day's events on the Raptor Resource Facebook page.
And once the eaglets hatch, don't expect to see these chicks develop the species' distinctive white heads and tails just yet — it takes young bald eagles about five years to grow into their adult plumage.
More Nest Cams for March
Spring may seem far away for many parts of the country. But before the weather warms, check out winter's best birds on this feeder cam in Ontario, Canada. Pine grosbeaks, redpolls, and chickadees squabble over seeds, and ruffed grouse make the occasional appearance.
Check back in April for another cam of the month, and share your favorite cams in the comments below.