Citizen Science Tuesday connects you with opportunities to be a part of conservation science with outdoor projects around the world and online projects to try from the comfort of your own home.
What is Spot-tailed Earless Lizard Monitoring?
It's a Texas treasure hunt and this time the search is on for a potentially vanishing lizard, the Spot-tailed Earless Lizard (STEL).
Your lizard quest will not only bring you up close with an incredibly cool reptile, you'll be helping provide important data for conservation planners.
Once abundant along the roads of Texas, reported sightings of these lizard have dropped significantly in recent years.
In 2009, Mike Duran, a Nature Conservancy scientist, and Dr. Ralph Axtell coordinated a large survey to search for STEL where they had previously been reported. They found the northern subspecies in 14 counties, but didn't find any of the southern subspecies.
Are these lizards really disappearing?
Since the 2009 survey, Mike Duran has found STEL living in areas of southern Texas that were not checked during the initial survey.
"We just had not been looking in enough of the right places and we had not gotten the public involved," Duran remarks.
So far, the evidence for declining lizard populations is inconclusive. But, your participation can make a difference.
Scientists at the Nature Conservancy in Texas and the University of Texas, with the support of the Texas Parks and Wildlife Department, are stepping up citizen science monitoring efforts through 2016.
Results of the study will help the US Fish and Wildlife Service decide if the STEL should be listed as an endangered species.
Why is Spot-tailed Earless Lizard Monitoring Important?
The disappearance of the STEL from roadside areas correlates with and may be caused by the loss of native grasses.
By participating in the survey, you will not only help to discover the extent of the population in Texas, you will help scientists understand what kind of habitat STEL prefer.
The first population that Mike Duran rediscovered in southern Texas (through a report from Greg Worley, a mechanic and citizen scientist) was unexpectedly living at Laughlin Air Force Base.
"Just about everything we learn about the STEL is new, sometimes weird, and cool," Duran notes. "At Laughlin I found them dependent on ground squirrel burrows for escape shelter and use of ground squirrel burrows had never been previously reported. We don't really even know exactly what they eat."
Speaking of cool and weird . . .
"The handful of observations where [the STEL] has been observed to perch on a small rock are all gravid females," Duran says. "That begs the hypothesis that gravid females may use the heat of the rocks to aid in incubation, but there's too little evidence to say much about that with any degree of certainty."
And check out those gravid (i.e. carrying eggs) females; they're so fancy with patches of orange and yellow obscuring their usual pattern.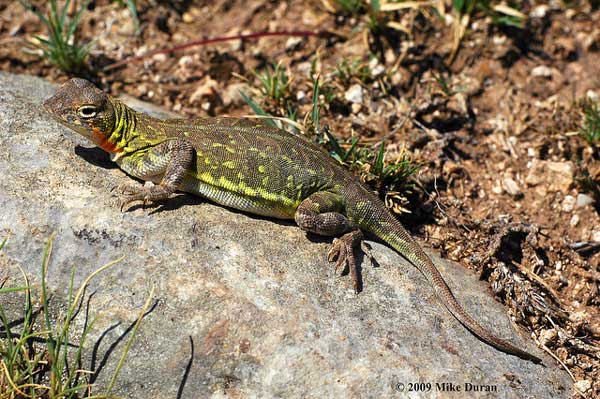 Your observations about STEL habitat and behavior will guide conservation scientists as they plan to protect the species.
"I hope that the data we collect about threats to the lizard lead to broader action to abate those threats – for instance it appears that non-native grasses may be a serious threat to the lizard, hopefully that finding will play some tiny part in discouraging the planting of those grasses and the restoration of badly invaded landscapes to native grasslands," Duran explains.
All of this work is good not only for STEL, but for many other creatures and plants in Texas.
"The threats to the STEL are certainly threats to much of the rest of its ecological community. Identifying and developing ways to abate those threats will help not just the STEL but will contribute to ecosystem health in general," Duran says. 
How Can You Get Involved in Spot-tailed Earless Lizard Monitoring?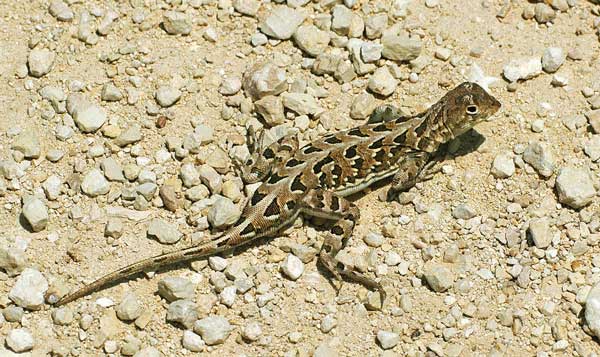 If you live in or visit Texas, contact Mike Duran (mduran@tnc.org) to join the surveys.
Mike Duran recommends looking for STEL in early spring when they are actively breeding (March-May in southern Texas) and in the fall when the juveniles are dispersing (September-October).
The on-the-ground surveys take place during those seasons. For more information, visit: http://nature.org/lizard
Find out where all the STEL have gone and do your part to keep Texas wild!
---
Is there a citizen science project that you think deserves more attention? Contact Lisa Feldkamp, lfeldkamp[at]tnc.org or leave a comment below with a link to make a recommendation for Citizen Science Tuesday.