National polling in the United States routinely shows that the American public ranks "protecting the environment" as only a medium priority for the President and the Congress — lagging far behind the economy, jobs, national security, education and other priorities (Figure).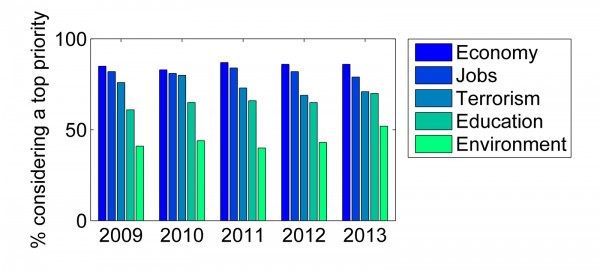 But instead of interpreting these national polling results as reflecting a lack of public support for conservation action in general, conservationists would be better served by viewing them as a statement about the scale at which the public wants to see conservation action being taken. Voting also takes place at municipality, county and state levels.
And local voting patterns reveal a public pushing conservation action aggressively in some of the places where it is most needed.
The direct democracy process allows citizens across the United States to vote directly on propositions to be implemented by local and state legislatures. This process has proven to be a major driver of conservation activity, as local communities take responsibility for local land and water conservation. Moreover, the majority of conservation-related initiatives that make it on to the ballot pass — and pass by a large margin.
What do These Ballot Initiatives Look Like?
To provide an example, in 2012 a ballot measure was passed by 69 percent of the voters in the Woodland Hills, Encino, and Tarzan Mountains area in California, which will levy a $19 / year parcel tax. The wording on the ballot read:
"To protect, maintain and conserve local open space, parklands and wildlife corridors; protect water quality in local creeks and reservoirs; improve fire prevention including brush clearing, acquire open space, and increase park ranger safety and security patrols, shall the Mountains Recreation and Conservation Authority implement a special $19 tax annually for ten years only, with all funds staying in the hillside communities of Woodland Hills, Encino, and Tarzana, and require independent citizen oversight and audits?"
Where are These Ballot Initiatives Passing?
* Often, these measures find success in places that are disproportionately important for biodiversity and where there are particularly rich opportunities for improved environmental management to enhance human well-being (Kroetz et al. 2014).
* Counties that have successfully passed land-vote referenda of this type typically contain more at-risk species and are more likely to feature in national plans of conservation priorities than are counties that have not passed such measures.
* Also, median population density in counties passing ballot initiatives is 10 times that in counties that have not passed one, after controlling for changes in land cover (Banzhaf et al 2010).
Surprisingly, the percentage of residents in these counties who are in poverty is also much higher (26 percent vs. 15 percent). Support for local conservation is not just happening in the wealthier jurisdictions. Florida, Western states, and the urban areas around New York, Philadelphia and Chicago have seen the most successful ballot measures of this type.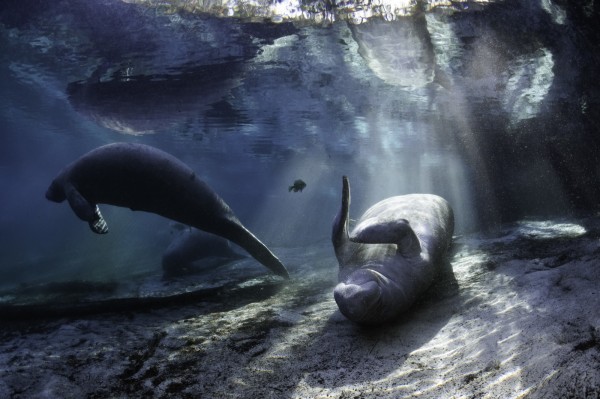 So local ballot measures for conservation have been one of the unsung success stories of the conservation movement. But is the potential of ballot-protected lands to improve the lot of biodiversity and enhance human well-being actually being realized?
There are certainly success stories. For example, in one prominent grass-roots initiative, local residents passed a USD $20 million bond measure in 1990 to protect Laguna Canyon, part of the Irvine Ranch in Southern California, that was originally slated for urban development. The area is rich in biodiversity and contains numerous species of conservation concern both nationally and within California. Due to the ballot initiative, it is now a protected area.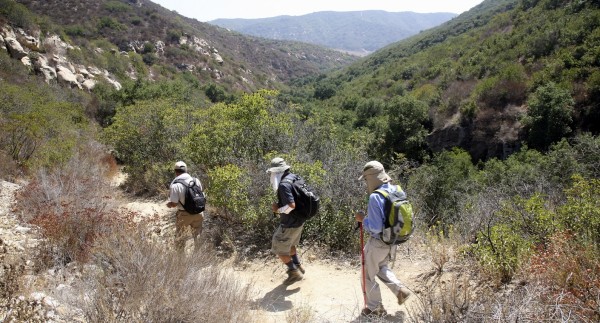 However, more generally, conservation lacks adequate evidence of just how much benefit ballot-protected lands provide, whether for biodiversity or human well-being. A recently funded NSF project that we are leading will start examining this gap from the perspective of biodiversity in California, but a larger effort that considers multiple ecosystem goods and services alongside biodiversity is warranted given the extent and conservation promise of ballot activity.
While the potential of ballot initiatives has been under studied by the conservation science community, it has not escaped the notice of the wider conservation sector. National conservation organizations often support local ballot initiatives in a bid to leverage local support to achieve their own broader conservation goals. They share lessons learned from initiatives elsewhere and provide technical support, polling data, endorsements and ad buys. They have also published "how to" guides to support local communities looking to bring ballot measures forward.
Learning What Motivates Local Communities
By considering which measures passed and which did not, the conservation community might be able to derive more general lessons about what motivates local communities to invest in conserving their surrounding lands and waters. For example, Jay Ziegler, Director of External Affairs for The Nature Conservancy in California, which is collaborating on our NSF project, comments that
"The summary wording that describes a ballot measure is a great predictor of success and failure with voters.  A ballot statement usually emphasizes a suite of benefits that a particular initiative will offer as well as the cost people are being asked to pay.  We have consistently seen that the ordering in which the benefits are stated is important to voter perceptions.  For example, with regard to investments in water conservation and funding measures, people generally respond more positively when improvements to local water quality are listed first. That might reflect the relative priority people assign to the different possible benefits."
But funding landscape-scale conservation at a regional level provides different challenges.
We are interested in learning more about how the public values different conservation values such as open space, preparedness for climate change, recreation and conservation of wildlife.
$2.4 Billion for Conservation
Conservation could be content to simply continue the very hard work of passing such ballot initiatives. The reward, however, from developing a further understanding on why some initiatives pass and others fail, what precisely conservation and human well-being are gaining from the passage of such ballot initiatives, and on where they are likely to be successful in the future could be significant.
Each year ballot initiatives generate approximately USD $2.4 billion for conservation. Given the chronic budget limitations under which the conservation sector must operate, this figure represents a very substantial investment of funding.
Understanding the where, when, and why of conservation voting could both increase the funds and improve how conservation dollars are spent. Solving these puzzles and realizing these gains will require psychologists, economists, political scientists and conservation biologists.