Drought is bad for business. When natural water supplies run dry, companies that depend on a reliable flow of water must spend time and money to purchase water elsewhere.
Now, companies have a new model to assess just how valuable reliable access to water is to their business, thanks to new research published recently in Ecosystem Services.
"Businesses know how to value oil, gas, and other raw materials, but they don't have good ways to value water even though they understand intuitively that it can be just as valuable to their operations as those other resources," says Sheila Reddy, an sustainability scientist at the Nature Conservancy and lead author on the paper.
"We've given businesses a way to value their water," she says, "and to examine water scarcity solutions that are potentially more sustainable in the long run and that have lots of other benefits for people and nature."
Analyzing the Water Needs of Dow Chemical's Biggest Plant in a Future of Projected Shortages
The paper focuses on water use by Dow Chemical Company's largest manufacturing facility in Freeport, Texas. It's the world's second-largest chemical manufacturing plant, says Reddy, with a footprint roughly the size of Manhattan. Freeport sits at the mouth of the Brazos River, which flows for more than 800 miles across the heart of Texas to the Gulf of Mexico. Along the way, the river's waters are siphoned off to fuel cities, agriculture and the region's thriving petrochemical industry.
When an extreme drought hit Texas in 2011, parts of the Brazos ran dry, Reddy says, and Dow was at risk of needing to purchase water for the plant elsewhere, despite undertaking substantial water conservation measures and having one of the largest water right allotments along the river. (Water from the Brazos is free and allotted by rights based on prior appropriations, where priority is given to users that have been located on the river longer.)
So as part of the Conservancy's collaboration with Dow, Reddy and other Conservancy scientists began an analysis to determine just how reliable the Freeport plant's water supply would be in the future, and how valuable a reliable water supply is to the company's bottom line.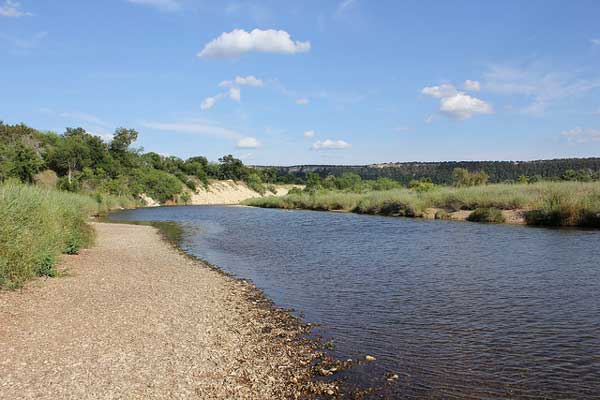 The science team ran climate and hydrological models to simulate nine different water demand and climate scenarios over the next 30 years — for instance, to see how much water would be available if everyone with a water right on the Brazos used the maximum amount of water they were legally allowed. They also ran scenarios to examine how the river's flow would change given the effects of climate change.
Generally, their models show that climate change will cause the Brazos' flow to decline, while demand for that water will increase significantly. Combined, these trends will lead to more intense and more prolonged water shortages than what Dow and others experienced in 2011.
How to Make a Water Right More Reliable for the Bottom Line
Reddy then applied a dollar value to Dow's water right by calculating how much it would cost Dow to find alternate sources of water during future shortages.
"Our analysis showed the costs the business avoids by having a healthy river that provides reliable water," says Reddy. She explains that Dow's costs are minimal when the river is healthy — just pumping and maintenance — but when a drought occurs, buying water can be very expensive or impossible, leading to lost production and revenue. "The business value of a reliable water right is access to inexpensive water," she says.
Reddy and her team also examined potential mitigation measures that Dow and other companies could take to make their water right more reliable. Each of these solutions also had the added bonus of benefitting nature and people. Of the five they analyzed, three proved to be cost-effective tools for Dow to explore: improving irrigation efficiency, municipal rebate programs for low-water use landscaping or home appliances, and freeing up reservoir storage area by restoring natural floodplains.
Reddy says that this analysis provides a model that other companies can use to quantify the value of water rights and assess environmental solutions.
"Business are running out of solutions, and technological fixes won't always work," says Reddy. "Dow was underestimating their risk … and now they have a better way to quantify the value of a healthy river and a reliable water right."