Meet the NatureNet Science Fellows: Michael Pennino

Talk to NatureNet Science Fellow Michael Pennino for five minutes, and you'll never look at storm drains and sewers the same way again. They're not the (potentially) rat- or alligator-infested haunts of urban legends; they're gateways to a fascinating, and largely hidden ecology.
"They're water ways," Pennino says. "We don't necessarily think of them that way, but that's what storm drains are, underground streams with their own ecology, for good and bad. And for the overall health of our water supplies – especially in urban areas – the quality of the water in that storm drain really matters."
It's a thought both sobering and fascinating for Pennino who is at Princeton University, focusing his NatureNet Fellowship on how people can improve urban quality of life with green infrastructure.
And even though storm drains are often bound by concrete and asphalt and rarely, if ever, see the light of day, they are still streams, and the water in them does not stay confined. The water that rattles down the gutters on our houses and buildings, and runs off our roads, yards, golf courses and parking lots inevitably flows downstream and transports pollutants from urban runoff to rivers, lakes, and bays; affecting the ponds we fish in, the lakes we swim in, and even the water we drink.
Can Green Infrastructure Improve Water Quality and Quality of Life Simultaneously?
Pennino is very conscious of all the different people and groups who have deep concerns and interest in runoff and the wider issues of urban water management. "National, International, federal, state, local – even hyperlocal to the level of neighborhood streams. It's a huge issue for the entire world," he says, and adds that in his NatureNet project he's looking specifically at meaningful and cost-effective ways to reduce urban impacts on water supplies.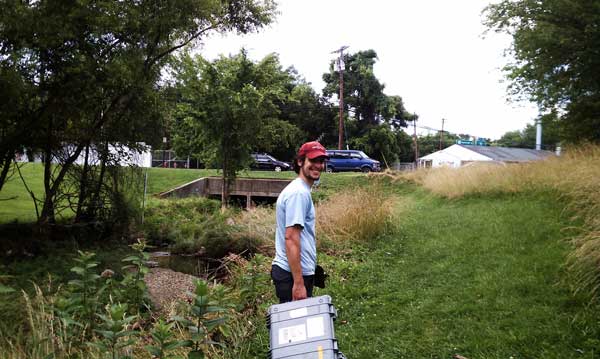 "I've seen that the focus for cities in the Northeast is on designing stormwater green infrastructure to deal with flooding, combined sewer overflows (CSOs), and other water pollution issues," he says. "I'm interested in looking at how a lot of small-scale stormwater projects work together – at much larger scales."
The questions that interest him most are "How can we best design green infrastructure to improve both water quality and social well-being at the same time? And how can we do this in ways that aren't extravagantly expensive?"
The Power of Applied Science to Solve Real-World Problems 
Pennino is currently working across many disciplines in order to accomplish these goals, connecting with scientists, sociologists, and economists. He traces his commitment to finding interdisciplinary and natural solutions to urban problems to his time as an undergrad at Oberlin College where he worked with – and became captivated by – the Living Machine.
"It was fascinating," he says. "The Living Machine has tropical plants and a greenhouse and the sewage water is filtered through a marsh system. It was very interesting to work on it and see how waste water can be cleaned so effectively and so naturally – very satisfying to know that you can find ways to conserve water and reduce pollution to downstream waterways using natural processes. The Living Machine really hooked me on biology and chemistry and how it could be applied. And now I want to figure out how can we apply the lessons and processes that we see working in the Living Machine to larger and larger scales."
It was also the power of applied science to solve problems that attracted him to the NatureNet Fellows Program. "I'm not interested in science just for science's sake," he says and then laughs because that doesn't sound quite right coming from someone with a Ph.D. in marine estuarine and environmental science with an emphasis in environmental chemistry (and a recent paper published in Biogeochemistry in partnership with the Environmental Protection Agency).
Science and Society
"I mean," he says, "I like science obviously, but it's a tool, not a goal for me. I'm really more interested in [using science to do] something that's going to make a positive impact on society and the environment. The NatureNet Fellowship gives me the opportunity to continue research and really explore ways to improve both urban water quality and urban quality of life using stormwater management. We can take the lessons of Oberlin's Living Machine and apply them on a larger scale in whole cities like Philadelphia and create, real lasting change for the better."
Urban conservation can be challenging at times, but Pennino relies on his family to keep him focused on helping others. "I'm just glad I have a spouse who encourages me to focus on serving others and having two baby daughters constantly reminds me that my work can help all children have a better future through healthier environments," he says. "Yes, I see science as a tool, but also a bridge that can span gaps between disciplines and between people. I believe that we can use science as a way to solve problems and improve lives, if we can be open to change."
About NatureNet Science Fellows
Our world faces unprecedented demands for food, water and energy — and meeting these demands without exacerbating climate change and degrading natural systems is the human challenge of our generation. That's why the Conservancy has established the NatureNet Science Fellows Program in partnership with six of the world's leading universities — Columbia, Cornell, Princeton, Stanford, the University of Pennsylvania, and Yale — to create a reservoir of new interdisciplinary science talent that will carry out the new work of conservation, from rainforests to storm drains, and everywhere in between.