India, the second most populous country in the world, has put infrastructure development high on its list of priorities – especially for transportation, and energy production and delivery. The country's planning commission, helped by foreign investment, is expected to make an investment of $1 trillion (US) in such development over the next decade.
That's potentially a lot of roads, dams, mines, railroad tracks and power plants.
"It is not a question of whether or not there will be infrastructure development in India," says NatureNet Fellow Trishna Dutta of Columbia University. "The question is when, and more importantly, where this proposed development will take place. And it's that question of 'where' that interests me."
With only about 4 percent of the country's forest cover protected for biodiversity, wilderness areas outside this protected area network are under increasing pressures from infrastructure development for transportation, mining, hydropower and other human needs.
And it is in this gap — between the importance of protected areas and the need for development — that Trishna Dutta is working to make sure conservation science has a voice in where proposed development does and does not take place.
Smart Infrastructure Development
"One of the key components of my Fellowship project," says Dutta, "is to identify areas that are critical to wildlife, but also identify areas where you could have some kind of infrastructure development with minimum impact on wildlife movement pathways."
The idea is to find areas that are critical to wildlife but also have different development scenarios of, if we have a proposed coal mine here, what is going to be the impact on wildlife connectivity? If we have this mining activity elsewhere, does it contribute towards both economic and ecological security?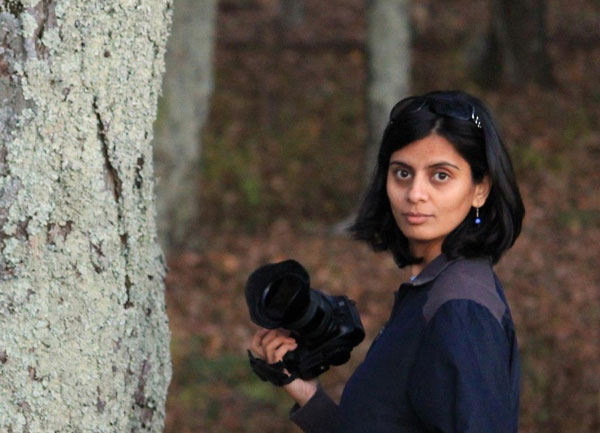 "The objective," explains Dutta, "is to find the areas outside the protected area network that are critical to animal movement where: we (a) cannot afford to lose any forest, (b) where we should be restoring forests, and where (c) it is okay to have infrastructure development with minimum impact. By the end of my project, one should to be able to point at a map and say, 'put a mine here or here, but don't put it here' because there is conclusive data that shows carnivores of conservation importance (such as tigers and leopards and sloth bears) need and use this land to move between protected areas."
Dutta's conclusive data goes far beyond camera traps and community surveys. She can show – in detail – how animals are using the corridors because she has the genetic evidence to prove it.
"I'm a population geneticist who is transitioning into a landscape ecologist," explains Dutta. "What I found in my previous research using genetic tools is that the existing corridors between protected areas in Central India are functional. Genes are moving from one protected area to another – for tigers, for leopards, for sloth bears and jungle cats. These are four species that have very different ecological requirements and they are all using the same corridors – so clearly these are important places."
Dutta's genetic work shows that there is high biodiversity within the protected areas, and the best way to preserve it is to protect the corridors that allow successful dispersal between the different source populations.
Numerous studies have shown that small, isolated populations of plants and animals are at a high risk of local extinction. They can be wiped out by one catastrophic event – such as a storm or disease, or the lack of genetic diversity means a population can eventually succumb to defects. An exchange of genes between different populations is important for keeping the plants and animals and the whole ecosystem – and the services it provides, like clean water – healthy into the future.
"So I have the science – the clear genetic evidence – that shows the importance of the corridors," says Dutta. "But you know, to a policymaker making decisions about where to cite development, genes – alleles – are a little abstract. How do you say 'this area is critical and I'm not going to sanction a mine here,' based on genes? They need to be able to see it for themselves."
To solve that problem, Dutta added landscape ecology to her areas of expertise. And under the auspices of her NatureNet fellowship, she will be working to develop a suite of map products that could be used as planning tools, to help policymakers visualize and weigh the potential impacts and tradeoffs of their development choices and decisions for themselves. Her project will:
Map the existing connectivity in the landscape – to identify bottlenecks for animal movement, and identify priority areas for restoration or mitigation.
Build actual 'if-then' scenarios for infrastructure expansion across the landscape – so that decision makers can model the likely tradeoffs when making decisions about where to place development, and so that scientists can make clear science-based recommendations to business and government.
"I'm excited to be part of the NatureNet Fellowship program," says Dutta. "And especially excited to be part of The Nature Conservancy's first project in India. I've been working in the protected areas of Central India for more than a decade, and it's rewarding to me to have the opportunity to put science into action to help my country make smart, science-based development decisions."