Tim Boucher (@tmboucher) reflects on his favorite sighting of 2014.
Yes, it was that great a bird – well worth the travel pain to get there!
Many moons ago, travel was fun and exciting. There was even a saying, "Getting there is half the fun." These days, the expression is "getting there is most of the pain."
To balance that pain, the destination has to commensurate. Imagine a destination so incredible that it makes up for 16 flights in 30 days, including 14-hour segments and 5-hour layovers.
That flight nightmare took us to Singapore, where we hoped to get the first of several special birds. The Rail Babbler was number two on our list and it is so special that we made a side trip to the Malaysia's Panti Forest, near Singapore, just for this bird.
Arriving at midnight, we headed directly to the forest, hoping to see nocturnal species while we waited for daybreak. We were treated to a slow loris and a Buffy Fish Owl, along with fresh elephant dung but no elephants.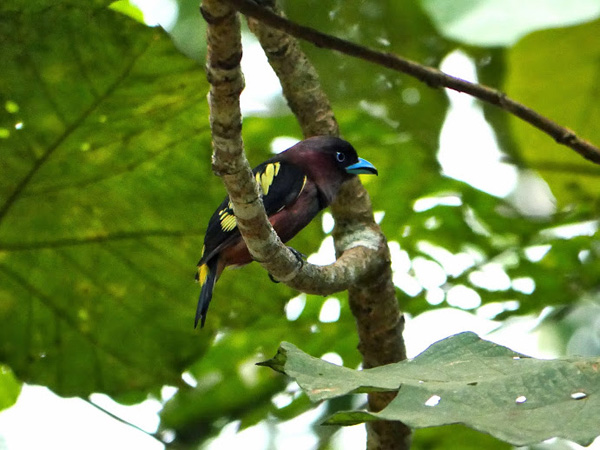 Shortly after dawn we began to search slowly up and down along a few kilometers of dirt road. Though we heard the bird numerous times over two days, it just wouldn't come into the open.
Originally thought to be somehow related to the Old World Babblers, recent genetic studies suggest it is more closely related to the rockjumpers or the Picathartes – both African families. We just classified it as the "not seen" family and hoped this was not a sign of things to come.
Flight number four took us to Kota Kinabalu, the capital of the Malaysian state of Sabah on the island of Borneo.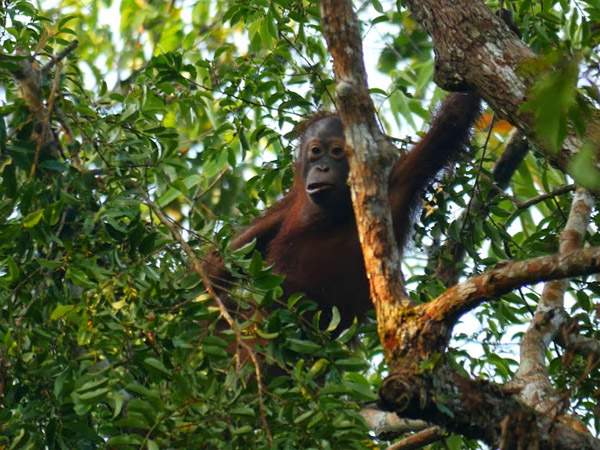 I'd been to the Indonesian state of East Kalimantan on the southern part of the island as a work trip but hadn't been to the Malaysian part of Borneo. We had several stops in beautiful places with great birds, including the beautiful Mount Kinabalu, a UNESCO World Heritage Site.
The lovely fresh mountain air, the beautiful forest, and the fantastic birding were absolutely splendid. There and in nearby areas, we found amazing birds such as the striking Fruithunter and the Bornean Forktail.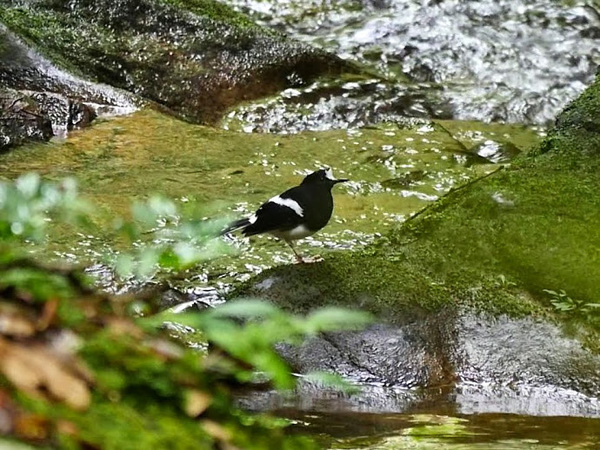 Finally, it was time to find the bird.
Our next stop was the beautiful Sepilok park, a small section of a forest reserve. The park features an excellent network of elevated walkways built upon massive steel towers, unlike the swaying, bouncing elevated suspension walkways found in most parks.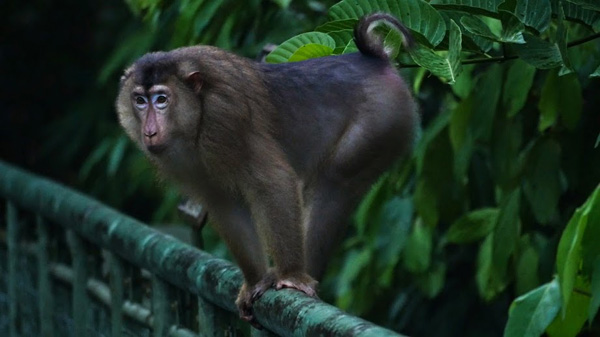 We made a beeline for the tower, named for the bird. And we sat, and we sat, and we sat some more. Several hours for each of two mornings, hoping for one of those legendary sightings when the bird shows up in a tree right at the edge of the tower.
Alas, it was not to be. We never even heard one calling.
We had two amazing consolation prizes.
A Hooded Pitta sang right behind our cabin, enabling several good sightings. Beneath the tower, a Black-headed Pitta played hide-and-seek with us but we eventually had good views.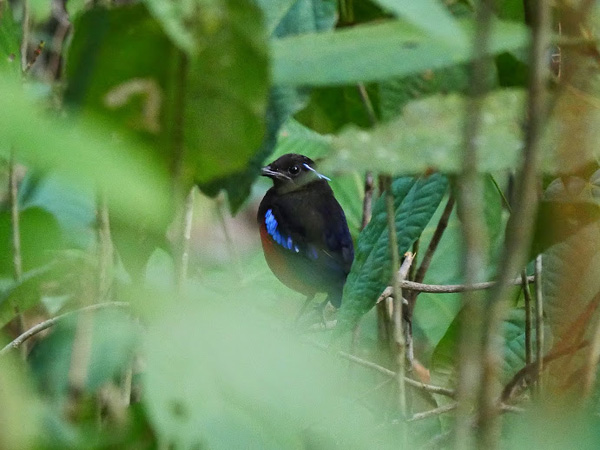 Pittas are avian gems found in southern Asia, Australasia, and Africa. Once you catch sight of the stunning colors of a pitta, a trance-like state follows.
You can't look away and time stops. For hours afterward, the image stays with you.
Yet we left Sepilok without the bird. Now we were practically chanting, "Danum. Wait for Danum."
It would be our last chance to see the bird.
We knew of other birders from our area who had visited Borneo a year earlier and had missed the bird. They made a return trip just before us to try again.
That's how amazing a bird it is. First, however, we stopped at the Kinabatangan River where we were delighted by close views of an orangutan mother and baby, dozens of proboscis monkeys, Rhinoceros Hornbills, and many other phenomenal birds.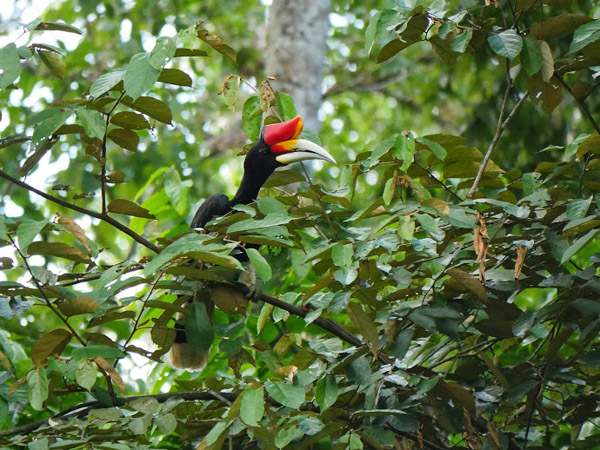 Finally, it was time for the long drive to Danum. This enormous, pristine park has few equals anywhere in the world. It is an exemplar of good protected area management.
We arrived at the lodge, knowing only that it was expensive, especially by birding standards which are exceedingly low – a cold shower every few days will suffice if nothing better can be had.
And here we are, being handled freshly made cool drinks, getting a tour of the gorgeous open air lodge with its enormous bar, and being shown to luxurious rooms. It left us all a bit disoriented.
We dropped our bags, met our guide, and headed down the road. We mentioned to our guide that we knew another group from our area who had visited twice, having missed the bird a year earlier.
Oh, yes, he said. That was Daphne's group. They left just as you were arriving. Simultaneously, we all stopped breathing until he told us yes, they did get the bird. And a few minutes later, we got it too!
THE BORNEAN BRISTLEHEAD! Three of them flew into a tree at the edge of the road.
And disappeared into the foliage. As we waited, two emerged and gave us great views for about 20 minutes before they flew off.
This bizarre passerine is the only member of its family (Pityriaseidae); it has been moved around within the oscine passerines numerous times. The most recent genetic studies suggest that it may be most closely related to the shrikes.
Its orange head and face feature a large black eye and a large black ear spot, all sitting atop a red collar. The name comes from the bristle-like appearance of the dense, tube-like protrusions of orange skin.
The bird also has a massive black beak and a stocky black body. Little is known about this species as there have been no ecological studies.
It moves over large areas of forest with no predictable pattern, except during the breeding season.
Some ornithologists who worked in the region for twenty years saw it only a few times. Almost nothing is known of its breeding behavior and its nest has not yet been described – somehow making an observation all that more special.