What Is IceWatch USA?
Are you dreaming of a white Christmas?
Heavy snow and cold weather like the "polar vortex" get all the press, but what are the realities given a changing climate?
One way citizen scientists can help track these changes is by noting when bodies of water like lakes freeze and how long they stay frozen.
Seasonal changes in ice cover are important for ecosystems and wildlife. Warmer temperatures and the accompanying decrease in ice cover have a variety of impacts on wildlife from birds that change their migration patterns to fish that are faced with living in warmer, shallower waters.
"Looking back to the 1970's when I grew up in the mountains of western Pennsylvania, our winters were always cold and snowy. We didn't ever have to worry if there would be enough snow to build a snowman or snow fort or go sledding with dad," says Melinda Hughes-Wert, President of Nature Abounds. "That all has changed, and even our rivers and other water bodies aren't freezing over like they used to."
IceWatch USA shares the data that you collect with scientists, research institutions, and government agencies. They also collaborate with IceWatch Canada and the National Phenology Network.
"With IceWatch USA, we're helping scientists figure out what is going on and why have our winters changed so much. Our IceWatch volunteers, watch not only winter precipitation events (snow, sleet, hail, and rain) and ice, but also wildlife, whether they're native or migrating through," Hughes-Wert explains.
Why Is IceWatch USA Important?

IceWatch is an important step toward increasing our knowledge of changes in ice cover and it's something that anyone can do.
And by calling on many people from across the country to contribute, scientists can get a much bigger picture of what's happening than they could on their own.
"We now have about 1,000 IceWatch USA volunteers participating from forty-eight states, everywhere but Hawaii and Alabama," Hughes-Wert notes.
By monitoring wildlife at the same time as checking ice cover, IceWatch volunteers increase their impact by contributing to scientific understanding of how changes in ice cover are impacting animals.
Participants sometimes observe unusual, not always climate change related, wildlife behavior.
"I personally monitor about 9 sites for IceWatch USA. One of those sites is along the West Branch of the Susquehanna River. Year-round you can find mallards and Muscovy ducks here. Several winters ago, there was a new member of the gang, and so I took a photo so I could identify it later when I got home," Hughes-Wert recalls. "It turned out to be a Greater White-fronted Goose."
The goose likely got blown off course during migration.
"During their travels, if a goose's mate dies, they may stay in their current location. This particular goose has never left the area, and now hangs out with the mallards."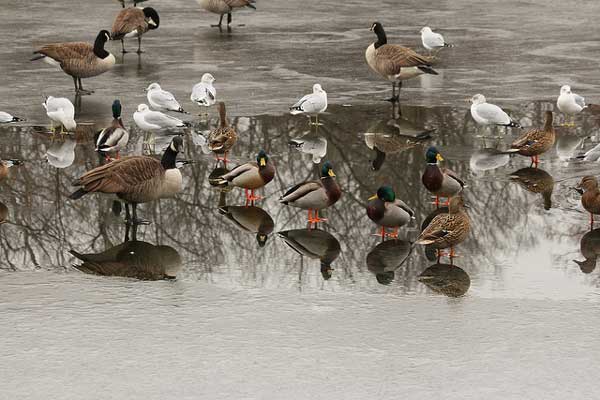 How Can You Get Involved in IceWatch USA?
If you have questions or concerns about volunteering, try this helpful FAQ. For instance, if you live in an area that doesn't get much snow or ice, IceWatch still welcomes your observations.
Start by registering to be an IceWatch volunteer.
Then choose a nearby river, lake, or bay to monitor.
Stay safe while monitoring for ice cover! Be sure to read the ice watching tips to help you choose a good location for observation.
Record your observations and submit them through mail or email (online submission is coming soon).
Go walking in a winter wonderland, it may not be the landscape you remember from your childhood, but the data that you collect can help scientists to plan for the future.
---
Is there a citizen science project that you think deserves more attention? Contact Lisa Feldkamp, lfeldkamp[at]tnc.org or leave a comment below with a link to make a recommendation for Citizen Science Tuesday.