It's difficult to see the polar bear clearly. This is not because the polar bear blends in so well with its white landscape – although it does.
No, it's difficult to see a polar bear because it has become a symbol, the poster animal of climate change. It may even be, as a recent Conservation Magazine story suggested, "a climate change cliché."
Dave Levitan goes on to write in that piece: "Polar bears are the easy target, the global warming victim too cute and obvious to really mean what we want them to mean, right?"
Be that as it may, polar bears continue to draw the attention of reporters, non-profits and researchers. A lot of attention. It might be de rigueur to proclaim that everyone, even environmentalists, is tired of polar bears.
The headlines suggest otherwise.
And all that scrutiny means that scientists are gaining fascinating insights on polar bears – and climate change.
Last year, Lisa Feldkamp wrote a popular Cool Green Science blog that looked at what the science really says about polar bears. That piece remains an excellent primer on the issues surrounding polar bears, and I won't duplicate that here.
But in the past year, there's been even more media attention, debate and intrigue around polar bear research.
Here's a digest of the latest findings and issues, all in one spot.
Night of the Pizzly
Perhaps the most sensational story in polar bear conservation is the emergence of polar bear/grizzly hybrids – popularly known as pizzlies or grolar bears.
Milder climates and less ice have allowed grizzlies to move northward, where they encounter polar bears. Sometimes, they compete. But there have also been documented cases of the two bears breeding, including four "pizzlies" killed by hunters in recent years.
The recent New York Times feature "Should We Fear the Pizzly?" is perhaps the definitive story on the subject. It raises interesting questions about hybrids and adaptation.
The story highlights the extreme difficulty in determining what is "natural" and what is just evolutionary process.
And some do see the pizzly as an example of ongoing evolution and nature's resilence, whereas others see a tragic story in which the polar bear's exquisite adaptations unravel. Where you fall probably says a lot about how you view conservation in the Anthropocene.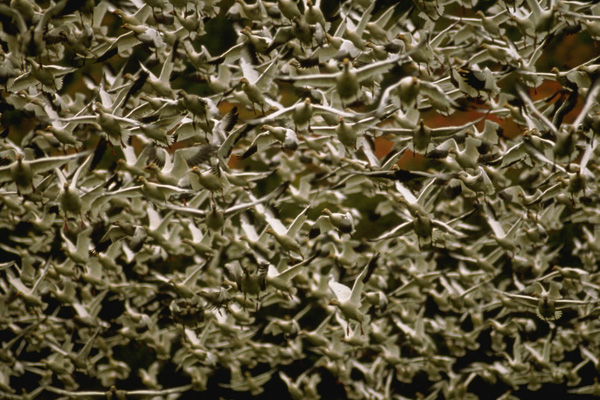 Bear Meets Goose
Another story of adaptation, also from The New York Times.(Again, has any other creature garnered such prominent media attention recently?).
In the Hudson Bay area, polar bears are forced to move off the melting ice, away from their normal prey, seals. However, they encounter another protein-rich food source: the eggs of snow geese, so over-abundant they've been decimating their Arctic nesting grounds.
This has the makings of a tidy story: polar bears adapt to a changing climate, and in the process, control an over-populated species.
The reality is a bit messier. Studies have shown that, overall, polar bears continue to exhibit deteriorating health.
And they don't appear to be making a significant dent in goose populations.
As one researcher says in the Times story: "The system is a lot more complicated than anyone thought."
All the more so with climate change.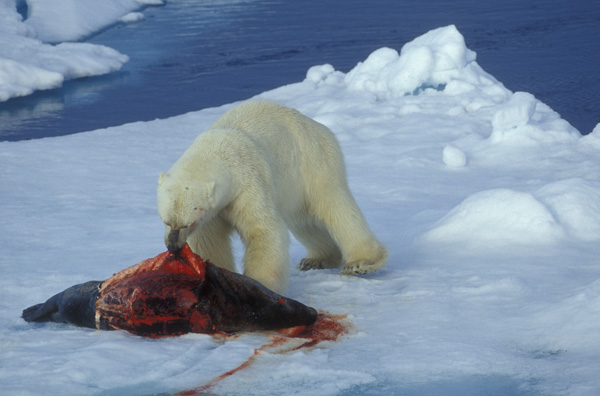 Meanwhile, the Debate Continues…
Polar bear conservation continues to be a prominent stage for climate change debates.
Some look at polar bear population estimates and see a bright future for the bears. They point out that most polar bear populations are actually increasing. They are fond of calling polar bears "political weapons."
This viewpoint's most prominent advocate is biologist Mitchell Taylor, often quoted extensively in stories like this recent piece in the Daily Mail.
Taylor and others in his camp spend a lot of time dissecting the findings of the Polar Bear Specialist Group (PBSG), which releases polar bear population estimates.
This year, those denying a polar bear decline jumped on statement by PBSG that their estimates were "simply a qualified guess given to satisfy public demand."
Too often, arguments about polar bear populations overlook an important fact, that being that the baseline data come from a time (the 1960s and 1970s) when polar bear populations were depressed from severe overhunting.
The latest peer-reviewed research casts a far less rosy picture for the polar bear's future. Most notable among these is a recent article appearing in PLoS One (and summarized well in Conservation Magazine).
The paper's authors argue that polar bears will increasingly face an ice-free Arctic. As Dave Levitan writes in Conservation Magazine, "This means polar bears will either run out of ice and drown or starve, or will head south, running into humans and other species alike."
Have We Been Here Before?
Author Edward Struzik, who has covered Arctic conservation issues for 30 years, argues that we've been here before with polar bears.
In his forthcoming book Future Arctic (to be released by Island Press in January 2015), he notes that polar bears seemed destined for extinction in the 1960s, when unregulated hunting ruled the Arctic. Dozens of float planes lined up to shuttle rich clients out to the Arctic ice to shoot their bear.
He notes that saving the bear during this time meant regulating their trade on an international basis. That meant that the United States and the U.S.S.R. had to negotiate, at a time when neither was much inclined to do so.
But visionary politicians and conservationists like U.S. Department of the Interior Secretary Stewart Udall and Alaska Senator E.L. Bartlett brokered an agreement that led to effective polar bear management and protection.
If two Cold War powers could agree on this, why can't we today?
"Now we have people like Al Gore and organizations like the World Wildlife Fund and Polar Bears International calling for action, but with some notable exceptions, they have not been as politically successful in getting something done as E.L. Bartlett or Stewart Udall were," Strudik writes.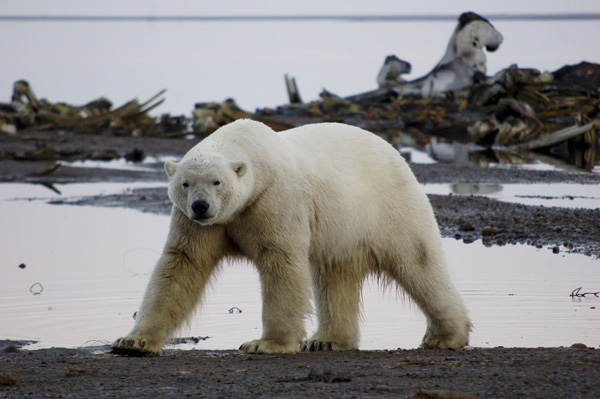 Extreme Measures
Conservationists continue to explore some more unusual (or extreme) measures, like relocating polar bears to Antarctica, or providing supplemental feed to the animals.
For thoughtful responses to these and similar ideas, I suggest this BBC interview with Steven Amstrup, chief scientist for Polar Bears International.
He addresses all these potential measures, and also offers a clear-headed analysis of the role that subsistence and sport hunting plays in polar bear conservation.
His bottom line, I think, is this: there is a real risk that all these proposals and side issues detract from the real issue, which is climate change.
Polar bears face a bleak future if we don't address it. Period.
Researching the Future
Polar bears will continue to be the intense focus of research. New methods, such as extracting DNA from polar bear tracks, will offer a more complete view of bears and how we can best conserve them.
Undoubtedly, there will be more surprises in store, too.
But I also hold this hope: that increased research helps us see polar bears as real animals.
Not as climate change symbols, or "political weapons," or cuddly cartoons. As real and complicated beings, worthy of our best and clearest thinking.