By Scott A. Morrison, Director of Science, The Nature Conservancy, California
Every day, we are barraged by headlines reminding us of the urgency for conservation organizations to enhance their effectiveness in protecting – and re-creating – places for nature in an increasingly crowded, constrained and changing world.
To be that advocate, conservationists need a clear focus on their most pressing role and objective: being a persuasive voice for nature among countless other voices advocating other and often competing values.
That clarity of purpose is especially essential given the complexity of the social, economic, and political systems in which conservationists must negotiate change.
In a recent peer-reviewed article in the scientific journal Conservation Biology, I propose a framework that conservation organizations can use in today's complex world to set objectives and plan strategies to achieve them. (Click here to see a PDF of the article.)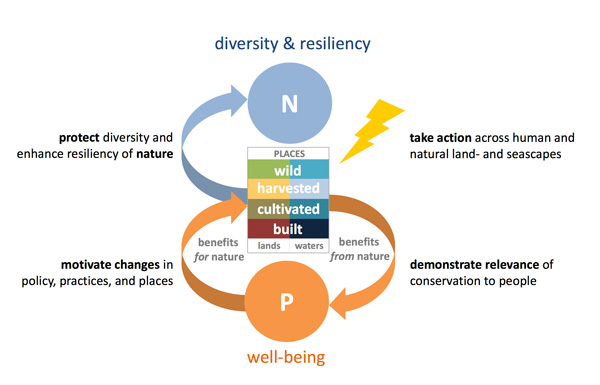 The framework (Fig. 1) depicts key elements of a conservation theory of change, and prompts the conservation planner to be precise about three things:
*   How a proposed conservation intervention is going to benefit biodiversity;
*   What relevance conservation may have for people; and
*   What actions are needed by those people to sustain that conservation outcome through time.
The framework also highlights a pathway from local outcomes to broader systemic change (Fig. 2).
Designing a Virtuous Cycle between People and Nature
A key advance of the framework is that it illustrates how "people and nature" are linked – in the context of planning and advancing a conservation strategy.
While people and nature are always inextricably linked, conservationists need to articulate and strengthen specific connections between the two if their efforts will be effective over the long term.
This framework highlights how foundational it is for people to experience benefits of conservation and become engaged in supporting conservation outcomes (for example, by changing policy or practices).
The resulting virtuous cycle – of people experiencing specific benefits from nature that they in turn become participants in protecting – becomes the engine that sustains biodiversity through time.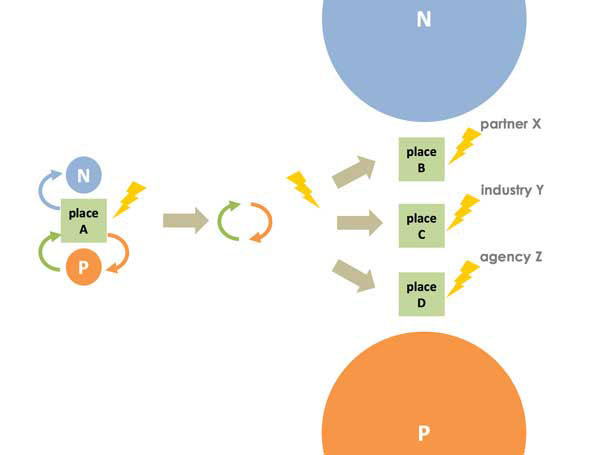 Importantly, the framework is inclusive of different values and motivations for conservation.
It includes an explicit place for nature "for nature's sake" (i.e., "N") as well as a place for nature "for people's sake," represented by the link from "places" (from which nature's services would flow) to "P."
The focus of conservation planning and action would be to make each of the links in Figure 1 as strong as possible.
How the Framework Works in Practice
Conservation planners need not apply the framework in any particular sequence. Rather, they might iterate through a planning process, concurrently considering all the various linkages on Figure 1 and the pathways for amplifying the impact on Figure 2.
The only "requirement" for a proposed engagement is that "N", "P", and each of the three linkages on Figure 1 be defined.
For example, one motivation to engage in a project might be to deliver ecosystem services, such as risk reduction benefits to people, by protecting or enhancing the "nature" in certain places or types of places. (In Fig. 1, these benefits would be depicted in the link from "places" to "P".) Indeed, because conservation at scale requires broad constituencies, conservationists might well find it prudent to focus on that link early in their planning as a means to accelerate conservation.
A complete theory of change, however, requires all three links, including how those focal people will become invested in sustaining the conservation outcome, and how that intervention "for people" will also advance important biodiversity conservation goals.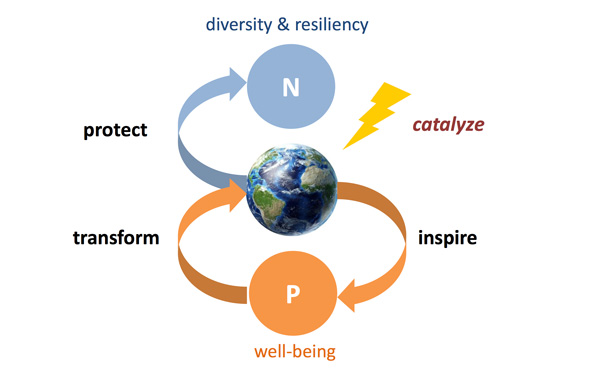 The framework's explicit focus on biodiversity is critical, because "natural" areas can provide important ecosystem service benefits without necessarily providing benefits for biodiversity.
For example, protecting a green space might provide watershed protection, carbon sequestration, and recreation benefits, but that place may mostly comprise non-native globally ubiquitous species.
In this framework, that outcome by itself would be very insufficient. However, if that outcome were a component of a credible theory of change leading to meaningful biodiversity conservation (perhaps elsewhere), then it may well align with the framework.
In a world of seemingly limitless opportunities for engagement, this framework challenges conservation organizations to hold themselves to the higher bar of choosing engagements that — individually and collectively — explicitly and substantively contribute to ensuring that the extraordinary diversity of life in this world rides with us into the future.
Among the critical roles they play in society, conservation organizations are needed to create a vision of a biodiverse and resilient future for nature – and illuminate a pathway to get there.
The vision in this framework is that the whole of our human-dominated world contributes to the protection of life on Earth, and that is achieved and sustained by people recognizing and investing in the myriad ways that nature improves their well-being.
And creating and fortifying these specific linkages between people and nature (Fig. 3) is the unique and essential role in which conservation organizations must excel.
---
Scott Morrison directs the science program for the California program of The Nature Conservancy. He has worked with the Conservancy since 2001. For more see http://www.scienceforconservation.org
Opinions expressed on Cool Green Science and in any corresponding comments are the personal opinions of the original authors and do not necessarily reflect the views of The Nature Conservancy.