I spend a lot of time thinking about migration – in particular,  migrating mule deer and their journey through a landscape marked by change.
Today I'm on the western flank of the Wind River Range in southwest Wyoming.
I'm here because I want to experience what these migrating critters deal with every day of their lives.
Seven does and a three-point buck bound away from me through the sagebrush. They were so still in the draw that I hadn't noticed them, even through my binos.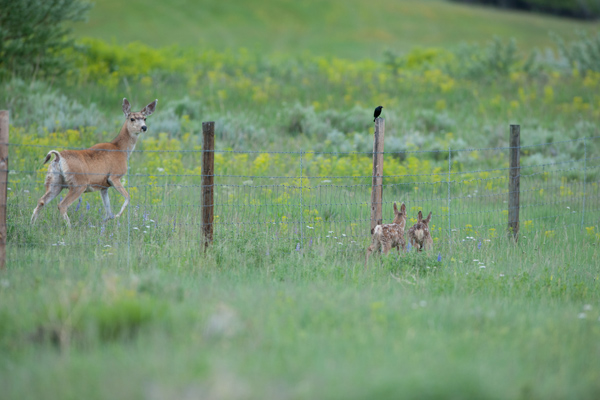 I'm hiking part of a mule deer migration corridor that runs from the Red Desert to the Hoback, south of Jackson Hole.
Scientists from the University of Wyoming recently documented this daunting route: Each year, these animals journey 150 miles twice a year, moving between winter and summer range.
But it's no longer a straightforward journey; these deer face obstacles along the way. They are considerable. Some day they may be insurmountable.
I watch as the buck and three does leap the fence that divides federal and private land. The remaining three think too long about the leap, resist, and look for options to go around. There are none for miles.
Jump, they must.
Of course these deer can't know that the fence they jumped may one day mark a divide between functional habitat and fragmented land that becomes too tricky to traverse. In this wide-open and stunning landscape, there is pressure from both residential and energy development.
After this fence, there are more than a hundred between here and their destination. Some have been modified by landowners to comply with "wildlife friendly" specifications. Some have not and will catch their share of animals that become ensnared and eventually starve to death.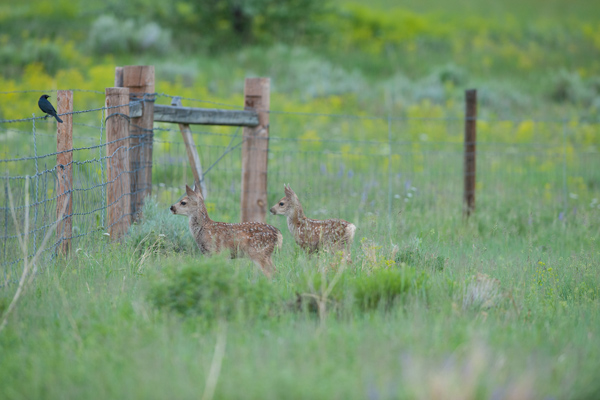 A few miles up the corridor, my group of furry friends will begin to negotiate numerous roads, some paved, some dirt. All are potentially deadly crossings.
Nestled within these roads are homes, recreation sites and campgrounds. My friends at Wyoming Game and Fish tell me that they have spent hours watching the deer as they wait in the sage, scanning the activity, timing their dash through the threat web of people, cars, dogs and roads. My anxiety rises just thinking about it.
It's a stressful effort, and we know that additional stress puts these animals at risk. They often have to move too quickly through stopover areas – those places where they pause to rest and refuel – and crucial range that would otherwise provide critical food and a safe haven.
Further up the corridor, my ungulate friends will come to a quarter-mile bottleneck, where they're forced to find a way through a busy recreation site or make an icy swim across a lake to private land.
In the spring, when the lake is still partially frozen, some are trapped under the ice and drown.
Scientists tell us that these deer have followed this exact same path for hundreds of years, as mothers pass the tradition to their fawns. What's amazing is that the corridor is still largely passable, though shortened at its southern end by the construction of Interstate 80 in the 1960s.
Knowing the patchwork of land ownership, however, and the growth in recreation and development, the landscape will change. Stress levels will rise.

How can we help maintain traditional wildlife movement in a dynamic landscape?

Fortunately, the use of technology tells us a great deal about where and how these animals move and the obstacles they must overcome. With the University's research as our roadmap, agencies and conservation groups are working together to address the biggest threats to the mule deer journey.
Good things are happening. Wyoming's Department of Transportation has already lowered the top strand of wire on a highway right-of-way fence.
Conservation groups are working with landowners to prevent fragmentation on key private land, including in the quarter-mile bottleneck. Others are working with federal agencies to ensure that land management plans require measures that enable migration.
Little by little, we hope to reduce the number of stress points. But as I head home to my warm fire and mug of tea, I think about what lies ahead for the group of seven.
Perhaps it's good that they don't know the details. They will plug away, mile by mile, doing what they've been taught to do, come hell or high water.