The old man apparently hadn't read my script.
My family and I were spending the first night of our trip down the Mekong River in a remote village in northern Laos, and we had just finished dinner at the house of the village headman, our host for the night. The plates were pushed to the center of the table and the old man leaned back against the railing of the front porch where we sat. My wife, Paola, translated for me while my kids slipped away from the table to rummage through our backpacks looking for the iPad.
I asked him about the fish in the river — the what, how and when of their fish harvest — and then the conversation turned toward the dozens of large dams that are proposed for the Mekong and its tributaries. One of those planned dams will be just downstream from his village, and I asked him what he thought about it.
I expected him to focus on the dam's impacts because it won't provide electricity to his village (the power will be sold to Thailand), but it will block the migration of the big fish that are an important source of food.
To me, this tiny village was a thumbnail sketch of an epic conflict brewing across five countries:
China has built enormous dams on the upper parts of the Mekong and the countries of the lower river are now rushing to keep up.
Dozens of dams are planned — or are already under construction — on the lower Mekong and its main tributaries.
The region's governments are so desperate for the energy those dams can produce that they appear willing to sacrifice the largest freshwater fish harvest in the world, one that feeds tens of millions of mostly poor people.
This conflict now generates headlines — even sometimes in the United States — with the standard narrative being that big dam developers are trampling on the lives and livelihoods of the poor rural villages.
At least, that was the narrative I'd brought with me.
'We Need Development'
But when I asked about the dam, the headman's response muddied the simple plot lines.
"We need development," he said, and then he made a circling gesture with his right hand, pointing out toward the absolute darkness that engulfed the village. "Roads, dams, schools, hospitals, we need all of it."
Tweet this quote
To me, the darkness here was a welcome respite from my well-lit world, revealing an awesome tapestry of stars that most in the United States so rarely now see.
To him, that darkness was a nightly reminder of the distance of his world from mine. And dams weren't for him some epic contest of competing visions of sustainable development. They were the thing that would bring light to his status quo darkness.
The rest of the trip I heard a lot of different perspectives and stories, but one thing was clear: perspectives of local people on dams defy simple answers and conclusions.
How Science Can Help Address the Complex Reality of Dam Development
Though fighting dams resides deep in the DNA of environmental groups, this complexity has the Conservancy seeking a broader vocabulary than just saying "no" to dams. Besides, the debate about whether dams should be built is a bit academic — lots of dams will get built, and there's a clear role for organizations that can find solutions for better outcomes.
Science can deeply inform that broader vocabulary. For example, various analyses can help identify how dams should be deployed in order to generate a desired amount of energy while having the lowest impacts on other values (such as fish populations).
Working in several river basins in Latin America and Africa, Conservancy scientists are putting together a set of spatial tools that planners, developers and regulators can use to quantitatively compare the costs and benefits of different plans for hydropower development — not just environmental, but across economic and social values as well.
The Mekong provides one of the clearest examples of how these analyses can identify promising solutions.
Guy Ziv and colleagues (2012) studied 26 dams proposed for the Mekong's tributaries and modeled every possible alternative for building those dams. For each scenario they quantified the amount of energy produced and, using a fish population and migration model, they estimated the impact on biomass and species viability of migratory fish species (the most important food species in the Mekong are migratory).
Ziv and his coauthors found that building all 26 dams would reduce the biomass of migratory fish in the whole Mekong basin by nearly 20%. However, by foregoing a few dams, fish losses could be minimized to just 3% — while still producing 75% of the total available energy from tributary dams (see Figure; note that mainstem dams are not part of this analysis, but even with mainstem dams, this type of analysis sheds some light on more balanced alternatives).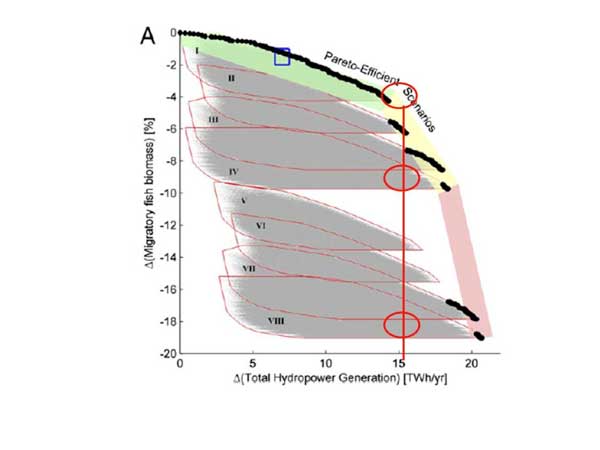 The Limits of Science to Inform Action on Hydropower Development
But the Mekong also reveals the limits of science to turn that broader vocabulary into action. It's government or corporate decisions that ultimately decide how hydropower is developed.
Last year, the Cambodian government approved the single most impactful dam out of the 26 that Ziv studied (Lower Sesan 2) at a site on the Sesan River just downstream from the confluence of three of the Mekong's most important tributaries: the Sesan, Srepak and Sekong (collectively known as the "3-S rivers").
Lower Sesan 2 will sever the route that migratory fish follow between the Mekong's productive floodplains and spawning habitat in the 3-S basin. By itself, this single dam would reduce basinwide migratory fish biomass by nearly 10% — half the losses that would be caused by building all 26 tributary dams — for a relatively small amount of energy.
The next most impactful dam has about 1/10 of Lower Sesan 2's impact. Unlike the dam I discussed with the headman, which will be thousands of kilometers upstream from the lower Mekong's floodplains — the engine of the system's productivity — Lower Sesan 2 would be a wrench thrown directly into that engine.
The government of Cambodia seems ready to accept that engine damage, paying absolutely minimal attention to environmental impacts, solutions or alternatives.
Tweet this quote
In fact, a colleague just told me that one of the government's proposed mitigation strategies is to build a Sesan "museum of the fisherman" to memorialize the fish and livelihoods that will fade away.
Conservationists: Don't Propose Your Own Museums
To the ears of a conservationist, the proposal for a fisherman museum lands with a surreal thud, comical and tragic.
But it's also a reality-check reminder to us: don't propose your own museums.
Arguments against Lower Sesan 2 (or any dam) that rest on subsistence fishing villages remaining subsistence fishing villages must confront the clear demand for material progress — and acceptance of trade-offs — expressed by that Lao village headman.
These sentiments are also echoed by fishermen interviewed in two recent documentaries about the Mekong region (A River Changes Course and Mekong). Each fisherman shared a similar dream: that through education their families could diversify their opportunities, move beyond fishing, and secure stable, higher-paying jobs.
For conservationists, ignoring this yearning for the options that come with widespread economic development risks supporting positions that people in the region may hear as proposals for our own sort of museum, with fishermen hurling their cast nets in real-life dioramas.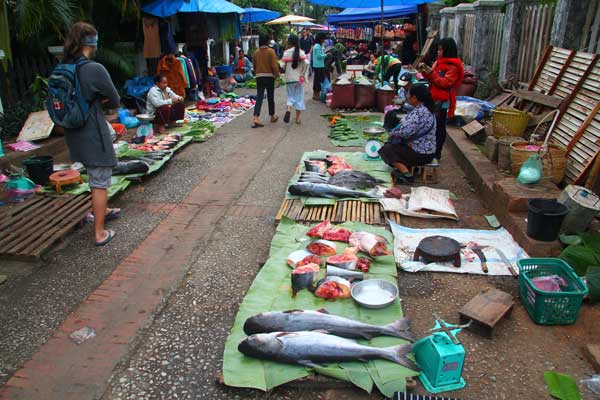 That said, there are plenty of stories of subsistence rural communities who are truly fighting hydropower development to maintain their way of life — stories also featured in recent documentaries (even within a different film by the director of A River Changes Course).
Further, while there are some good examples of compensation and economic development programs for people physically displaced by dams and their reservoirs, there is scant precedent of that kind of benefit-sharing for those who are not displaced but who are impacted by major changes to the river, such flow alterations or the loss of migratory fish.
In the Mekong, as in much of the world, orders of magnitude more people will be affected by those river changes than will be directly displaced by reservoirs. Given the current development context in Laos and Cambodia — in terms of governance and the distribution of economic gains — some fishermen may be able to take advantage of expanding economic opportunities in cities.
But many will not. Recent work suggests that Cambodia in particular will struggle to find alternative protein sources and livelihoods for rural populations previously dependent on fisheries.
This situation may seem overwhelmingly complex. But the key word is options, and this is where science — with its ability to quantify impacts and compare alternatives — offers a path forward.
Because its impacts are so high relative to its energy benefits, Lower Sesan 2 is clearly one of those dams for which the word "no" is still relevant.
Science could provide a broader vocabulary. It illuminates Lower Sesan 2's off-the-charts environmental impacts relative to other options. It can highlight alternative scenarios that can achieve energy targets while maintaining much greater fish populations. That vocabulary makes opposing the dam more than just opposing progress. It makes alternatives seem highly pragmatic.
However, as of yet, government officials aren't listening, the dam is proceeding, and the current version of this story offers a harsh lesson: science can illuminate more promising options, but decision makers can shoot out the lights.
For more on the relationship between dams and conservation, read Jeff Opperman's TALK post "Carp and Collaboration" on how conservation organizations are working with hydropower companies to ensure that the coming wave of hydropower development follows a path that makes room for healthy, productive rivers.