What is the ASC Microplastics Project?
Have you heard of microplastics?  Every time you wash your clothes, you release 2,000 into the water system.
And they're showing up in ocean water from Maine to Palau, killing some of the wildlife that mistakenly eat them and leaching toxins into the food web.
But now you can help–as a citizen scientist.
Scientists at the Adventurers and Scientists for Conservation (ASC) Microplastics Project are learning more about the concentration and distribution of microplastics in oceans around the world and they need your help.
Microplastic is a term for very small pieces of plastic (5mm or smaller) in the environment.
"Many of our common household items including cleaning supplies and toothpaste have plastic microbeads in them," explains Emily Stifler Wolfe, Marketing and Outreach Manager for ASC. "Microplastics are also produced when larger plastic items like bottles or bags break down."
The ASC Microplastics Project is calling on sailors, kayakers, surfers, paddleboarders, and other ocean enthusiasts to submit water samples.
And soon, they'll be expanding their sampling to fresh water, so that they can better understand upstream sources of the microplastics.
Why is the Microplastics Project Important?
And there are a lot of plastics out there in the ocean. You might have heard of the Great Pacific Garbage Patch or of a disturbing new "rock formation" called plastiglomerate.
And plastics, both micro and larger, are being ingested by wildlife, notably endangered Laysan Albatross chicks. But, scientists are gathering mounting evidence that many other birds and ocean creatures are also eating microplastic.
"I was surprised to learn that microplastics attract toxins including DDT, BPA and pesticides, which then enter the food chain when the particles – often resembling plankton – are ingested by wildlife," says Wolfe.
And that's bad news for us top predators.
"This is relevant to everyone," she adds. "As plastics biomagnify up the food chain, they affect ecosystem health, and likely human health."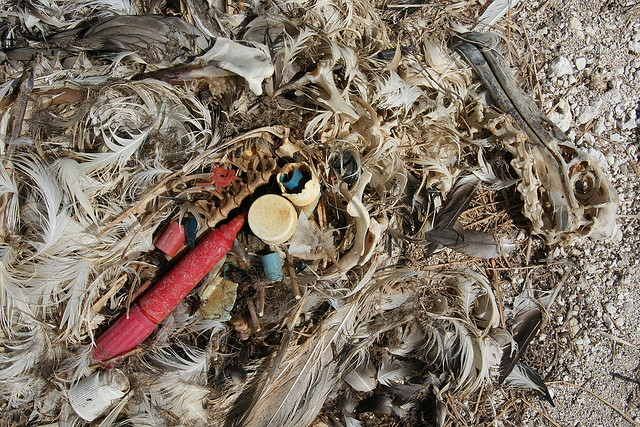 And it gets worse. Scientists with ASC's project have found microplastics in nearly every liter of ocean water that they've examined. That includes samples from Maine, Alaska, Argentina, Thailand and Antarctica.
Where is so much plastic coming from? Some are from places you would expect like broken down bags, but others are quite a surprise.
For instance, Wolfe says, "Turns out, every time you wash your synthetic clothing, 2,000 microplastic particles are released into the water system."
No typo, 2,000 microplastic particles, every time.
But don't lose hope; there are many things that we can do to limit the amount of plastic reaching the ocean.
Here are some of the goals the ASC Microplastics Project is working toward:
Have the clothing industry alter their manufacturing processes so synthetic products no longer shed microplastics.
Create a filter for washing machines that blocks microplastics from entering the water system.
Pass a nationwide ban on microbeads in household items and cosmetics.
Ban plastic bags at the municipal level.
How Can You Get Involved in the Microplastics Project?
If you are an adventurer, participate in ocean sports, or spend a lot of time out on the water, you can sign up to volunteer for the ASC Microplastics Project.
They will contact you with details about the program.
If you spend more time in fresh water, then check back with the ACS Microplastics Project in 2015 to see if their fresh water sampling has begun. It will start in the Bozeman area, but may expand from there.
Or, you can make a big impact right at home.
"On a more grassroots level, public education is important, because it leads to people using fewer plastic products," says Wolfe. "It's all about supply and demand, and we as consumers have a lot of power. People can use fewer plastic products, choosing glass, steel or other reusable containers instead, and only wash synthetic clothing when absolutely necessary."
So, think about ways you can cut back on plastic use, spread the word about the magnitude of the plastic problem, and, if you can, get involved with the ASC Microplastics Project.
"Everyone who joins [our] project is contributing valuable information to this relatively new field," says Wolfe.
You can make a difference for wildlife and people. Share your ideas for limiting environmental microplastics in the comments.
---
Is there a citizen science project that you think deserves more attention? Contact Lisa Feldkamp, lfeldkamp[at]tnc.org or leave a comment below with a link to make a recommendation for Citizen Science Tuesday.