By Dan Auerbach, NatureNet Fellow and Leah Bremer, Ecologist for the Natural Capital Project
Amidst all the talk of "big data" – vast amounts of information that defy traditional analysis – you might think data are getting cheap and easy to come by these days.
But that would be a mistake, especially when it comes to monitoring conservation measures.
Take water funds.
Water funds are collaborative efforts to secure ample clean water through careful watershed management – things like protecting native vegetation, supporting smart grazing practices, or thinning overgrown forests to reduce catastrophic wildfire risk.
These innovative partnerships work to meet downstream water users' needs by improving the livelihoods of upstream land users and favoring native habitats and ecosystem functions.
For example, the Quito Water Fund, FONAG has spurred a growing number of comparable programs throughout Latin America after the city's municipal utility company collaborated with partners including The Nature Conservancy to fund and organize watershed protections.
More than a dozen funds are now conserving riparian and upland areas in the region, with more in the pipeline. The Water Fund 'brand' continues to spread, with The Nature Conservancy involved in US initiatives such as Santa Fe's efforts to control post-wildfire erosion risks and other international programs such as efforts in the Tana basin that supplies drinking water to Nairobi, Kenya.
Water Funds are good news for conservation practice, with the potential to sustain ecosystem health while meeting human water needs. But what does data – "big" or otherwise – have to do with it?

Conservation Monitoring: Expensive and Arduous
Well, as the Water Fund idea grows, so does the need for evidence that interventions are having the desired effects on ecosystems and people.
Fund participants want to know whether actions like fencing livestock out of streams or deploying more rangers to patrol against land abuses are affecting targets such as costly water contamination.
Our scientific experience with small-scale manipulations shows these measures can work, but Water Funds are often working in bigger, more complicated catchments or have objectives that carry more uncertainty, such as increasing stream flow volumes during the dry season.
But it turns out that a lot of primary data concerning conservation measures is still expensive, time-consuming, and arduous to gather.
Case in point: it takes great determination to rebuild a remote, flood-damaged weir amidst incessant insects under a hot sun – all after months of planning to avoid security risks and meetings to build trust with landowners!
And the humidity, mosquito bites, and steep muddy slopes faced by technicians already represent quite a victory.
Assuming you know the best equipment for the job, simply deciding where to install gages and data loggers usually poses a complex problem involving who or what else is affecting the places where the Water Fund works, whether the equipment will avoid floods and marauding wildlife, and whether anyone can actually get to it safely!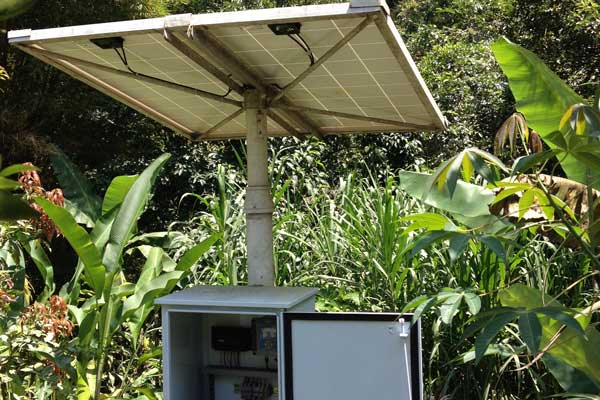 Tools to Meet the Challenge
Fortunately, Nature Conservancy staff and other scientists working on water funds have developed tools to help address these challenges, including a comprehensive "how-to guide" for new and existing programs that covers the "what, where and when" of data collection.
Program managers and participants know that solid measures of impact or "return" are essential to making sound decisions as they invest in their watersheds. And getting that information means collecting direct measurements of variables like stream flow, suspended sediments or nutrient levels.
A great example of how Water Funds are beginning to gather more data is Fondo Agua por La Vida y la Sostenibilidad (FAVPS), or "water for life."
Staff from FAVPS and its Secretary Pedro Moreno work in the Cauca Valley near Cali, Colombia, to help local landowners improve their livelihoods in ways that benefit downstream water users. Building on the longstanding efforts of people like Amalia Morales and Diego Rivera-Iregui at the river association Asobolo, FAVPS supports activities that include riparian fencing, sustainable grazing, agroforestry, and reforestation.
Sugar cane growers in the valley are major investors in FAVPS, and they're interested in the effects it is having.
With the goal of monitoring those effects, Javier Carbonell and Fanny Hoyos at Cenicaña, a research group for the sugar cane industry, have directed the installation of new flow and sediment gaging stations within the Agua Clara subwatershed of the Cauca Valley.
Home to remarkable native wildlife and plants, Agua Clara has steep topography, distinct microclimates, and unique soils that make first-hand hydrologic data invaluable. Biannual visits to measure a host of water quality and aquatic ecology parameters complement the physical data collection.
Designing and implementing this monitoring was no easy feat.
Concerns about personnel security and site access were significant. Taking the time needed to build trust, the people at FAVPS, Cenicaña, and Asobolo established relationships with local landowners and community members.
Those relationships facilitated the installation of equipment as well as ongoing field visits. In addition, FAVPS is implementing a social monitoring program that uses surveys, interviews, and text messages to track the benefits and costs to landowners of participating in Water Fund activities.
This information is critical to understanding how the Fund's interventions actually translate into local changes in human well-being.
Rocks the Size of Bowling Balls
Of course, the challenges don't end when the initial monitoring plan is finally complete and the protocols are in place.
Earlier this year, several days of atypically intense rain above one gaging station turned the normally rippling stream into a raging torrent.
As rocks the size of bowling balls churned down the narrow bed, they destroyed the buried cable connecting the instruments encased in a concrete flume to the solar-powered data logger safely up on the banks.
But plans are already in place for the necessary repairs, and that sort of disruption doesn't deter people like Baudelino, a technician who lives nearby and prefers to walk between the monitoring points where he takes readings.
He says walking gives him more time to pay attention to which trees are blooming and which birds are nesting, and maybe even to catch a glimpse of a rare snake.
He's worked with FAVPS and Asobolo to engage landowners in Aguaclara, and he's participated in work projects like building riparian fences.
He knows the Water Fund has the potential to help people in the community as well as those further down in the valley, but that it will take patient determination to see projects through.
It will take the steady commitment of people like Baudelino to gradually accumulate the evidence for what is and isn't working to meet the objectives of Water Funds.
But combining this information with careful modeling and analysis can then guide future investments toward the most effective actions and rally support to scale up the Water Fund idea even more broadly.
Call it "small data" with a big impact.
Opinions expressed on Cool Green Science and in any corresponding comments are the personal opinions of the original authors and do not necessarily reflect the views of The Nature Conservancy.