This post is second in a two-part series. The first focused on the regional economic impacts from ecotourism.
At large scales, there is strong evidence that intact natural systems can reduce flooding and provide economic benefits. But many land use decisions are made at the local scale. How can communities evaluate the economic benefits of restoration projects at a scale that is meaningful for their decisions?
One study that analyzed 34 major hurricanes in the eastern United States since 1980 found that a loss of just one acre of coastal wetland leads to an increase of $13,360 in flood damage to communities during each storm. Another recent study on National Wildlife Refuges across the United States found that these protected areas provided $2.4 billion of sales to regional economies in 2011.
Economic data at those larger scales is not always useful to local managers for making business decisions on investments in specific projects.  Local communities will likely need site and project-specific data to increase their confidence in nature-based solutions to flooding.
Economic Data May Be Closer Than You Think
Finding such data can be a daunting task for resource-strapped municipalities, but conservation organizations can help fill this role, as they need the same kinds of data to evaluate project performance. This case study of an ecological restoration in Cape May, New Jersey, demonstrates a basic method for evaluating the economic benefits of ecological restoration projects at the local level.
Located in southern Cape May County, New Jersey, the restoration included the South Cape May Meadows Preserve (owned by The Nature Conservancy) and the Cape May Point State Park (managed by the New Jersey Department of Environmental Protection) and was jointly funded by the NJ DEP and the U.S. Army Corps of Engineers.
Although coastal risk reduction in this area had long been a concern, the dune breach during the "Perfect Storm" of October 1991 made it clear that some type of intervention would be necessary. The October 1991 storm was not, in fact, atypical for the region, where an average of one major hurricane passes within 100 kilometers every four to five years.

The restoration, completed in 2007, replenished the beach and rebuilt the dunes, which slow incoming waves. The project also increased the storage capacity of the wetlands and improved their drainage capacity, intended to reduce flooding to surrounding homes. In 2014, the Conservancy's New Jersey program conducted an economic analysis to determine: 1) was the level of flooding reduced after the restoration, and 2) if so, how much money did homeowners save from avoided flood damage costs?
Local Stories Give Context for Data
We compiled data on precipitation, storm surge, storm duration, and property damage from a variety of sources, including the U.S. Army Corps of Engineers (USACE), Federal Emergency Management Agency's (FEMA) National Flood Insurance Program (NFIP), and the National Oceanic and Atmospheric Administration (NOAA). We also conducted 30 interviews with local experts and community members to corroborate and provide context for the quantitative data.
For instance, local managers in Cape May Point explained that the January 1992 storm was not necessarily an outlier. The "Perfect Storm" only months earlier had severely eroded the dune; further, the length of the storm lead to greater damage. In the third day of the storm the wetlands overflowed and caused much of the damage; the drainage system for the wetlands was almost completely blocked and had been for many years. For this reason, restoring the drainage capacity was so critical.
Our analysis showed that after the restoration, storms with equivalent storm surge height resulted in less damage. The same pattern held true for precipitation. For instance, Hurricane Irene dropped much more precipitation (over four inches) than all major storms except for Sandy, but lead to no claims.
Superstorm Sandy had the highest precipitation, the highest three-day total precipitation, and the third highest storm surge (after Gloria and the December 1992 storm) of all storms since 1985 — yet flood damage claims for Sandy were among the lowest of the past 30 years.
Table 1. NFIP damage claims and weather data from Cape May Point, selected storms since 1985
(The blue highlighted row indicates that the restoration was taking place during that time period)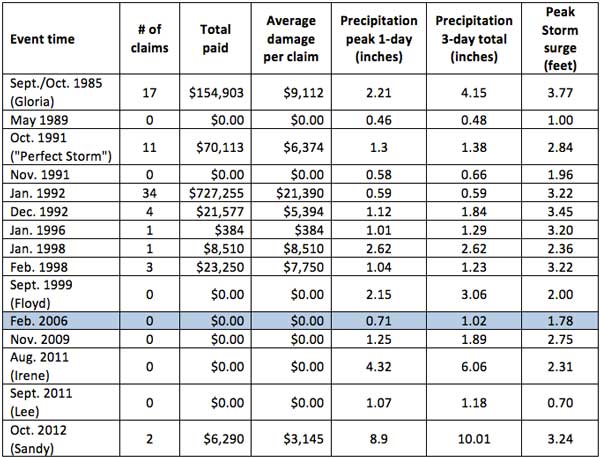 Data for Improving Decisions
Extending this reduction in damage from storm surge and precipitation over the next 50 years of predicted storms, we estimated that avoided damages would be valued at least $2,000,000 and could be as high as $17,300,000. To arrive at these numbers, we calculated the average cost of damage per-foot of storm surge and per-inch of precipitation, before the restoration. We applied those rates to the actual precipitation and storm surge data after the restoration, subtracted the actual damage, and extrapolated the new annual damage rate over the next 50 years.
This case study offers two important lessons. The first is that ecosystem service valuation is a straightforward process that could be applied to many projects even by non-economists. In many cases, ecosystem service valuation just involves getting data from a lot of sources, putting it together in a coherent story and using it to make more informed decisions.
Second, evaluating the success of projects is important to ensure that our conservation work adds up to positive outcomes for communities and nature. Evaluation does not need to be an expensive process. Using a method such as the one used here can help ensure that our projects continue to be successful, and allow us to improve our designs if we find that projects are not resulting in the expected benefits.