Follow that curlew: radio-tracking research in the western United States is allowing researchers (and you) to follow these grassland birds on their mysterious migration.
While nesting on shortgrass prairies, long-billed curlews are not difficult to spot.
They fill the air with a raucous call and flutter around the grass. Their namesake long, curved bill makes them easy to identify.
But researchers don't know much about curlews and their habitat needs when they leave their nesting areas to migrate south.
Long-billed curlew populations, like those of many grassland birds, have been in decline in recent years. Tracking curlews and understanding their migrations will help conservationists better protect these birds and their habitats along their entire migration route.
The Intermountain Bird Observatory, a research effort in Boise State University, is leading the effort to track migrating curlews.
The observatory tagged three birds last year, and added 11 new tagged birds this year – birds that nested at the National Elk Refuge in Wyoming and several spots in Idaho. (Another curlew tracking effort is also underway in Montana).
"We wanted to understand what happened to curlews during their entire life cycle," says Jay Carlisle, research director for the Intermountain Bird Observatory. "We wanted to understand potential threats to the birds when they left the Intermountain West."
One of the tagged curlews this year originates from The Nature Conservancy's Flat Ranch Preserve, located in eastern Idaho just west of West Yellowstone.
Flat Ranch celebrated its 20th anniversary this past weekend.
It is one of those places that inspires superlatives: It serves as a migration corridor for large mammals moving out of Yellowstone, especially pronghorns. The fields are blanketed with carpets of wildflowers in the early summer. Yellowstone cutthroat trout are thriving in a restored stream.
Grizzly bears pass by, usually unseen. Sandhill cranes dance in the meadows, and bald eagles and ospreys cruise overhead.
And there are curlews. Lots of curlews.
During my preserve visits over the years, the curlews have been hard to miss. The area appeared to be a curlew paradise.
"We have a nice mosaic of well-managed grazing land next to high-quality riparian and wetland habitat," says Jordan Reeves, the Conservancy's East Idaho conservation manager. "It has always seemed a perfect place for nesting curlews."
Research backs that assessment. A 2011 survey by the Idaho Department of Fish and Game (an active partner in the curlew effort) found 46 birds. A 2013 survey found even more: 99 nesting curlews.
Clearly, they're thriving here. But what happens when they leave the preserve?
The Conservancy's Marilynne Manguba led a community fundraising effort in the nearby city of Idaho Falls to attach a radio transmitter to one of Flat Ranch's curlews.
Next came the delicate task of capturing and tagging a curlew.
In early summer, staff from the Intermountain Bird Observatory and IDFG joined volunteers to capture a curlew on the preserve. At this time of year, female curlews stay on the nest and only leave if there is an extreme disturbance.
Biologists sneak up to the nest and put a mist net over it. They then get closer and flush the curlew, which flies up into the net. While it is being fitted with its lightweight transmitter, volunteers guard the nest to ensure no predators harm the eggs.
The tagged female curlew was dubbed "Henrietta" and has now left the preserve on her migration.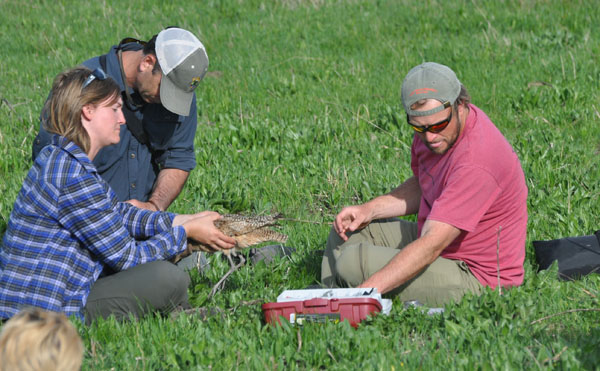 Follow That Curlew
Where will she end up? You can follow along via the Intermountain Bird Observatory.
Last year's tagged curlews from Idaho and Montana ended up at California's Central Valley and Salton Sea, and the Gulf of California in Mexico.
Conservationists could use innovative solutions to protect habitat there, such as temporarily flooding fields in California's Central Valley. In Mexico, some wetlands face economic development activities that could impact curlews and other migratory birds.
Although the sample size is small, researchers are seeing some intriguing patterns in the study. Curlews, it seems, do not typically rest for long periods.
"When these birds leave, they move quickly," says Carlisle. "They fly one night, land and rest for day, and then fly the next night. By that time, they're near their wintering grounds, and start exploring the area for a place to winter."
One curlew covered more than 750 miles in a day.
The timing of the migration is also interesting. The curlews have already left their nesting grounds and are at their "wintering" areas (and some of these wintering areas have temperatures hovering around 100 degrees Fahrenheit).
This is despite the fact that places like Flat Ranch remain wet with plenty of food.
"Curlews are leaving when other birds are just arriving," says Carlisle. "It's obviously still productive here but there's some reason for them to head south earlier."
The curlews won't return to their Rocky Mountain nesting areas until mid-march or early April.
"There's a lot we don't know about this bird," says the Conservancy's Reeves. "Why are they doing so well at the Flat Ranch? Why are they not doing well elsewhere? What are their full habitat needs along their migration route? This research provides critical data."
It's also a powerful outreach tool. Local ranchers and landowners have expressed interest in curlews. One local rancher, Debbie Empey, brought her granddaughter to the curlew capture, who proclaimed it "The best day ever!"
"Curlews are very compatible with ranching," says Reeves. "They need short grass. On a well-managed ranch, they thrive."
Flat Ranch is a wonderful stop for visitors on their way to Yellowstone. I've spent many fine days there myself – fly fishing, birding, photographing wildflowers, and observing critters through a spotting scope.
But it has also been a great place to test conservation practices, from grazing management to river restoration. The curlew effort provides another piece of information.
"There's really endless ground for experimentation here," says Reeves. "The research we perform can influence other working lands, and we can also easily share the information with our neighbors, members and visitors."
Henrietta, the Flat Ranch curlew, will be tracked for a full year. Where is she now? Follow her throughout the seasons.