The Heiltsuk First Nation, located in the heart of British Columbia's Great Bear Rainforest, has a long history in which the lives of people are inextricably entwined with the lives of grizzly bears.
Rich traditions of ceremony and storytelling, rooted in time before memory for Heiltsuk people, describe a reciprocal relationship between humans and their ursine relatives that still manifests as a deep respect passed from generation to generation.
But a new paper in Ecology and Society demonstrates that there is nothing archaic about this relationship; the narrative that links humans and bears also links ecology with storytelling, science with stewardship, and an exciting research and monitoring program with 10,000 years of place-based cultural identity.
Since 2006, the Coastwatch Heiltsuk Monitoring Initiative has undertaken a grizzly bear genetic research program on behalf of the Heiltsuk Nation.
The intent was to empower stronger management planning by the Nation, but over years of research other important patterns and relationships became apparent — and changed the way Coastwatch thinks about the intersection of Western Science and Indigenous knowledge.
Coastwatch's bear research focuses on molecular genetics of the grizzly bear population in the Koeye River Conservancy in Heiltsuk Traditional Territory.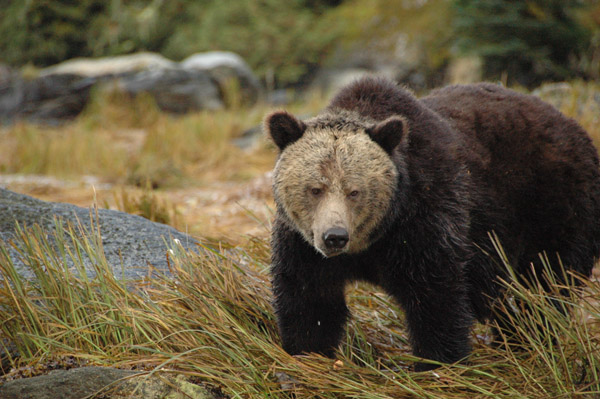 Non-invasive hair sampling undertaken by Heiltsuk technicians revealed a regionally significant population of bears congregating each salmon season, pointing to an unexpectedly large source geography for salmon-feeding bears and providing early evidence of a declining trend in the bear population.
During the non-invasive survey, Heiltsuk technicians collected grizzly bear hair as the animals walked by scented wire snares set up in the area during autumn salmon spawning season.
As part of the non-invasive aspect of the work, the "baits" provided no reward of any kind to the bears visiting the snares. DNA could then be extracted from the hairs to identify individual male and female bears and analyze trends in the bear population using the Koeye at different times of year.
Essentially, the analyses glimpsed a hidden world of bears, revealing the Koeye system as a grizzly bear highway and supermarket.
And not only were there surprising numbers of bears, but many traveled hundreds of kilometers from surrounding areas, often crossing large saltwater barriers, to feed on autumn-spawning salmon in the Koeye River.
As a result, Heiltsuk conceptions of the size and shape of sanctuary areas for Koeye bears has expanded and refined significantly. This area now represents one of the most southerly major aggregations of salmon-feeding grizzly bears in North America.
Beyond the hard science, what's exciting about this work is the new era it represents in local resource management. With the goal of integrating scientific research with culturally-rooted stewardship practices, Coastwatch sought better outcomes through collaboration.
The program partners with academics; Heiltsuk tribal government; the provincial government of BC and the federal government of Canada; resource managers; conservation practitioners; and community leaders who are authorities on First Nations resource stewardship.
Using the grizzly bear research as a discussion point, Coastwatch and collaborators have created a set of guiding principles for resource management in Heiltsuk territory.
Since Heiltsuk Gvi'ilas (tribal law) guided both the framing of Coastwatch's scientific questions and the application and utility of the results, the paper includes a discussion of six exemplary Gvi'ilas principles that were core to the collaborative research process.
The benefit is startlingly clear: by integrating First Nations laws and values with Western scientific research methods, what emerges is powerful management tools that reframe modern management as part of a millennia-long stewardship continuum.
Local First Nations stewardship offices are empowered as skilled and effective managers and technicians.
As increasing stewardship authority and responsibility is taken on by First Nations peoples, the capacity created by culturally-rooted approaches to scientific research has immediate implications for the species and ecosystems that most need protection.
The implications of this work extend beyond the homeland of the Heiltsuk Nation.
As stated in the paper, "Successful models for science-based action in Heiltsuk Territory can form the basis for improved action across broader geographies to conserve bear-salmon and other wildlife systems as relevant social, ecological, and evolutionary scales."
Science-based First Nations leadership is thus a viable and logical path toward conservation of both cultural and biological diversity — two inextricable components of the First Nations worldview that has informed stewardship for millennia.