What is iSeahorse?
Do you find seahorses fascinating? Want to learn more about the various species?
Are you a diver looking for a simple way to help ocean critters?
You will love iSeahorse!
"iSeahorse is an ongoing program that engages and empowers citizens in marine science and conservation.  This global program will lead to a better understanding of where seahorse species are in the world and give us an idea of how their populations are faring in the face of environmental change," says Riley Pollom, a research assistant with Project Seahorse.
iSeahorse gathers observations and identifications of seahorses from citizen scientists around the world.
Why is it important?
Scientists are still learning new things about seahorses.
There is even disagreement over how many species of seahorses exist worldwide. iSeahorse and the International Union for Conservation of Nature currently recognize 48 species but that number could change based on information from iSeahorse.
Your observations could also improve scientific understanding of seahorse ranges. Seven species of seahorses are listed as Vulnerable, one as Endangered and 29  are considered "Data Deficient" by the IUCN. Better data is a priority.
"Scientifically published ranges for seahorses may be underestimates, as several species have turned up outside of areas we thought their range was limited to," says Pollom.
More information on seahorse ranges and population numbers is vital to protecting these unusual fish. Conservationists need to know whether or not a species is struggling to get protection and they need to know where they are to protect the right area.
With iSeahorse you are providing information on both; the frequency (or rarity) of iSeahorse sightings can give scientists a sense of population health and the locations will indicate the range.
"Data from this project will be used to inform conservation assessments for the IUCN Red List and to inform policy decisions that affect seahorse habitat in areas such as coastal developlment and fisheries management," Pollom explains.
Seahorses are threatened by a variety of fishing activities. Large numbers are taken as pets for the aquarium trade or end up as bycatch in trawling nets intended to catch shrimp, and are then traded for use in Traditional Chinese Medicine.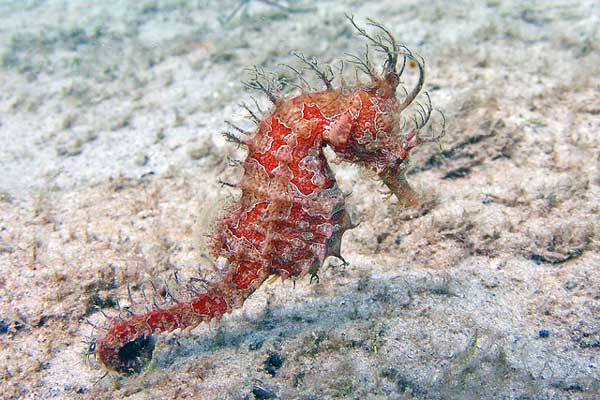 Seahorses spend most of their time in shallow water, hiding among coral reefs, seagrass beds, and mangroves. This makes them vulnerable to changes in the environment like ocean acidification, pollution, and climate change that destroy the ecosystems they call home.
People are drawn to seahorses because of their unique appearance and interesting biology (males get pregnant!).
If you or your kids love to learn about animals and ocean creatures, iSeahorse and Project Seahorse have a wealth of information from interesting facts to more advanced reading.
How do you get involved?
If you are able, then head out to the ocean and observe some seahorses! You can find species of seahorses around the world in the shallow coastal waters of temperate and tropical regions and in some estuaries. They have been spotted as far north as Canada and the UK.
But guess what? You don't even need to visit the ocean or learn to dive!
You can also help out by diving and submitting pictures of seahorse observations or by looking at the pictures that have been posted by other users and identifying species of seahorses.
For either option, you will want to start-out by creating an account and logging-in to iSeahorse.
You can visit the seahorse identification forum for a list of recent observations and accompanying photographs. You can suggest an identification or enter comments.
Don't know much about seahorse species yet? Don't worry! iSeahorse has you covered with an easy-to-use digital interactive ID guide on iSpot, an ID guide book PDF with detailed descriptions and photos, and a more specific guide for the large seahorses of Southeast Asia.
You can find seahorses while snorkeling or scuba diving. If you happen to see a seahorse on the beach or while fishing, you can report those as well.
Ideally you will want a waterproof camera or waterproofed iPhone so that you can get some pictures. If you use the iPhone app it will enter some of the data, like geographical location for you, but you can also upload photos or record an observation on the website. These pictures make it much easier for other to help identify the seahorses.
Observations require a date, latitude & longitude or location marked on a map, habitat description, and what you were doing when you saw the seahorse. There are several optional fields in case you have more information available.
If you live near a coastal area or estuary that has seahorses, you can take it to the next level by setting up a long-term monitoring program. Contact the iSeahorse scientists to find out how.
That's right, you can contribute new information about seahorses to science, play a role in conservation policy, and learn how to identify seahorse species! And you can do it while enjoying the beauty of the oceans or from the comfort of your living room.
Give it a try!
---
Is there a citizen science project that you think deserves more attention? Contact Lisa Feldkamp, lfeldkamp[at]tnc.org with information about the project or leave a comment below with a link.

Opinions expressed on Cool Green Science and in any corresponding comments are the personal opinions of the original authors and do not necessarily reflect the views of the Nature Conservancy.