What Is the Spotted Bat Survey?
This week's project will help scientist's learn about one of the coolest (and cutest) bats in North America. Even scientists can't help but compare this bat to a flying Oreo cookie.
Bats are incredibly interesting to study, but it turns out that we still have a lot to learn about them.
"Bats are just cool, who wouldn't love them once you get to know them? But, they're grossly understudied. We know so little that we don't know what we don't know," says Chuck Warner, Moses Coulee Conservation Area Program Director.
You can help fill in some of the gaps in scientific knowledge about bats by volunteering for the Spotted Bat Survey with the Nature Conservancy in Washington. You'll be listening for the echolocation call of the spotted bat (one of a handful of bat species that people can hear) and they're extra charismatic!
"It's the cutest," Lauren Miheli, volunteer coordinator, says of the spotted bat.
"It really is, it looks like a little Oreo cookie. You hear 'spotted' and you think speckles, but it's a couple of big spots," adds Warner.
"I did some mist-netting, as far as I know we were the first to capture this species in Washington and prove it's existence. The first captured was a juvenile. It very carefully looked up and stared each one of us in the eye, looked at, what must have seemed like this group of giant monsters — very endearing. It did it again before flying off; charmed all of us," Warner recounts his first encounter with the spotted bat.
Why Is It Important?
Did you ever wonder if bats migrate? Or where they go?
For many species in the United States, that's a question that scientists have yet to answer. And, there are surprisingly important implications.
You might have read about the rapid spread of white-nose syndrome and the many bats that have died from the fungus.
As a precaution against white-nose syndrome, scientists have ceased hands-on methods of monitoring, like the mist-netting mentioned above or entering caves where bats are hibernating. Given that they are nocturnal and can be hard to distinguish flying overhead in the dark, bats can be very difficult to monitor.
That makes the spotted bat, with its audible call, an important species for surveillance. According to Warner, the survey is an "inexpensive and effective way to get a handle on bats."
Spotted bats aren't alone in Moses Coulee Preserve; there are 14 species of bats that call the preserve home.
Spotted bat activity recorded during the survey acts as a surrogate for all of the other bats that are more difficult to monitor. It's not ideal, but it's the best data that can be collected without putting bats at risk for white-nose syndrome.
The scientists hope that the data will also help with a more immediate challenge for bats in Washington:
"We know that bats are susceptible to wind turbines. We want to help energy providers place the turbines where they won't be a problem," Warner explains. "Studies in Canada show that turbines affect migrating bats. We don't know if these bats have a migrating pattern and data from the survey helps fill those gaps."
The Spotted Bat Survey is not working directly with wind energy providers, but this project and others at the Nature Conservancy are working to provide data and tools that will help industry make better decisions about siting turbines and solar panels.
Even though the Spotted Bat Survey is located in just one preserve (Moses Coulee), it contributes to knowledge of bat migration in two ways.
First, groups of volunteers scatter across the preserve and record the time that they hear a call. If two groups record a bat call a short time apart, there's a good chance that they are hearing the same bat. This gives scientists a sense of whether the bats are flying in circles or heading out in a specific direction.
Second, participating citizen scientists learn to recognize the call of the bat and are encouraged to teach their friends to recognize and report it. That creates an entire network of people who are expanding scientific knowledge about where these bats travel.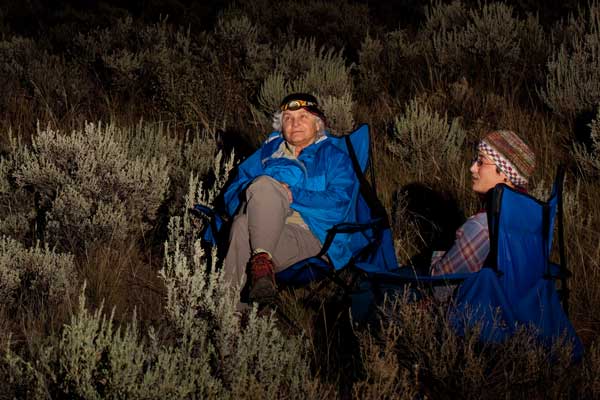 On top of the "cool factor," bats do a lot of good for people by eating mosquitoes and agricultural pests, so by contributing to the conservation of bats, you are helping to protect people from disease and reducing the need for pesticides.
The Spotted Bat Survey is also just plain fun!
"The survey is great for families. You're under the stars, in a beautiful place, doing work that is meaningful, enjoyable, and interesting. It's a great experience to offer people and we learn something," Miheli explains.
How Can You Get Involved?
The Spotted Bat Survey will take place on July 12 and 26 this year. It is limited to Moses Coulee Preserve, so this opportunity is best for people who live in Washington or plan to be there on vacation.
First, contact the volunteer coordinator to let them know that you would like to participate.
You will meet at Moses Coulee Preserve with the other volunteers as a group and learn about the survey process, why the Nature Conservancy is working there, and the 14 species of bats found there.
"The skills can be taught very quickly; it only takes a half hour at the beginning of the session and everybody is up to speed," says Warner.
They will play a recording of the spotted bat call. Warner describes the echolocation call as sounding like a person clicking their fingernails together and it speeds up to a trill when they home in on their prey that sounds like someone running their fingernail down a comb.
People who can hear the sound in the recording become observers and people who can't are given a clipboard so that they can record the observations of their group.
Groups of about 3 people are placed at 1/8 mile intervals throughout the Coulee. They have a set time to start recording (timing depends on the sunset) and record for an hour.
Each time that the group hears bats, they record the time and whether it was a simple call or a trill. Trills suggest that the bats are successfully hunting (moths are their main prey).
At the end of the hour everyone gathers to hand in data sheets. They talk for an hour about other things that they saw and heard, such as the eyes of an animal in the dark or other animals calling.
"People get a kick out of sharing the information. It's better than MTV," as Warner describes it. "We have had people come out and all they could hear were coyotes the entire hour. They were enchanted and frustrated."
After that folks are free to go home and scientists compile the data. Almost anyone who is interested can participate. This is a good activity to get children outdoors and learning about nocturnal species that might otherwise seem strange or scary.
Some listening stations are accessible for people with disabilities, they are near enough the road that you can get out and never be far from your vehicle.
If you are in the Washington area, do yourself a favor and give it a try!
And if you don't live in Washington, now is a good time to try Bat Detective an online citizen science project that I plan to write about at greater length in the future.
Update June 25, 2014: An earlier version of this post implied that the Spotted Bat Survey was working with wind energy development. A couple of sentences were added to clarify that they are not, but do hope that data about bat migrations will be taken up by the industry. We apologize for any confusion.
---
Is there a citizen science project that you think deserves more attention? Contact Lisa Feldkamp, lfeldkamp[at]tnc.org with information about the project or leave a comment below with a link.