What is the Hawaii Challenge?
Want to help save Hawaii's native plants and wildlife — even if you've never visited the islands?
Are you a citizen scientist or an armchair botanist looking for a challenge?
Then this is the perfect project for you! Join the Hawaii Challenge and help The Nature Conservancy in Hawaii pinpoint where invasive weeds are in the forest, and where the leading edge is, to prevent them from taking over.
Through DigitalGlobe's online crowdsourcing platform Tomnod, anyone can look at ultra-high resolution aerial images of native forests, and tag the locations of invasive weeds. This project focuses on just 3,000 acres on Kauai, but if successful, crowdsourcing may be able to help natural resources managers state-wide.
Why is it important?
Like many islands, Hawaii has amazing biodiversity. But consider this:
Ninety percent of plants and wildlife found in Hawaii are found nowhere else on Earth.
Half of Hawaii's native forests are gone.
Fifty percent of native Hawaiian birds are extinct and another 40% of the remaining birds are on the endangered species list.
Many of the remaining native birds and other wildlife rely on native forests for survival.
Not only that, but people rely on the forests for clean water and traditional Hawaiian cultural practices.
"Crowd participation to identify weed locations in this remote, dense Hawaiian rainforest helps us do our job to protect perhaps the most precious resource the forest provides – our water," Jason Sumiye, Director of Landscape Science for the Nature Conservancy Hawaii Program says.
And invasive plants are a big threat. They compete with the native flora for resources and can spread rapidly.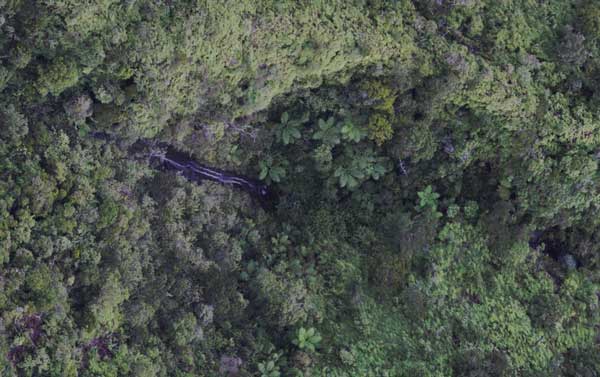 The Hawaii Challenge is targeting two plants that started as ornamentals, but have become invasive: the Australian Tree Fern and the African Tulip Tree.
"When they get into the forest, the Australian Tree Ferns grow above the native canopy, taking over and smothering the many layers of native plants beneath them. They release millions of spores that are carried by the wind over steep mountains into remote valleys, spreading rapidly," says Evelyn Wight, Senior Communications Manager for the Nature Conservancy in Hawaii.
Hawaii's remaining native forests are mostly located at high elevations, in remote challenging terrain, so it's hard to know where those spores are growing, or how fast they are spreading.
"The important part is to understand the extent of the problem. Is it just a few plants or is it more expansive? That's where our Tomnod crowd can help the most," explains Luke Barrington, Senior Manager of Geospatial Big Data with DigitalGlobe.
By crowdsourcing the project, staff in Hawaii will be able to get a sense of the number and location of these invasive plants much more quickly than they could on their own.
Once they've found the weeds, they have a very cool strategy for removing them with minimal damage to the native ecosystem.
Catching the plants early and targeting them saves money and time too. Hawaii spends around a half billion dollars each year fighting invasive pests.
There is another side to the challenge.
DigitalGlobe is best known for its work with rescue and response crises like the missing Malaysian Airlines Flight 370. They have never worked on a potential ecological disaster like this before.
"DigitalGlobe's purpose is "Seeing a Better World"™. Using all of our tools to make the world better lines up with the Nature Conservancy's goal to protect nature and preserve life," explains Barrington. "We've had a huge response to global problems in the past and we're eager to engage our volunteers to solve new types of problems."
If you care about keeping Hawaii beautiful, rise to the challenge and show that the crowd is willing and able to help with projects like the Hawaii Challenge.
How do you get involved?
Visit the Hawaii Challenge.
If you sign-up for Tomnod, then can track your progress over time so that you can see the impact you're having (map tiles you've explored, plants you've tagged, and people who've agreed with your tags). If not, just go to the website and click "Start Tagging."
Your screen will focus on a tile of aerial images of the Hawaiian forest canopy on the island of Kauai.
"The ruggedness and remoteness of these watershed forests has been a double-edged sword. It's part of the reason these forests are still in relatively good shape. But, it's also been one of the main deterrents from allowing more people the pleasure of experiencing it in all its wonder," says Sumiye. "With aerial imagery and Tomnod, people can see the forest from the safety of their computer screen."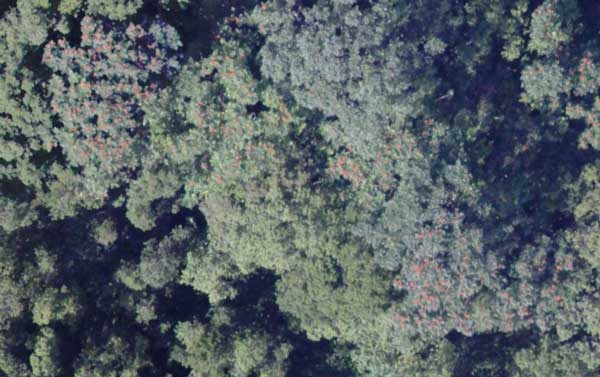 Scan the image for invasive plants, specifically Australian Tree Fern and African Tulip Tree. If you're not sure what they look like, there are buttons on the left-hand side of the screen that give a brief description of each plant and sample images.
If you see an invasive plant, tag it by choosing that plant from the menu on the left and then clicking on the plant in the satellite image. A circle will appear over the plant. If you accidentally make a circle, you can easily delete it.
Once you have finished looking at a map tile, you can move to an adjacent tile in any direction by clicking on it, using your keyboard arrows, or by clicking "Jump to a Random Map."
And there's a surprise! As you go, you will be rewarded with reminders of why the work is important.
Sometimes it is easy to pick out the invaders, but other times it's hard to tell.
"If you're worried about messing up the data, don't be. We've built Tomnod with the world in mind. It is designed to be simple – your eyes and brain are the most powerful sensing tools in existence," Barrington points out. "Crowdsourcing finds consensus – when many people click on it that's when we're sure. If you're not sure, use your best judgment."
That's a pretty amazing reminder of why it's okay to go with your instinct!
Yes, you might make a mistake, but you will make fewer mistakes than the best computer would when trying to analyze the same data.
If you want to be a part of preserving native plants and wildlife to keep Hawaii beautiful, take up the Hawaii Challenge and come back for more!
---
Is there a citizen science project that you think deserves more attention? Contact Lisa Feldkamp, lfeldkamp[at]tnc.org with information about the project or leave a comment below with a link.

Opinions expressed on Cool Green Science and in any corresponding comments are the personal opinions of the original authors and do not necessarily reflect the views of the Nature Conservancy.