Can improved river flows help restore the paddlefish, an ancient and giant North American fish?
That's the focus of an experiment currently underway at Caddo Lake on the Texas-Louisiana border.
In March, paddlefish, an iconic fish species that has been greatly reduced or extirpated over much of its range, were reintroduced to Caddo Lake and Big Cypress Bayou (the river that forms the lake). Researchers are now closely monitoring the fish to see how they are faring.
The Big Cypress-Caddo Lake system has been the focus of a decade-long private-public partnership to restore healthy flows altered decades ago by an upstream dam. The experimental release of paddlefish represents one in a series of studies to measure the effectiveness of changing flows at the dam to better mimic natural high and low fluctuations and thus improve wildlife habitat.
Nearly 50 paddlefish were released in the watershed in March to great fanfare.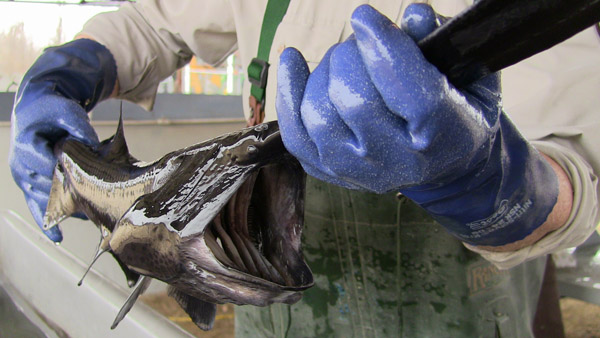 Paddlefish look like a fish from another time, and indeed, they have changed little in their 70-million year history. They have a long, spatula-shaped snout and a large mouth that lacks teeth; they feed by filtering plankton. They also have skeletons primarily composed of cartilage.
They are one of the largest freshwater fishes in North America, reaching up to 7 feet in length and weighing as much as 200 pounds.
They're also imperiled, due in part to extensive changes in river flows caused by dams.
Paddlefish were once common in Caddo Lake and the streams that flow into it. Many biologists hypothesize that they fell into steep decline following the construction of Ferrell's Bridge Dam, located upstream on Big Cypress Bayou.
That dam changed natural flow patterns of Big Cypress Bayou, including the "spring pulses" or high flows that are critical to sustaining the complex life history patterns of paddlefish and other species.
These flow patterns maintained habitat and provided cues for paddlefish to move to spawning areas. The dam also changed the way sediment was carried, which essentially covered up gravel bars the paddlefish used to spawn generation after generation.
In 2004, when a number of partners began developing a plan change the management of water releases, paddlefish restoration was one of the stated goals. Test releases from the dam began in 2006.
If successful, larger introductions of paddlefish could take place in Caddo Lake in the future, offering a promising future for this fish here.
Partners in the effort include the Caddo Lake Institute, U.S. Army Corps of Engineers, The Nature Conservancy, Northeast Texas Municipal Water District, U.S. Geological Survey, Texas Parks and Wildlife Department, Texas Commission on Environmental Quality, Louisiana Department of Wildlife and Fisheries, Cypress Valley Navigation District, the City of Jefferson, and the US Fish and Wildlife Service.
Andrew Warner, Deputy Director of Water Infrastructure for The Nature Conservancy, said the flow restoration at Caddo Lake is part of the Sustainable Rivers Project, a nationwide effort led by the Corps and the Conservancy.
"Through the Sustainable Rivers Project, we are demonstrating cost-effective ways to modernize dam operations that produce more benefits—like improved water quality, enhanced wildlife habitat, and greater recreational opportunities—without sacrificing flood protection or water supply," he said.
With the aid of surgically implanted radio transmitters, researchers are now individually tracking each of the paddlefish, which were 18 months old and 2 to 3 feet in length when they were released.
Three months into the release, how are they doing?
Rick Lowerre, president of the Caddo Lake Institute, offered this update:
As far as we can determine, all 47 fish with transmitters are still in the Caddo Lake watershed. Many are found well upstream of Caddo Lake, near the outflow of the dam. The U.S. Army Corps of Engineers is currently releasing water from that dam based on the recommendations of experts for the environmental flow project that is the basis for this paddlefish reintroduction experiment. The high releases are apparently attracting almost half of the paddlefish that were released.
The fish are not just staying near the dam. Many are traveling down and into Caddo Lake, and some make the trip back to the dam.
A full analysis of the habitat (flow levels, water quality, plankton levels and such) used by the fish under different flow conditions should be available by early fall. Monitoring of the fish may continue through the spring of 2015.
That's promising news for a great fish species. Cool Green Science will continue to provide updates on the paddlefish as more data become available.
You can also receive general information about the movements of the fish at www.CaddoLakeInstitute.us.
While playing an important role in helping to meet social needs such as water supply, flood protection, and navigation, dams have caused devastating impacts to native fish and wildlife populations.
Modernizing dam operations to include current scientific understanding is a central pillar of the Conservancy's Water Infrastructure program, and the changing operations at Caddo Lake are a chapter from a new story: managing dams so that they provide for both people and nature.
Will paddlefish resume their millions-year reign in the region? Stay tuned.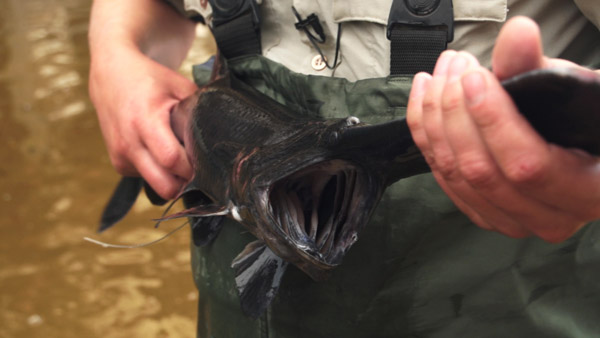 Special thanks to Jay Harrod, Andy Warner and Rick Lowerre for their contributions to this blog.