May 24 is World Fish Migration Day, a worldwide celebration of healthy rivers and free-running fish.
It's also a day to imagine the possibilities of connecting fish, rivers and people.
And make no mistake: when it comes to migratory fish, sometimes science requires the art of imagination.
Back in 2004, I was among scientists, fisheries managers and other researchers who gathered at a University of Maine campus on an island in the Penobscot River to imagine the river as a healthy, fully functioning ecosystem.
We imagined a Penobscot River where fish travel freely from tributaries to the ocean to complete their life cycles, benefiting not only the fish, but also anglers, commercial fishermen and river and coastal communities.
Some 10 years later, the healthy Penobscot River that we imagined is starting to become a reality. And also this year, scientists and river advocates all over the world are imagining their own nearby rivers as healthy ecosystems, where fish encounter no barriers to their habitats.
Envisioning a Healthy River
As we gathered on the Penobscot island 10 years ago, I was among a few dozen aquatic scientists armed with decades of data on the Penobscot River to imagine its barrier-free future.
At the time, Atlantic salmon were about to be listed as endangered, and populations were blinking out throughout its range. Despite centuries of damming, the Penobscot – then, as now – offered the last best chance for restoring Atlantic salmon runs in the US.
Individually and together our data and stories helped us envision millions of fish migrating up and down this river with billions of juveniles pouring out into the ocean, and the impact that would have on eagles, otters and seals and as critical prey fish for New England's beleaguered ground fisheries.
These awe-inspiring visions made me realize that the restoration of large rivers could mark one of the amazing moments in conservation history.  We wanted to make sure the Penobscot River restoration was documented and that the stories of revival would be based on sound science with compelling lessons to share and inspire more restoration and protection of what's in good shape now.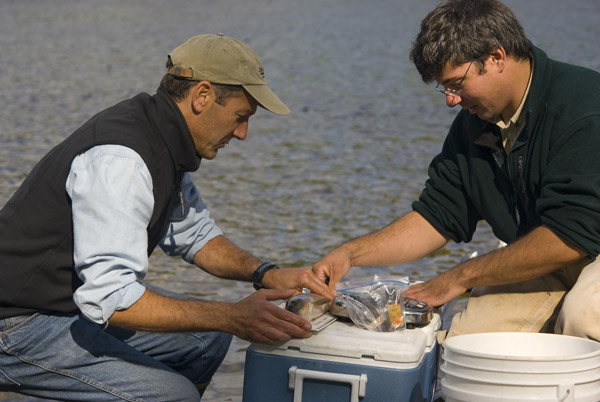 Visions Coming True
Since that day I've gotten glimpses of what recovery looks like first hand, working with researchers documenting how fast our native sea lamprey come back to restored tributaries.
It's pretty amazing to walk up a gurgling 3-foot-deep stream and see dozens of nesting lamprey each arranging rocks, cobble and silt into spawning nests. We've since learned a great deal about the connection between the lamprey's life-and-death cycle and other species, from aquatic insects to salmon and eagles.
This spring, for the first time since 1820, fish will swim freely upstream by the tens of thousands to the ponds they came from to spawn an even larger next generation. Just three or four years ago, these fish would have been trapped and trucked around dams.
This spring will provide another chapter to this river's vision of renewal. By providing increased access to over 1,000 miles of habitat in the Penobscot basin, we are now at the verge of some spectacular population booms that will have an impact on natural and human communities around these rivers and the ocean fisheries downstream.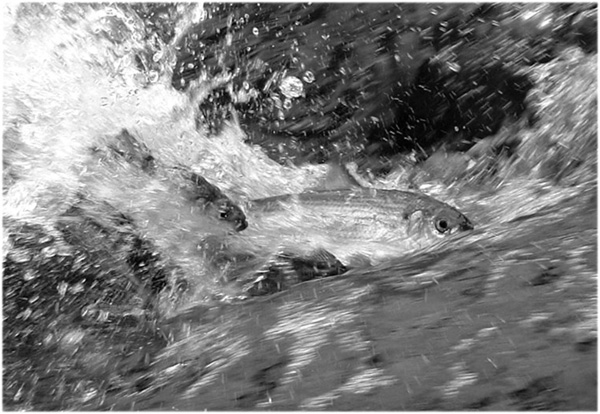 Celebrate Healthy Fish Runs on May 24!
This is all reason to celebrate, not just for the Penobscot, but also for river restorations everywhere. World Fish Migration Day is a way to raise awareness of migratory fish and show global support for free-flowing rivers and the many people who rely on healthy fish runs.
World Fish Migration Day is supported by Wanningen Water Consult in the Netherlands through a partnership with The Nature Conservancy, World Wildlife Fund, and the IUCN's Freshwater Fish Specialist Group. The World Fish Migration Day website has loads of information on restoring searun fish, along with a map of events all around the world.
I hope the story of the ongoing Penobscot River restoration and World Fish Migration Day inspires you envision success at your own nearby river.
Imagine the bounty that might one day exist there. Imagine your rivers packed with fish, birds and other animals circling around, and the impact that could have on fishing and the people all around these rivers.
See you on May 24 at an event near you!