What is CondorWatch?
Like looking at pictures of birds? Want to make your bird watching matter?
Would you like to help scientists learn more about and save an endangered species?
Zooniverse's new project CondorWatch lets you do all of this at once.
Several partners, including The Nature Conservancy, have teamed up to learn more about California Condors.
California Condors are the largest bird in North America and are exceedingly rare.
Down to just 22 individuals in the 1980s, they have recovered to a population of around 400, but as a species they're far from secure.
Now, citizen scientists are looking at pictures of condors taken while the birds are feeding to help scientists understand their social interactions.
"By having them on the ground, they can look at condor foraging patterns, who's hanging out with whom, and transfer that data to lead and toxins to see if there are social issues that track with that," explained the Nature Conservancy's Holly Copeland, who has been working on the project.
"There's a sense that when we put that all together new questions might arise," she added.
Scientists will use this information to spot birds that show signs of lead poisoning earlier. They will learn more about how lead poisoning affects condor behavior so that they can find affected birds and treat them earlier.

Why is it important?



Lead is dangerous to ingest for birds, a California Condor can die from eating a very small amount of lead.
Many birds have died from lead poisoning, that is why lead shot is no longer allowed for hunting waterfowl and all lead ammunition has been banned from the condors' range in California.
Condors are threatened because they eat the gut piles and carcasses of animals that have been shot with lead bullets – even in their California range.
Lead poisoning can be a problem for any bird that ingests carcasses, but because California Condor numbers are already so low, it is an especially serious threat to their survival.
The condors require careful management and, often, medical treatment for poisoning.
This isn't just a problem for birds; small amounts of lead can also be harmful to human children.
You can help scientists understand this deadly situation better and help save condors.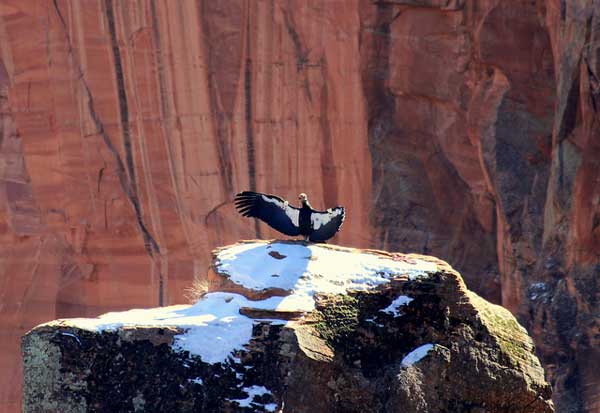 Citizen scientists will be recording data about feeding behavior by all of the condors, even healthy ones, and about all of other animals that condors interact with when they feed (ravens, coyotes, and more).
Eventually this data will improve our understanding of condor behavior and social structures.
As with many citizen science projects, there's a bonus!
You won't just be looking at condors – you will be surprised at the variety of wildlife you see on CondorWatch.
"There are black bear, mountain lion, bobcat – which surprised me. Black bear and bobcat are surprising to see in such a populated area of California," Copeland reports.
Plus, condor populations are closely monitored and small enough that each bird has a numbered tag and a bio.
You can get to know the birds as you monitor them!
How do you get involved?
Once you are signed-up for Zooniverse and logged-in to CondorWatch, the steps are simple.
You will see a picture taken by the CondorWatch camera traps.
There will be a carcass (don't worry these are still-born calves) and the animals that have come to eat.
Click on the animals to identify them and CondorWatch will ask you:
* What kind of animal is it?
* How close is the animal to the carcass?
* What can you see on the condor's tag?
* Is it a juvenile or an adult?
You then have an option to say more about the image or mark it with a hashtag.
CondorWatch starts with a tutorial and has a very helpful field guide to help you identify the animals that you see.
Don't worry if it's hard to tell the animals apart or you aren't sure about something. Multiple people look at every picture and even partial information helps!
As Copeland says, "I feel confident that my ten year old daughter could do it."
And, CondorWatch encourages kids to participate: there are materials for teachers who would like to use CondorWatch in the classroom.
If you have even just a few spare minutes, you can help save these iconic endangered birds.