Have you ever wondered what a baby whale feels like?
Recently I had the great privilege to find out when I visited Magdalena Bay on the west coast of the Baja California Peninsula in Mexico.
Gray whales are spectacular animals with fascinating lives. Even though they are baleen whales, they are primarily bottom feeders that feed mostly on small crustaceans (swarming mysids and tube-dwelling amphipods) and tube worms. Since they are generally restricted to shallow continental shelf waters for feeding, this brings them into close contact with people.
There are currently two subpopulations of gray whales that occur in the Pacific Ocean and adjacent waters. The history of the eastern North Pacific subpopulation is a conservation success story of how whale populations can rebound when they are protected from overharvesting.
Sadly the same cannot be said for the subpopulation in the western North Pacific that is critically endangered, or for the North Atlantic population which has been locally extinct since the early 18th  century.
Each year, gray whales are believed to undergo the longest migration of any mammal (16,000 to 22,000 km round trip). In autumn, the eastern North Pacific subpopulation migrates from their summer feeding grounds in the Artic (in the Chukchi, Beaufort and Bering Seas) to their winter breeding grounds on the west coast of Baja California in Mexico.
Some calves are born during the southward migration, but most are born in one of three shallow bays and lagoons (Ojo de Liebre Lagoon, San Ignacio Lagoon and Magdalena Bay) on the west coast of Baja California.
The eastern North Pacific gray whale subpopulation was heavily depleted by whaling until the 1960s. This included a rapid depletion by commercial whalers operating in the breeding lagoons when they were discovered there in the mid-19th century.
Whaling ended in the Baja lagoons in the mid-20th century, apparently due to exhaustion of the lagoon populations. At the time, gray whales were known as devil fish because they fought so fiercely when they were hunted.
Despite some continuing catches, the eastern North Pacific subpopulation recovered strongly from over-exploitation increasing by 2.5% per annum from 1967-96. Since then, the population has fluctuated from 15,000 to 36,000, possibly because it has reached a size where it exceeds the carrying capacity of the environment when food availability is below average.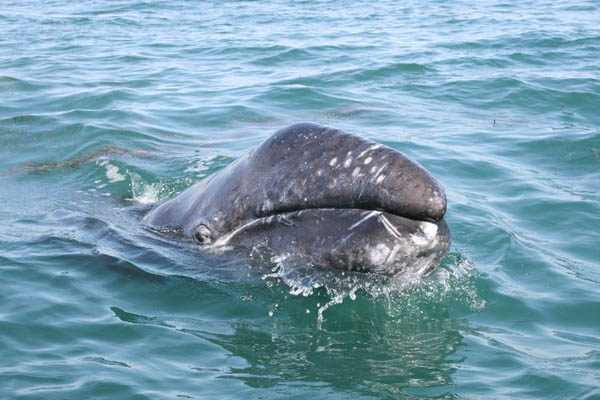 Today it is hard to believe that such carnage could have happened in the peaceful breeding lagoons in Mexico when you visit them today.
The baby whales are so curious, that if you splash your hands in the water they will come up to the boat, look you right in the eye and allow you to touch them.
They are oh- so-gentle with us considering how big they are, the terrible history of whaling, and the fact that grey whales live for 55-70 years so some of the adults may even remember being hunted by people.
How big are they? Well adults can be up to 15 meters long and weigh as much as 40 tonnes, while the babies are about 5 meters long when they are born.
So what do you baby grey whales feel like? Diana Bermudez, who leads the Conservancy's Baja Marine Initiative, described it best when she said that they feel "silky" – they are so smooth and lovely to touch.
It is a magical experience for anyone who has had the great privilege to visit this area and meet these extraordinary animals.
So what does the future hold for these whales? Gray whales have been protected from commercial whaling by the International Whaling Commission since 1946, although coastal and pelagic whaling continued until the 1960s.
While limited aboriginal subsistence whaling still takes place on the feeding grounds, current catch rates are believed to be below the estimated sustainable level.
On the Baja California Peninsula, gray whale habitat is now protected in two of the three breeding lagoons in Mexico (San Ignacio Lagoon and Ojo de Liebre Lagoon), where there are limitations on boating, fishing and coastal development.
These lagoons are considered by the Mexican government as sanctuaries and refuges for this species of marine mammal, and they are included in the El Vizcaino Biosphere Reserve and listed as a UNESCO World Heritage Site and a Ramsar protected wetland.
Meanwhile, the whales that we saw in Magdalena Bay are still not in a protected area. The whales are also subject to anthropogenic threats such as entanglement in fishing gear, disturbance by vessels and other noise, collision, coastal development, and pollution throughout their range.
As part of our Baja Marine Initiative our Mexico team is planning to work with the national government, local communities and conservation NGOs to support the development of an integrated planning and management framework for this region, as well as protect key areas including Magdalena Bay.
Opinions expressed on Cool Green Science and in any corresponding comments are the personal opinions of the original authors and do not necessarily reflect the views of The Nature Conservancy. – See more at: https://blog.nature.org/science/2014/04/25/best-nature-science-web-mule-deer-migration-fearless-fish-and-pirate-naturalists/#sthash.2AU3Asmm.dpuf
If they succeed they will contribute to the long-term survival of the whales, and the opportunity for people to continue to have the extraordinary experience of having close encounters with whales in their natural habitat.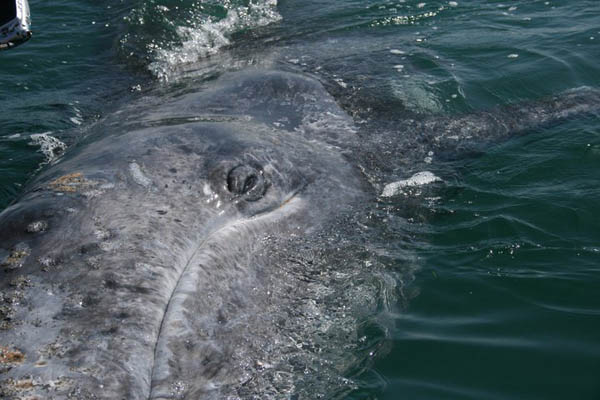 Opinions expressed on Cool Green Science and in any corresponding comments are the personal opinions of the original authors and do not necessarily reflect the views of The Nature Conservancy. – See more at: https://blog.nature.org/science/about-this-blog/#sthash.iGx44cxz.dpuf
Opinions expressed on Cool Green Science and in any corresponding comments are the personal opinions of the original authors and do not necessarily reflect the views of The Nature Conservancy. – See more at: https://blog.nature.org/science/2014/04/25/best-nature-science-web-mule-deer-migration-fearless-fish-and-pirate-naturalists/#sthash.2AU3Asmm.dpuf
Opinions expressed on Cool Green Science and in any corresponding comments are the personal opinions of the original authors and do not necessarily reflect the views of The Nature Conservancy. – See more at: https://blog.nature.org/science/2014/04/25/best-nature-science-web-mule-deer-migration-fearless-fish-and-pirate-naturalists/#sthash.2AU3Asmm.dpuf