Imagine an impossibly beautiful place where the Sonoran Desert meets a clear blue ocean that is teeming with life – colonies of playful and mischievous sea lions, flying mobulas (manta rays that leap out of the water) and endemic species of reef fishes (that only occur in that part of the world), large colonies of seabirds nesting and soaring overhead, humpback whales breaching, and blue whales and large schools of dolphins cruising past.
That is the Gulf of California, also known as the Sea of Cortez, and it is one of the most rich and spectacular marine environments on earth — so much so that it inspired Jacques Cousteau to call it the "Aquarium of the World."
Recently I had the great privilege of visiting this amazing place, and snorkeling with many of its famous inhabitants.
One day we cruised out to Isla Espiritu Santo, a biosphere reserve, to see what awaited us out there.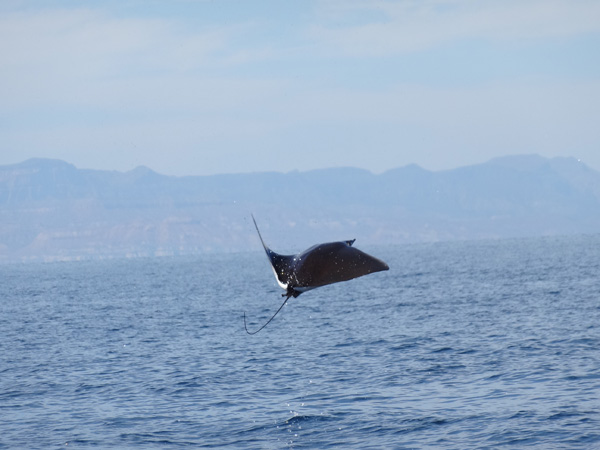 On the way out to the island we were surrounded by large groups of flying mobulas, which were leaping out of the water all around us.
They are a small species of manta ray that jump more than other mantas do. Scientists are not sure why they do that – it is just one of many mysteries in the Sea of Cortez. (This video shows the spectacle well).
Perhaps they do it to escape a potential predator, or as part of a courtship ritual, or to rid themselves of skin parasites?
At one point we actually managed to jump in the water with a group of about 50 or so of them, and we could see them swirling around each other and racing towards the surface. So it was easy to see how they could just keep going and leap out of the water.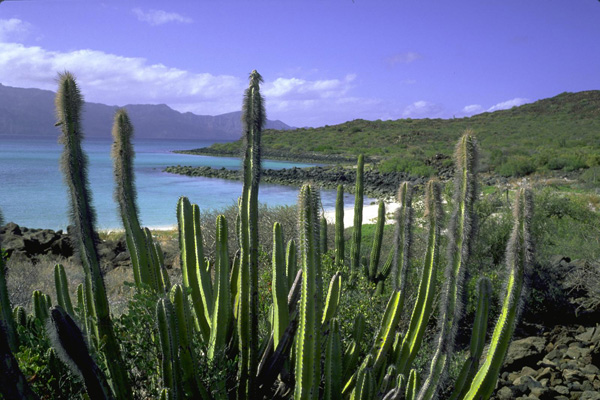 We also snorkeled with the playful (and sometimes a little-bit-scary) California sea lions at Los Islotes – a group of small islands off Isla Espiritu Santo.
The sea lions darted around us in small circles and sometimes raced up to us at great speed – screeching to a halt just inches away from us. Although occasionally one of the males got a bit territorial and menacing – like the one who chased us out of the water and back into the boat.
It was a bit scary, but that just added to the excitement of being there.
But by far the best part was when I saw a playful young sea lion sneak up behind Diana Bermudez, who leads our Baja Marine Initiative, and bite her on the bum!  I laughed so hard I almost drowned.
Ensuring a Future for the Sea of Cortez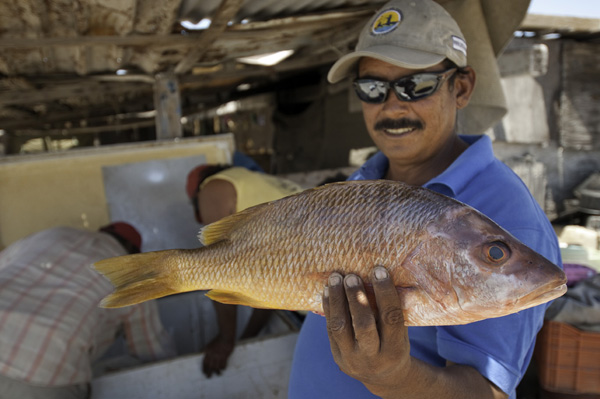 But it's not all fun and games. The Gulf of California is not only a beautiful place, but the outstanding marine environment provides significant ecosystem services to the people.
This region supplies 70% of Mexico's fisheries, and is an important area for both commercial and sport fishing.  It is also a major destination for tourism.
While fishing and tourism are the major economic drivers in the Gulf, and they provide important income and livelihoods for local people, they also provide the greatest challenges for conservation and management in terms of overharvesting of marine resources and unsustainable coastal development.
In 2012, the Conservancy and partners launched the Baja Marine Initiative to transform ocean management and help bring 10 million hectares of the Gulf of California and the adjacent Northern Mexico Pacific under protection or effective fisheries management.
In the past, the Conservancy's focus has been supporting the establishment and effective management of federal protected areas as a primary tool for biodiversity conservation in this region.
However, to date only 7% of the region is protected and less than 0.5% is a no-take area, so there is a lot more work to do.
The Conservancy is now scaling up our work in the region to address the full range of challenges and opportunities by broadening our approach to work with other sectors (particularly fisheries and tourism) to develop an integrated planning and management framework for the region where conservation, food security and economic development goals can be achieved simultaneously for the benefit of people and nature.