Rare and/or unusual birds are always special, and the Horned Guan (Oreophasis derbianus) is both.
It is in its own genus and has no close relatives. It is the only living member of an ancient lineage of cracids – a group related to the megapodes of Australasia – that split off from other cracids between 20 and 40 million years ago.
And it is very rare — it is estimated that there are between 600-1700 adults in the entire world.
I sure do wish we'd found the Horned Guan at the El Triunfo in Chiapas a few years back. That hike is longer but much easier; they carry your gear up the hill on mules. But we didn't, so now it was time to try the infamous Atitlan torture test.
You are expected to experience great pain if you want to see the best birds. Wading in leach-infested waters to see a Shoebill. Hiking eight miles through the boiling Cameroonian jungle to see a Gray-necked Picathartes.
This is not bragging; the fact is that by the time you get to the stage in life where you can save up enough money to do this crazy stuff, you are also getting to the stage in life where this kind of stuff is kind of hard and when you succeed, your joy simply can't be contained.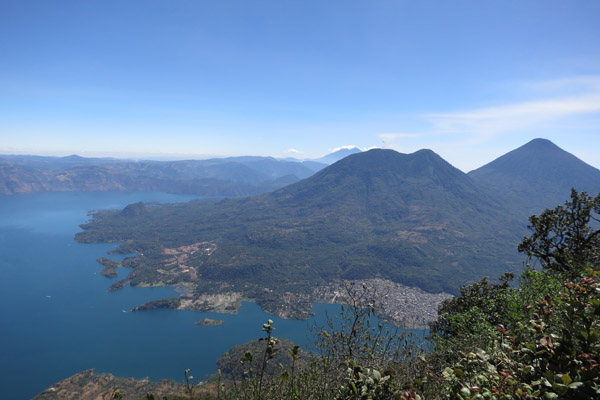 So three of us set off for Guatemala, ages 32, 47, and 58. Having read the horror stories about this hike, we had trained all year by hiking as much as we possibly could, going for endurance (length of hike) and elevational gain and steepness.
You can't get much above 4,000 feet where we live, but there are some steep hikes. The training really paid off. We found the notoriously tough hike up the San Pedro Volcano to be totally OK. But more on that later.
We booked through Operador Latino, a terrific company that has been certified by the Rainforest Alliance as a sustainable tourism company and has also been a major player in the development of birding tourism in Guatemala.
They were also very accommodating. We asked about camping on the volcano or at the base, so as to save time in the morning. Most people stay on the other side of the lake, necessitating another hour or so of travel before getting to the base of the volcano.
Although camping is possible, you really wouldn't want to hike this mountain with all your camping gear while also birding. We actually found a better option. There is a great little hotel 10 minutes from the base of the mountain called Ecohotel Uxlabil (with terrific birding in the hotel grounds). We asked Operador Latino to change our lodging to this hotel and they were glad to do so.
After all this, we were itching to go, counting the days until the President's Day weekend. We took it as a good sign that a coming snowstorm was going to shut down the airports on our planned departure date.
Remember: the more arduous the planning and travel, the more likely you are to see your bird. So one of us got on the phone to the airline and another was on the phone with Operador Latino, trying to re-book the entire trip so we'd be leaving and returning a day later than planned.
As soon as the airline gave us the new flight confirmations, Irene got all else in place for us – hotels, ground transportation – in minutes.
We dug out the car — twice — as the airports plowed themselves out.  A very early morning flight took us to Miami, then another to Guatemala, where our very young guide and van were waiting.
We drove off through heavy city traffic. Eventually, we reached Rincon Suizo (in Tecpan). These pine-oak forests are part of a private reserve and known as a sure spot for the Pink-headed Warbler and indeed, we saw several quite well.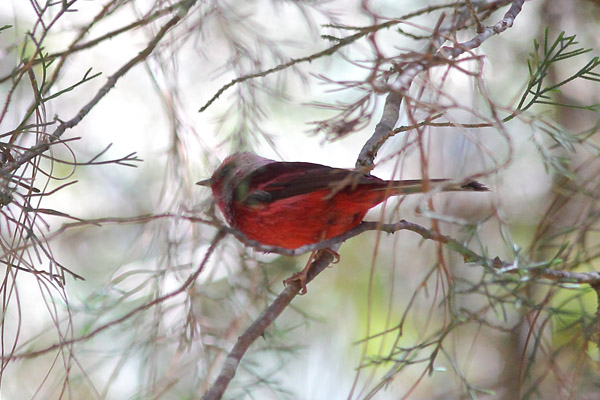 We saw many other birds, too, including quite a few species that we'll be seeing at home in a few weeks (such as Rose-breasted Grosbeak and a smattering of both western and eastern warblers – Hermit, Townsends, Black-throated Green, Tennessee, and Black-and-White) and some nice resident such as Spotted Woodcreeper, the gorgeous Elegant Euphonia and an elusive Brown-backed Solitaire, which showed itself nicely.
We then traveled on to Panajachel where we were met by the boat from Uxlabil. As we crossed the lake, we gazed up at the volcano and wondered…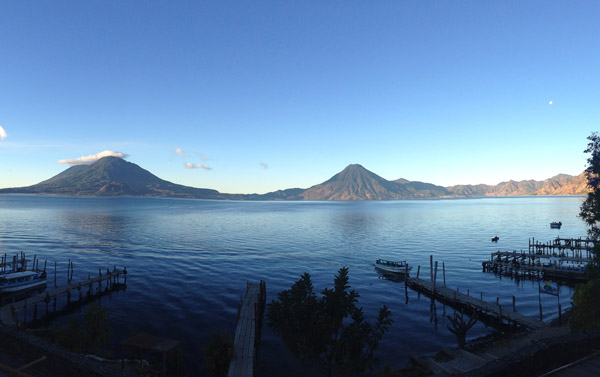 After a quick "get-it-out-of-your-system" shopping trip to San Pedro, we took the boat over to the hotel, just minutes away.
We were greeted warmly by the staff. None of them spoke English, but of course Ana Paula, our wonderful guide, was there to handle things for us. The hotel itself is really dedicated to sustainable practices and is very comfortable and nicely decorated.
They grow their own coffee, which you will see drying on one of the verandas. They have plenty of hot water, heated by solar. There is a water filter in the dining room, but we used a SteriPen anyway because those filters don't filter out bacteria and viruses (we knew we had to suffer for the bird, but not that much).
They assigned us to the "Birdwatching House" – the four rooms on the top floor. They don't have any feeders but the next morning, we met the manager and he asked a lot of questions about feeders and it seems likely that he will soon have feeders up.
As a bonus, they are also running a group called MayanBirds.com, which promotes birding, conducts bird counts, and has several trained guides, including Mayan guide Juan Chocoy.
If the guides from Operador Latino are unavailable or you are just a do-it-yourself type, MayanBirds.com is a great option for a local guide. Even if you don't actually need a bird guide, you do want to leave "birding dollars" in the area to encourage conservation of birding habitat.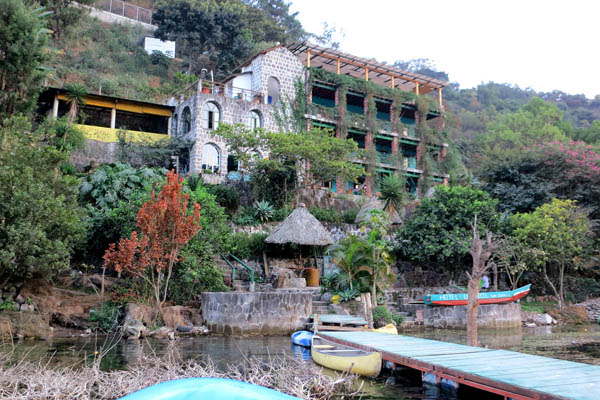 Do not stay in San Pedro itself. Though it is a bit closer to the base of the volcano, it is a tourist town, party central and very noisy. In fact, the noise actually reached Uxlabil on Saturday night, although the two older members of our group didn't hear it.
They had a pick-up truck waiting for us at 4:15 a.m. and we were at the base of the volcano minutes later. We headed up the mountain, starting at 6,000 feet. Climbing by flashlight, we did find it a bit hard to catch our breath but it was otherwise just a steady hike.
After an hour, we reached a mirador (overlook) and took a brief rest before continuing the climb. The trail got steeper but we didn't have any trouble.
In about another hour, Ana said she was hearing the low booming sound that the guan makes.
We looked and looked and looked. Nothing. Other hikers were coming up the trail and making noise. Of course.
We waited until they went by and then kept looking some more but Ana didn't hear it again. Then after another 15 minutes or so, the bird hopped up to the top of the nearest tree!
As we had guessed, it had been sitting there, silent and still, all along. It is so incredible that you can't see such a large bird until it moves. We had a quick glimpse of the bird at the top of the tree.
Then it craned its neck and took a short flight to a tree just down the trail, where another group member was sitting. After a few seconds there, it flew off again, and that's the last we saw of it.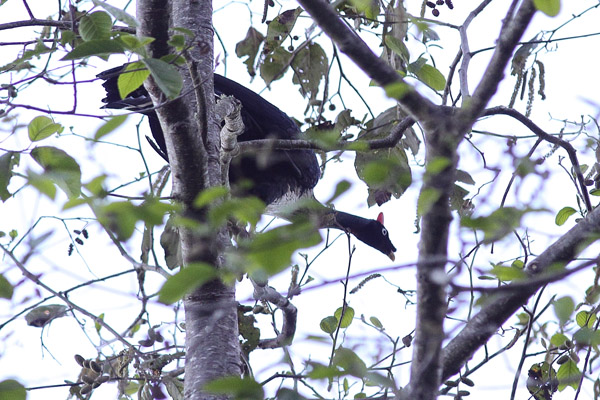 We were so happy! This mountain is very large and this bird could be anywhere on the mountain.
That we were fortunate enough that it happened to be near the trail at the same time we were there — that's like winning the lottery. It isn't as though you could wander around through the forest looking for it; it was fairly thick forest with steep drop-offs not far from the trail.
Some people never do see it. We kept climbing, hoping to find another and also to see the other birds on the mountain. No luck with another guan but we did have many other good birds.
Coming down the mountain was much harder than we had envisioned – the slipping and sliding on the dry leaves, acorns, and very loose volcanic soil made it very tough. By the time we reached the pick-up point, our legs were ready to give out.
As soon as we got back to the hotel – around 5pm – we took showers and fell into bed (only to rise for a huge dinner!).
The next day, we slept in to 5:30 a.m. for a 6:15 boat ride back across the lake. We make another stop at Rincon Suizo (for more eyefuls of our now favorite warbler) and then went on to a coffee plantation named Finca el Pilar near Antigua, which is a beautiful colonial city.
I would like to go back to spend some time there. The coffee plantation was wonderful in the gray, chilly weather, though the birding was a little slow.
The hummingbird feeders made up for that. This was definitely shade coffee: it was more like a forest with some coffee shrubs planted under the trees. It was very good to see; many coffee plantations have only a few trees but claim to be growing shade coffee.
And here, they do not trim the epiphytes from the trees. Research has shown that if the epiphytes are removed, there are fewer insects (and fewer insect species) so there are also fewer birds.
Finally, we returned to Guatemala City where we checked into a rather elegant hotel and felt out-of-place in our dirty field clothes. Long, hot showers ensued, then after not-nearly-enough-sleep, we were up early to get on the airport shuttle, then the two flights home, where we found that despite warm temperatures, there was still plenty of snow on the ground.
No question. I would much rather be climbing that volcano, looking for that guan.
Check out more photos from the trip.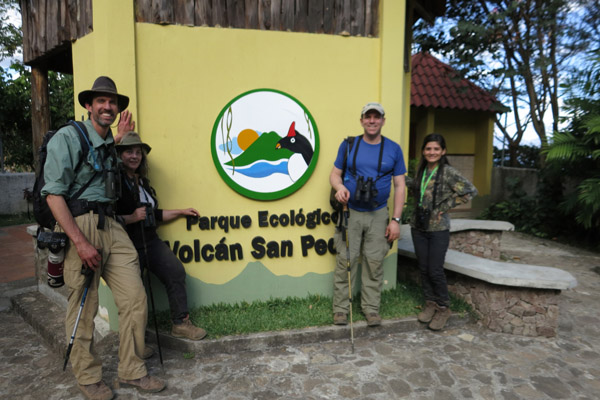 Opinions expressed on Cool Green Science and in any corresponding comments are the personal opinions of the original authors and do not necessarily reflect the views of The Nature Conservancy.