The Study: Boyle, S.A., C.M. Kennedy, J. Torres, K. Colman, P.E. Pérez-Estigarribia, N.U. de la Sancha. 2014. High-Resolution Satellite Imagery Is an Important yet Underutilized Resource in Conservation Biology.  PLoS One 9:1. DOI: 10.1371/journal.pone.0086908
The Big Question:  As people dominate more and more of Earth's landscapes—wildlife habitat is being splintered into patches, sometimes linked by remaining fragments or intentional corridors.  A common fascination with the ecological dynamics of such habitat patches brought together study co-authors Nature Conservancy scientist Christina Kennedy, Rhodes College biologist Sarah Boyle, and Chicago State University ecologist Noé U. de la Sancha when they met at a 2009 workshop to encourage collaboration between North and South American researchers in ecology and conservation.
In heavily used landscapes—such as the wet limestone forests in central Jamaica, where Kennedy researched bird communities; the Brazilian Amazon, where Boyle tracks primate movements, or the Interior Atlantic Forest in Paraguay, where de la Sancha studies small mammals—the presence of corridors, hedgerows and forest remnants linking larger tracts of forest can mean the difference between a genetically viable population of birds or mammals and one that slowly dwindles away.
Conservation research relies heavily on land cover maps to identify potential habitat– and most of today's maps come from satellite data. But the authors knew from experience that the most commonly used remote sensing images fail to capture finer scale features. They wondered: Just how much are conservation biologists missing when they choose easily available lower-resolution satellite imagery over higher-resolution options that can be costlier and harder to use? And for what analyses is high-res imagery a slam dunk?
Study Nuts and Bolts: The authors gathered high-resolution (IKONOS, 4-m resolution) and lower-resolution (Landsat, 30-m resolution) satellite images of a 43,000 hectare area in and surrounding the Reserva Natural Privada Morombi in Paraguay. The Reserve protects remaining patches of Paraguay's Interior Atlantic Forest —which, though dwindling, is still the only home of many rare species such as the Bare-Throated Bell-Bird (Paraguay's national bird), the Black-fronted Piping Guan, and Jaguar.  A tapestry of fields, pastures, wetlands and grasslands surrounds the Reserve.
Using each set of images independently, the authors produced two estimates for the area of various land cover types and the size, shape, and number of forest patches. They compared the performance of IKONOS and Landsat images in delineating different land classes and in discerning the size, shape, and location of forest patches.
Boyle, the lead author, also examined every article published in three top-tier conservation journals during 2011 and 2012, determining whether satellite imagery was used, and if so—what kind and for what purpose.

The Findings: Landsat and IKONOS-based estimates of cleared land, wetlands and water differed somewhat. But the ability of the two technologies to discern patches—particularly small patches—was worlds apart. IKONOS high-res imaging delineated 55 times as many forest patches as Landsat.
Even when patches were as much as 100m wide, IKONOS correctly detected twice as many patches as Landsat. In most cases, analyses using IKONOS imagery found more, smaller patches, and discerned more complex shapes. Long, narrow (less than 100m wide) features such as forest corridors, buffers of forest around streams, and roads cut into forest blocks were particularly difficult to make out based on Landsat images, with Landsat correctly identifying only about half as many as IKONOS.
So what kind of data are conservation scientists actually using in their analyses? According to Boyle's review of 1,064 articles in the journals Biological Conservation, Biotropica and Conservation Biology, most land cover analyses used paper maps, aerial photos, or Google Earth. Of those that incorporated satellite data, over half used low-resolution data, and more than one-third did so even when attempting to quantify small features.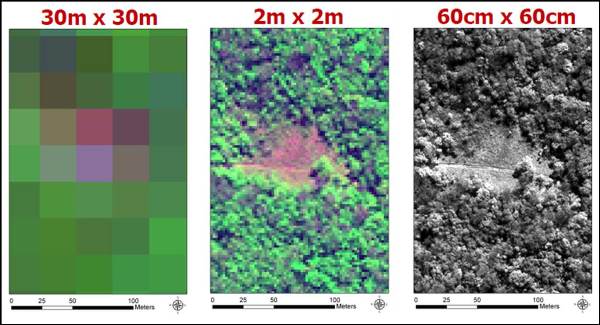 What It All Means:  Remote sensing platforms now run the gamut from super-high resolution sensors that can detect a single whale and even stereoscopic sensors that can peer under  forest canopy to lower resolution, but high-frequency satellites that circle the globe every 18 days gathering wide swaths of data. Google Earth offers even the most technologically challenged a chance to zoom in on a precise location — but not the ability to gather landscape scale statistics or use wavelengths outside the visible spectrum.
This wealth of opportunity comes with a challenge to conservation scientists, who — in an ideal world—would choose their imaging based on the goals of the study, not the cost or availability of the data. If the goal is to study forest loss at a global scale, low-resolution imaging may be the best fit. But if the goal is to understand species movements and habitat connectivity in human-dominated (read fragmented) landscapes, then high-resolution imaging tells a very different story.
"The species that depend on forest fragments can be essential for maintaining working ecosystems," says Kennedy. "We hope that high resolution remote sensing data continues to become more accessible and affordable—and that conservation biologists will make better use of high resolution imagery to track habitat change, connectivity, and species viability with greater accuracy."
Opinions expressed on Cool Green Science and in any corresponding comments are the personal opinions of the original authors and do not necessarily reflect the views of The Nature Conservancy.