Sanjayan — one of The Nature Conservancy's first lead scientists, and easily its most publicly recognizable one — has left the Conservancy after 16 years here to join Conservation International and stretch himself with new responsibilities and career challenges.
It's customary in the non-profit world to offer testimonials to people when they retire or move on to other institutions. Sanjayan — or Sanj, as so many of us call him — is surely worthy of such a tribute.
But we want to take a slightly different tack. We want to use this occasion to talk about the many things we have learned from Sanj's career at the Conservancy, and indeed the things that conservation at large has learned and could still learn from him.
First, Sanj has showed us the power of a scientist who is also a superb storyteller and communicator.
Science communications is a hot topic today. Journalists, social scientists, climate activists, the National Academy of Sciences, the American Academy of Arts and Science, celebrities like Alan Alda, and specialized NGOs such as Compass have all issued reports, made pronouncements or stridently promoted its importance. All good.
But Sanj embodies the 10,000 hours of craft it takes to communicate science with maximum impact. Tips about the Message Box, or connecting with people, or using personal stories abound — but they alone will not make you a Sanjayan.
Sanj dedicated himself to communications and achieved new heights. It looked effortless from afar, and he has a ton of innate talent. But those of us at the Conservancy who are close to him also saw the incredible hard work he devotes to it — the days of rehearsal that he can put into a single talk, his experimentation with different openings and lines of attack.
He also reads relentlessly and widely, constantly taking notes in his Moleskine books. And he focuses. He pays close attention to the conversations, sounds and images of each of his trips and thinks about them in narrative terms, shaping them into his next great story. (Read some of his best writing for the Conservancy's website.) Finally, Sanj pours his heart and whole person into telling those stories. He can inspire an audience in a way that no one else we know can rival.
The result was unique in conservation science: Communication not as luxury — not as frosting, decoration, or something sprinkled on top — but as a necessity for conservation success. The full measure of The Nature Conservancy's success over the last 16 years is impossible to imagine without Sanj's tireless speaking and fundraising efforts, especially for our science and our international work.
And then there was Sanj's media presence — unprecedented at the Conservancy and with few rivals in serious environmentalism. Who can forget his appearance on the David Letterman show (see video above), when Letterman (in a grumpy mood) seemed to want to take the audience down a tunnel of despair about climate change? Somehow, Sanj used good humor and a few facts to turn the interview around and make the audience feel that, while yes climate change is a huge threat, there are things we can do right now about it.
The numerous movies and television shows Sanj has hosted (from BBC to PBS to Nat Geo to Discovery); the innumerable live and print interviews he has given; his recent work as a science and environmental correspondent for CBS — all have taken the message of conservation (not to mention the brand of the Conservancy) to millions of people who would otherwise never have even heard of it. This work has been invaluable to our cause.
Sanj is the Michael Jordan of science communications. No one can replace Michael Jordan. But thanks to Sanj, there are hundreds of conservation scientists (including many at the Conservancy) who have discovered the value of getting a lot better at something they do pretty poorly — and that is talk to non-conservationists. The Conservancy and conservation is much more effective because Sanj has showed us the power of telling the story that draws outsiders into our tribe.
Sanj, though, was not just a spokesperson. He was also a relentless force for innovation within the Conservancy and conservation as a whole.
He was a conservation internationalist before being international was de rigueur at the Conservancy. The Conservancy's vibrant Africa program was catalyzed by Sanj.
He brought the importance of measuring our results to the forefront of our work over 10 years ago. Measures have now become a staple of our work moving forward — and are critical to appealing to new classes of donors and funders who demand quantifiable results.
He was also pivotal to the formation of the new Science for Nature and People (SNAP) collaboration, which brings together the Conservancy, the Wildlife Conservation Society and the National Center for Ecological Analysis and Synthesis to produce science-based answers for wicked problems at the nexus of nature and human well-being.
SNAP is emblematic of perhaps Sanj's greatest lesson for us. He is a passionate advocate for why conservation must be relevant to people, and how conservation needs to be much more explicit about its impacts on and benefits to their lives.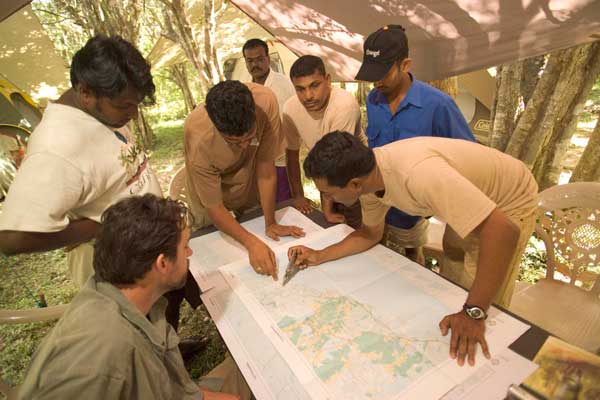 Sanj started as just a wildlife and biodiversity guy. But his travels and work in Africa brought home to him how important people were to our mission. Sanj saw before many others did that conservation must make sense to the world's poor, not just be a luxury for the wealthy.
He especially loves Africa, and from the time he was a small boy growing up in Sierra Leone, Africa has been a part of him. He doesn't see people there or the poverty they suffer in the way many of us do, as a series of images on TV or in a news magazine. Sanj has lived it. Africans have been his neighbors, and the plight of the continent's poor has been the plight of his friends.
So he worked tirelessly to get the Conservancy's Africa program started. At times, it seemed the organization was not ready to take a leap into such a complicated continent; but Sanj was creative and subtle in the way he launched this work, and his vision was clear.
There are images that come to mind now of Sanj striding across the Namibian desert with stinking camels carrying his gear for video uplinks (and lotions to keep his skin looking good in a desert for that video). We've watched him yell at a camera while rangers sawed tusks off a pesky bull elephant on Mount Kenya, swim with crocs and bilharzia in Lake Malawi, and chase cows and lions across the border areas of Kenya and Tanzania. His time in Africa brought it to life for so many of us at the Conservancy, and the future of the continent is better because of him.
We will miss Sanj. But we are already looking forward to working with him in his new role. In fact, one of Sanj's other major contributions to conservation is as a superb connector — transcending the organizational boundaries and processes we inflict on our field. It is an approach we should all emulate.
Conservation International is a great organization with great people — just like the Conservancy. We are all in this game together. And we hope and expect that, in his new role, Sanj will keep teaching all of us how to be more effective at changing and inspiring the world.