Think of this as the biodiversity of booze: author Amy Stewart provides the stories of the plants behind every glass of wine, beer and bourbon you drink.
"What I hope to do here is to give you just a taste of the dazzlingly rich, complex, and delicious lives of the plants that go into all those bottles behind the bar," she writes.
There's plenty of biology here, as well as history, drink recipes and even gardening tips. Stewart spends time on all the usual suspects (hops and rye and grapes) but also delves into more obscure botanical delights, too (yusu cocktails, anyone?).
She includes everything from garnishes that grow in your backyard to exotic alcoholic delights found only in the world's most remote corners. You'll learn the taxonomy of apple spirits and the history of juniper use in gin. You'll discover the truth of those worms in the bottle of tequila, and why chewed-corn drinks probably won't ignite the next microbrew craze.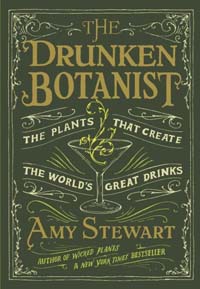 Stewart notes that "the history of drinking is riddled with legends, distortions, half-truths and outright lies." She does an admirable job of tracking down the real stories behind plants and drinks, making this a science writer's field guide to happy hour.
This is a fun little book crammed full of trivia that will amaze your friends and colleagues at your next cocktail party. Or you can just simply enjoy the stories by the fire, fine drink in hand. (And remember, as author Amy Stewart advocates as well, please always drink responsibly).