Tracks and Shadows: Field Biology as Art. By Harry W. Greene. 2013. University of California Press. 296 pages.
Reviewed by Peter Kareiva, chief scientist, The Nature Conservancy
Harry Greene is a renowned herpetologist, teacher, mentor, raconteur, author, and perhaps today's greatest living naturalist.
Tracks and Shadows is an autobiographical, scientific, and philosophical exploration of the ineffable lure of field biology. It speaks more to the conservation ethic than anything since Aldo Leopold's Sand Country Almanac.
In fact, Tracks and Shadows may well be the best conservation love poem ever written.
On top of that it is playful, intellectual, easy to read, trenchant, and filled with biology you did not know. What makes Harry so special is that he is as observant of people as he is of nature, and he uniquely combines a critical intellect with a generosity that allows him to get beyond personal blights or the flaws in someone's argument to uncover the value under the slimiest of rocks.
I have heard Harry give three talks. Everyone one of them stuck with me for weeks, months, years. His book is even better.
I do not know how to capture, convey, or report on why this is a book you must read.
All I can do is take a couple of quotes from the book, to give you something of its flavor:
"Bad news is all around, so I leaven it with success stories… recently a Korean schoolteacher discovered a spectacular new salamander….and Arizona firefighters perform science-based rattler and Gila monster translocations."
And finally, "nature is more like a bandit queen, worthy of love and protection but scornful of idolatry."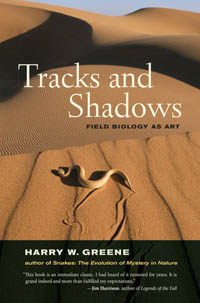 Opinions expressed on Cool Green Science and in any corresponding comments are the personal opinions of the original authors and do not necessarily reflect the views of The Nature Conservancy.