It's flood season. I live in western Washington where, as you likely know, it can be rather wet. The rivers here have reached flood stage more than 1400 times in the last 20 years.  Flood season is just a fact of life in the Pacific Northwest.  I get it.
But the thing is, I don't get it.  As a relative newcomer to the Pacific Northwest, I've never experienced a really bad flood.  This fact precludes me from answering a common question that comes up frequently: why do people live in the floodplain? Fundamentally, this question is about science communication. After all, if we just presented people with the facts, they wouldn't be so likely to live in a floodplain. Right?
I decided to take a different route. Having come across the photo above of a home destroyed by a flood on the Sauk River numerous times, I decided to track down the owner, who surely had something to say on this topic.
I found the homeowner, Virginia, and asked: why would any sane person choose to live in the floodplain and deal with the stress of flood season every year?  (Full discloser: I own a home in the 100-year floodplain.  Due to subsidence, my land is essentially sub-tidal and less than 1 mile from the bay front).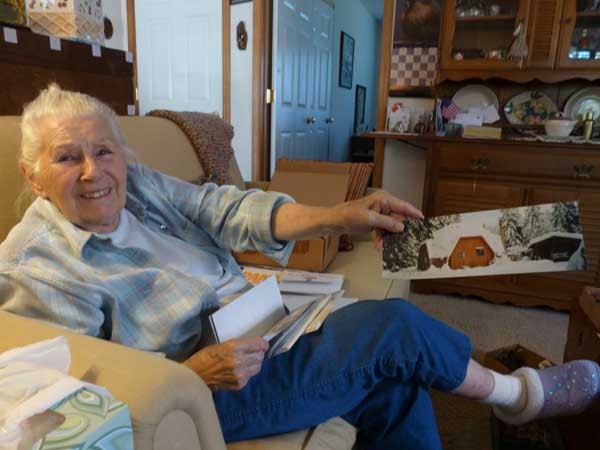 Virginia Doty is no ordinary soul.  Turning 90 this year, she's as independent and sharp as they come. I aspire to have my life's resume be as full as hers: from river rafting guide, to mechanic, to working for the Forest Service for 24 years until she finally retired at the age of 86.  In 1979, after having raised 3 kids in Seattle, she moved out to Darrington, Washington and built a house near the Sauk River.  She had been to a home show in Seattle and saw a dome house; she loved it, and so that's what she built.  She was 55 years old.
The family called the house, Moongate, and she had 20 "good years" living there.  With cats, 2 dogs, and more than100 free-roaming chickens, it was a place all the grandchildren loved.  They had 3 family weddings out there.  Everyone pitched in and took care of the place, especially in 2001 when her son-n-law put a new roof on the house.  And in 2002, she lost the house to the river.
As Virginia says: "Rivers have a mind of their own. I guess they know exactly where they're going."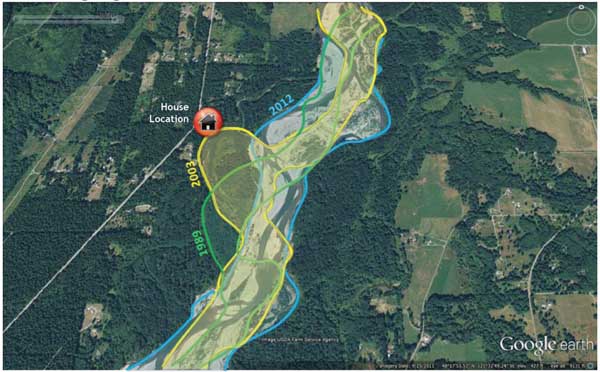 Virginia didn't live in the floodplain.  She was a good 30 feet from the bank, and you couldn't see the river from the house as a forested island separated her from the main stem river. To Virginia, it was a "freak accident" when the river changed its course.  And yet any hydrologist would quickly correct her pointing out she lived in a "channel migration zone".
And so, I asked, is it worth it?   "Oh yes. We all loved it there"
To me, that is the essence of why sane people choose to live through flood seasons every year.  Why sane people (like me?) buy property knowing full well if the sea dike fails I would be the proud owner of half an acre of tidelands.  No amount of science-river hydrology or climate-altered flow modeling, holds water next to one's emotional connection to place.
And to me, this is the underlying issue with science communications.  We can dress up our data by making channel migration zone maps sexier, putting climate statistics into fancy infographics, and telling compelling stories.  But at the end of the day, most decisions – certainly important ones like where we live — are based on the decision maker's values and beliefs.
Science can play a role in informing one's beliefs. But can it trump the power of family memories, of family weddings, of the grandkids chasing chickens through the yard?
There is no infographic for that.
Having the science is not enough; perhaps we need to spend time listening and understanding the values, the connections to place and the memories that inform decisions.