Researchers know that one of the best ways to study bird migration patterns is through high-tech radar.
The problem?  Radar technology is prohibitively expensive for conservation organizations.
But researchers on the Delmarva Peninsula in eastern Maryland and Virginia have found a solution: work with NASA to use existing tools for conservation purposes.
NASA is using a transportable radar, known as NPOL radar (which stands for NASA Polarimetric weather radar) to study weather patterns and precipitation patterns around the globe, including a project site in the Delmarva Peninsula.
This radar technology is able to detect the size, shape and speed of individual raindrops. "A technology that is detecting rain drops is also able to detect migratory birds," says Joe Fehrer, the Conservancy's Coastal and Lower Shores project manager in Maryland. "This is using existing technology to serve a conservation purpose."
The radar detects birds as they emerge at dusk from daytime resting and foraging sites, known as stopover sites, to embark on their nocturnal migration. The radar is used for this purpose on nights when it is not raining.
"We really have to do very little different in our daily operation to facilitate the collection of data that supports some of the work that the ornithologists are doing on the Delmarva Peninsula," says Walt Petersen, Ground Precipitation Measurement ground validation scientist at NASA's Wallops Flight Facility on Virginia's Eastern Shore. "This collaboration is making great use of NASA resources."
Researchers are focused on the habitat that is most used by the birds.
"Using this radar, we'll be able to identify the stopover hotspots that are most important for migrating bird species, many of which are declining in numbers," says Barry Truitt, chief conservation scientist for the Conservancy's Virginia Coast Reserve. "This is going to allow us to prioritize The Nature Conservancy's protection of land and best adapt our management practices to ensure the birds have the habitat and resources they need when they rest here."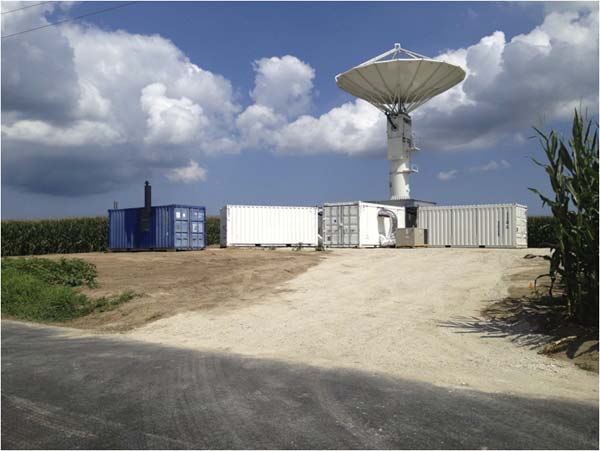 The Conservancy helped NASA locate and secure a site near Newark, Maryland. The radar will track the size, speed and direction of birds much like it does raindrops.
While this is currently near the peak of the songbird migration season, currently no data are being collected due to the government shutdown.
As with any technology employed with conservation, the results have to be verified by on-the-ground research. Fortunately, two ornithological research efforts are occurring on the Delmarva Peninsula that can complement the satellite data.
Scientists from Old Dominion University and the University of Delaware are using more traditional methods to study birds, including identifying species, noting bird eating habits and recording how they're using habitat.
A citizen science effort on the Conservancy's Nassawango Creek Preserve has been recording extensive bird data for six years. Volunteers operate a banding station and are collecting information on nesting and migrating songbirds.
Prior to the study, researchers believed 58 to 60 birds were present on the preserve; citizen scientists confirmed the presence of at least five additional birds.
"After all those years, the banding station was able to find five new birds," says Fehrer. "It's pretty amazing that they escaped notice. Just think what new information we'll learn when we combine the information collected on the ground with the radar data. We'll have a comprehensive picture of migratory birds and their habits on the Delmarva Peninsula. It will allow us to use our conservation dollars where they can achieve the most results."