Lately, there has been a lot of controversy on how best to restore Louisiana's coastal wetlands. Some argue for dredging and other for large sediment diversions from the Mississippi River.
Diversion proponents say that the river built those wetlands and cannot be restored without it.
Dredging proponents say the river is not up to the task due to waning sediment loads and that reconnecting it to the wetlands will devastate the fishing industry and destroy coastal communities.
As a coastal conservationist, restoration practitioner, fisherman, hunter and researcher, I'm often asked my opinion. Which should it be: diversion or dredging?
My answer: We need both. And fisheries will be affected either way.
If we want functional coastal wetlands that provide the things we need and love, including copious fisheries, we need to return the river to the wetlands in a big way and let it build land.  Without the river, we don't restore wetland processes – we create land masses.
The river not only builds new land and keeps existing marshes above rising sea levels; it is a fuel pump that energizes the marsh with nutrients that fertilize plants and feeds all the little critters that small fish and shrimp rush to the marsh surface to eat.
In fact, in one study, we found that flooded marshes contained over 8,000 calories per square meter, and 61% of that energy was directly attributed to that fuel pump.  That's the equivalent of 7 whole chickens, 12 bacon double cheeseburgers, or 69 apples in an area the size of a card table, and that energy means bigger fish on the marsh and bigger fish in the creel.
But we need dredges, too, because they can rapidly build landmasses like barrier islands and land ridges that would take much longer for the river to build.  These machines can be deployed to pump muddy slurry into open water and build marshes where stable landforms are necessary now to block encroaching salt water or where the river is too far away.
This is marsh triage, and we have plenty of areas along the coast where this is necessary.  Dredges can produce nice marsh for a time.
But a dredge uses diesel fuel – lots and lots of diesel fuel. About 10,000 gallons of fuel is burned per day on a large restoration project.  And once a dredge makes a landform, it immediately begins to sink.  So to get the maximum life out of a dredged marsh, the initial landmass has to be pumped higher than the surrounding marsh elevation and allowed to sink.
In fact, it can take a number of years before a dredged landmass resembles the marsh around it, and then it keeps sinking until it needs another lift.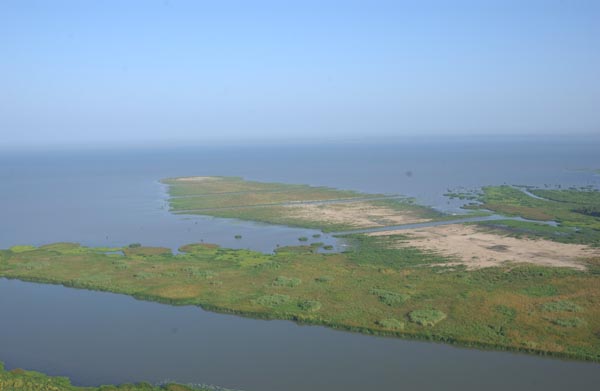 Louisiana's coastal fisheries will be affected, whichever way we go.  If we return the river to the wetlands, fish communities will shift with changing salinities.  But they will not leave; they will be in different places.
After all, the Mississippi, Atchafalaya River, and Wax Lake deltas all contain a full spectrum of fish species, and anglers come from across the world to Venice, Louisiana to fish in marshes bathed in Mississippi River water and fill a creel with bass, redfish, and speckled trout.
Dredges can build land without changing salinity, but dredges can't bring the river's energy, and artificially high land platforms will take time before fish, crabs, and shrimp can access them.  And if we do nothing, our marshes will erode until a point where our fisheries will crash.
When I was in graduate school, I lived on the Atchafalaya Delta.  After a day counting wading birds for work, I'd ride back to camp, stopping to check the slat traps and hoop nets for catfish and running the crab traps to see if we had enough for dinner.
During my off time, my buddy and I would make a longer boat run south to Point-Au-Fer where we would catch speckled trout and redfish.  We caught many seafood buffets on those trips.
The Atchafalaya Delta is a building and thriving coastal system. Not only is it bathed with the fresh water, sediment and nutrients of the Atchafalaya River, but it is also a system where dredging (for navigation) has been used to create islands with increased seabird nesting habitat and wintering habitat for the threatened piping plover. In the fall, ducks and geese come to the delta by the thousands to spend the winter feeding on its bounty.
Coastal Louisiana is disappearing.  We are sinking and eroding and turning into open water.  Something needs to be done to preserve our natural bounty.  We rely on these wetlands for protection, livelihood, and our culture.  While there is no perfect solution that satisfies everyone, there are solutions that can work together to turn the tide.
By combining sediment diversions and dredge-and-fill projects, we can make the most of our restoration dollars and create coastal wetlands that sustain the great abundance of fish and wildlife that we love.
Opinions expressed on Cool Green Science and in any corresponding comments are the personal opinions of the original authors and do not necessarily reflect the views of The Nature Conservancy.