The wolves are disappearing on Isle Royale National Park, a remote wilderness island on Lake Superior. Should we save them?
That may seem a simple question for a conservation blog to answer. Of course we should save an animal disappearing from its native habitat! What other answer could there be?
In reality, there is nothing simple about this story.
In ecological circles, the wolves of Isle Royale hold special resonance. For more than 50 years, biologists have studied how wolves and moose interact, a project considered to be the longest-running research on predator-prey relationships.
The results of that research have helped inform wolf reintroduction in places like Yellowstone, and have become a template for predator-prey studies globally.
The wolf and moose populations have fluctuated throughout the study. In the 1980s, a virus introduced by a visitor's sick pet decimated the wolf population. It recovered, but now inbreeding and the island's isolation have again threatened the wolves.
At the beginning of this summer, the wolf population was down to eight animals, and they appeared to not be breeding. That proved untrue – two wolf pups were born in August – but the long-term prognosis for the large predator on the island is not rosy.
The original wolves arrived in the late 1940s, likely via an ice bridge connecting Isle Royale to the mainland. With warmer winters, there have not been ice bridges, so the chances of new wolves reaching the island on their own are slim.
The National Park Service is considering its options. One is to simply let the wolves survive or die out without human intervention. Another is to let them die out, then reintroduce a new population. Or additional wolves could be added to the population now, providing more genetic diversity to the population.
The decision to bring wolves in to bolster the population is pitched by some as assisting species in adapting to climate change. Others see it as protecting the ecological value of large predators, and certainly a significant body of literature has demonstrated that these predators are essential for ecological health.
Rolf Peterson, the longest-serving director of wolf-moose studies on Isle Royale, argued for this view in an op-ed he coauthored for the New York Times:
"The future health of Isle Royale will be judged against one of the most important findings in conservation science: that a healthy ecosystem depends critically on the presence of top predators like wolves when large herbivores, like moose, are present. Without top predators, prey tend to become overabundant and decimate plants and trees that many species of birds, mammals and insects depend on."
Again, this all seems pretty straightforward, right?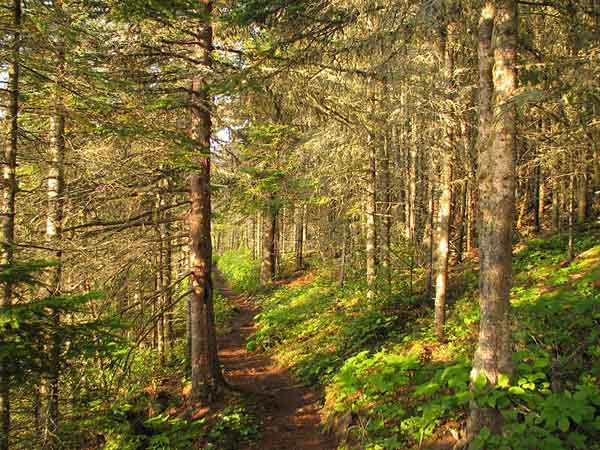 But looking at the island's ecological history makes things a bit more complicated.
On any island habitat, species tend to come and go more rapidly than on large, intact habitats. Some species on islands disappear rapidly. Some evolve rapidly to take over new niches. The smaller the island, the less likely that a species will survive over the long haul – what conservation biologists call island biogeography.
If you visited Isle Royale at the turn of the twentieth century, you would have found a very different island. There were no wolves or moose. There were caribou, coyotes and lynx, animals that had been present on the island for thousands of years.  They're gone now.
Moose showed up by the early 1900s and prospered a bit too well; some feared they would run out of food.  Nutritious plants that grew in the wake of a large fire allowed the moose to rebound. The wolves arrived in 1948 or 1949.
What is the true natural state of Isle Royale? Is it wolves and moose? Or is it caribou and lynx?
What about new brand-new species arriving on the island, like a bat and several amphibians? Are they natural introductions or should they be viewed as non-native interlopers? And if it's natural for new species to show up, why is it less so for other species to disappear?
Questions, questions, questions.
Ron Meador, in his excellent MinnPost story, quotes Tim Cochrane, park superintendent of Grand Portage National Monument:  "What is natural on Isle Royale is a dicey question. Whether wolves 'belong' on the island is an open question."
Meador goes on to write:
"Returning the island's species balance to its longest running iteration, [Cochrane] said not quite seriously, would require letting the wolves disappear, assigning hunters to take out the moose, then reintroducing woodland caribou and lynx."
Perhaps he was not quite serious. But he has a point. It's difficult to know the "natural" state of Isle Royale, because islands (or any ecosystem for that matter) have always been changing. Flora and fauna have constantly been coming and going.
This one may be trickier because many believe humans have affected the wolf populations – by introduced viruses and by climate change. But we also can't definitely say that new wolves would have make it to Isle Royale even without climate change. After all, there is a long history of a wolf-free Isle Royale.
And there is good evidence that moose only made it to Isle Royale because they were prospering on the mainland—due to increased logging. Humans have played a role on Isle Royale for millennia; Native Americans traditionally hunted caribou there, no doubt affecting island ecology.
At a place like Isle Royale, it's not easy to figure out what is natural and what is human caused – or even if these are valid distinctions.
I am not against human intervention to save species, of course. I think Rolf Peterson and his coauthors put it well in the New York Times:
 "Where no place on the planet is untouched by humans, faith in nonintervention makes little sense. We have already altered nature's course everywhere. Our future relationship with nature will be more complicated. Stepping in will sometimes be wise, but not always. Navigating that complexity without hubris will be a great challenge."
But we do have to make decisions. Conservationists will have to prioritize where investing in reintroductions or other extreme measures make sense, and where letting a species disappear is the more "natural" choice.
The existing wolves may yet rebound and thrive, or they might disappear. Either way will have dramatic effects on moose and many other species on the island. No doubt about it.
There are no "right" or clear answers here. But considering the short tenure of wolves on this island, Isle Royale is not a place we should be spending large amounts of money by introducing new wolves to the population.
This is one instance where intervention makes little sense; the island's animal life has seen many and dramatic changes in recent times. It would make more sense to focus conservation dollars to connect large expanses of land where populations wolves and other wide-roaming wildlife can move freely and interbreed, as in the national parks and public lands of the western United States.
It makes more sense to prevent habitat from becoming de facto islands in places like the Northern Rockies than to try to fight natural processes — including species disappearances — on real islands.
Let Isle Royale's  fauna continue to come and go as it has for thousands and thousands of years. And let's continue studying this national park, learning how  fauna and flora adapt, change, survive and disappear over time.
And who knows? Maybe wolves will find a way there on their own. Or maybe lynxes will return. Or a new animal. Let's just see what natural forces bring, on at least this one island.
Around the world, conservationists will face choices like this. There often won't be easy answers. It may not be comforting to let a population of charismatic animals disappear, but sometimes it may be the right choice.
What do you think? Should we take measures to save the wolves of Isle Royale, or let the current population run its course, even if that means the population disappears?