Migration season is upon us, but it isn't just birds that are migrating.  We know that monarch butterflies make a complex annual migration, but the record for the longest insect migration (twice the distance of monarchs) is held by a dragonfly — the wandering glider.
Unfortunately, beyond this remarkable example, we know very little about dragonfly migration.

In North America, although we know that certain dragonflies are migratory, almost nothing is known about where they are coming from and where they are going. It's surprising (and exciting!) that in these modern times we still have such a big natural history nut to crack.
Fortunately efforts are now underway to take on this challenge.
The migration of the wandering glider was only recently described by a biologist named Charles Anderson who lives and works in the Maldives.  While dragonfly migration has been suspected for at least 100 years, Charles Anderson was the first person to tell the full migration story of any species in his 2009 article in Tropical Biology.
Although a marine biologist by trade, Anderson calls himself "an old fashioned naturalist" and it was the simple observation of thousands of dragonflies descending on the Maldives each October that got him wondering about their origin and destination.  He knew that the Maldives were not their ultimate destination because there is no dragonfly breeding habitat (rain-fed temporary ponds) on the island.
He began to bring together observations from India and east Africa and studied the timing of sightings in relation to seasonal weather patterns.  This approach led to the breakthrough that the Maldives dragonflies were just passing through, on the way to east Africa from India.
They were following the monsoon rains from one continent to another.  As the rains moved to Africa, the dragonflies followed and when the rains moved back to India, the dragonflies returned there.  Like monarch butterflies, the full migration circuit takes multiple generations of dragonflies to complete.
This same species, the wandering glider, is widespread in North America but much less is known about its migration on this continent.  We do know that they migrate northward from the tropics and subtropics in spring, breeding along the way, with some finding their way as far north as the U.S.-Canada border in summer before returning south again in the fall.
It's not just the wandering glider that is migrating.  There's also the green darner, the spot-winged glider, black saddlebags, and variegated meadowhawk.  There are eleven additional species suspected to migrate.  The state of knowledge is scant enough that we can be sure that more species will be added to this list over time.
Migrating insects might be the foundation of an airborne ecosystem that wings its way north and south with the seasons.  Beyond sketching out their migration biology, the next step is to understand the ecological role of migrating dragonflies.  From studies of the green darner and wandering glider, we know that dragonflies are using the same migration strategies and timing as migratory birds, moving when the winds are favorable in the fall and spring.
Because migratory birds and migratory insects are traveling at the same times and concentrating at the same places, it's likely that certain birds are exploiting this abundance of dragonflies to fuel their own migration.  For example, kestrels and merlins have been observed feasting on migrating dragonfly swarms.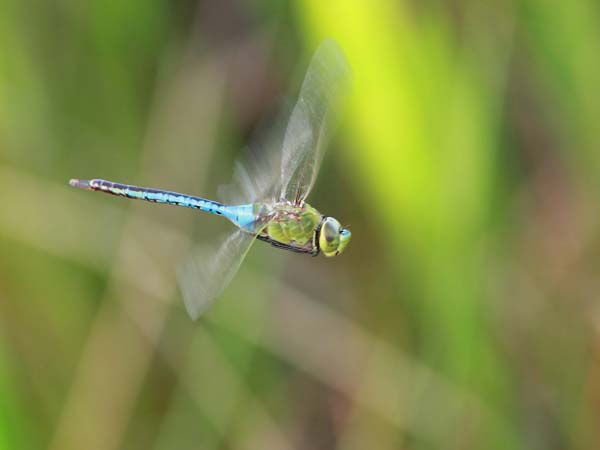 A Science Mystery You Can Help Solve
Solving the mysteries of dragonfly migration can be done only with the help of many "old fashioned naturalists" keeping an eye out for swarms of traveling dragonflies. The best way to help is by participating in a collaborative effort led by the Xerces Society known as the Migratory Dragonfly Partnership. This group is asking for the help of citizen scientists across the continent to contribute their observations in order to piece together the puzzle of dragonfly migration.
Beyond the migratory species, there are a total of 316 dragonfly species in North America (and 141 species of damselflies, their close realtives).  Fortunately, there are now many field guides that can help identify dragonflies.  A good place to start is Odonata Central, which has news on the latest field guides and species checklists by county.  Dragonfly watching is a great complement to birding because just as bird activity settles down in the late morning, dragonflies and other insects become more active as the day warms up.
To hear Charles Anderson's first-hand account of his migration discovery, check out his TED talk.