While attending a a recent science meeting for The Nature Conservancy, I heard a type of insect calling I couldn't identify.
I was pretty sure it wasn't a cricket or cicada, but didn't know what else it could be. Incredibly, no one in the group of scientists did! But it turns out that it was quite a common and easily identified species (the common true katydid, Pterophylla camellifolia):
So if a group of 15 or so scientists who work in conservation couldn't identify such a common species (we didn't even know it was a katydid until we started searching our smartphones for answers), I wasn't terribly surprised to learn that there were virtually no censuses of crickets or katydids (or other Orthopterans like grasshoppers or locusts for that matter). Despite their ubiquity, they don't have the same following that birds  do. (Hipsters take note, perhaps "katydiding" is the new birding?).
Fortunately, I was contacted within a few weeks to participate in a cricket and katydid survey in the DC area!
The process was pretty simple: I got a link to pictures and audio calls for eight target species that we might hear, and spent about half an hour learning each call. There was a "practice walk" with a naturalist right in my neighborhood a few days before the survey, which helped me understand some of the variety within how each species calls.
When the night of the survey arrived, I met up with a friend for a survey by bike of a handful of places that no one else was going to be surveying.
At each location, we would arrive, wait for a minute or so for any insects we disturbed to resume calling, talk about which species we heard and confirm that we agreed what they were, and then started a one minute timer.
We only listed the species we heard within that minute (to make for a readily comparable sample across all of the locations), and recorded audio from a smartphone so that our work could be validated later. We spent about 2.5 hours surveying a total of 16 sites (a cemetery with some natural woods remaining, a wetland, small parks and residential areas).
There were a few surprises: The Nature Conservancy's small native plant garden wasn't as diverse as we expected (probably since the trees weren't very big), and even the residential area near the cemetery still had species that we didn't find in any other residential areas.
We also never found one of the 8 species on our list (the elusive oblong-winged katydid, shown below). Nonetheless, we had a fantastic time! You can see the results from the event on this map or separate maps by species.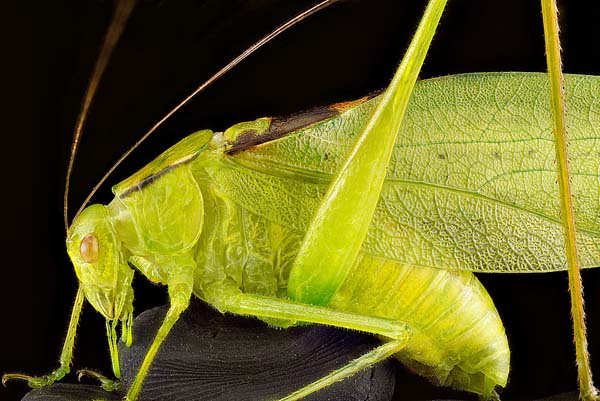 Feeling jealous yet? You too can participate! If you live in the Washington, DC / Baltimore area, you can still submit your observations! Wait until nightfall (currently after about 8:30pm) on a night when it isn't raining and the temperature is above 60 degrees Fahrenheit.
Arrive at your chosen site, wait a minute or two to give them a chance to get used to you, and start recording audio on a smartphone if you have one (if not just note which species you hear). You can send in the audio file and your list of species (along with the location, date and time, and any notes) to speciesobs@gmail.com.
People who don't live in the DC area can also participate in the iNaturalist Atlas of North American Calling Insects. The idea is very similar, you just identify a species that you hear and send in an audio file to verify your observation.
It used to be that whenever I was outside at night, I would hear a cacophony of unidentified (and thus potentially frightening) insects. Now I hear a symphony of familiar faces. I might have to start learning my local cicadas next…