We just topped 400 ppm of CO2 in the atmosphere.  That's a 40% increase since 1750, and a good bit above the 350 ppm boundary that has been identified for playing it safe (Hansen et. al., 2008).
There's another statistical threshold we just passed that hasn't raised the same warning alarms in the scientific community, but it makes me even more uncomfortable, on a gut level: over 50% of earth's ice-free land surface is now anthropogenic.  In other words, there are more crops, pasture, plantations, and strip malls than there are native forests (28%) and other natural ecosystems (19%) (Hooke et. al. 2012).
It's hard to say if we've yet crossed scientifically justified planetary boundaries. I'm just saying that it makes me nervous, and I don't want to learn the hard way.
So, I am one who advocates for getting back to 350ppm for CO2 and back to 50%+ for nature.  I make the case here that forests are a big part of the solution.
Both of these problems, and their solutions, are linked.  During the agricultural revolution, conversion of forests and other ecosystems to crops was the largest source of rising CO2 concentrations.  Despite the massive scale of fossil fuel emissions in the 21st century, emissions from forest destruction continue to play a significant role in climate change. The last IPCC report (2007) concluded that nearly 20% of greenhouse gas emissions come from tropical forest destruction alone.  Likewise, efforts to Reduce Emissions from Deforestation and forest Degradation and enhance sequestration (REDD+) in the tropics have been darlings of private and public green funding, since they offer a solution to both climate change and biodiversity loss.
Recently, however, there seems to be a growing sense of concern that REDD+ is a fading star as a solution to climate change.  This may be due to both (i) the absence of a global climate deal has that was anticipated to create global financing for REDD+, and  (ii) a declining contribution of net emissions from tropical deforestation to climate change, now down to about 10% (average of Pan et. al. 2011, Baccini et. al. 2012, and Harris et. al. 2012).
I believe both of these concerns are unfounded.  It should come as no surprise that a global climate deal has been hard to reach – it requires an unprecedented level of voluntary financial and legal commitment in concert by most countries on earth to address a slow moving (albeit massive) environmental threat.
Sadly, I believe that the relentless escalation of climate change impacts that we are witnessing will make this commitment more palatable when the next opportunity for a global climate deal rolls around in 2020, or soon thereafter.
As for the scale of forests' influence on our climate, net tropical deforestation emissions are not a good indicator of the forest climate opportunity.  Let's review the basics of global climate flows.  Natural processes account for the vast majority of gross flows of greenhouse gases, a whopping 96% according to the IPCC (Denman et. al. 2007), with a disproportionate role played by forests.  A lot of this is the breathing in and out of natural systems (like seasonal tree leaf off and leaf on) which are in equilibrium.  And this balance of nature explains why nature dominates the gross carbon flux story, yet humans are entirely responsible for the net increase in CO2.
In fact, nature is counter-balancing the human impact, as earth's lands and oceans are absorbing about half of human carbon emissions (Denman et. al. 2007).  One third to one half of the sink is on land, and much of that land sink is forest.  This represents an existing economic subsidy from nature worth hundreds of billions of dollars in terms of climate mitigation (Canadell and Raupach, 2008; Le Quéré et. al. in review).
The statistic that only about 10% of global CO2 emissions are due to net tropical forest loss emissions is a red herring too often the focus of discussion within the forest climate community.
This statistic conflates two more important statistics: 1) gross emission from destruction of tropical forests constitutes about 20% of global anthropogenic CO2 emissions according to the three most recent studies (Pan et al. 2011; Baccini et al. 2012; and Harris et al. 2012), and 2) gross sequestration from tropical secondary forests already offsets over 15% of our CO2 emissions, not to mention sequestration by temperate forests which are nearly as large (Fig. 1).
Gross emissions tell us the scale of the opportunity for avoided emissions, and gross sequestration tells us about the scale of the current offset from nature that could be enhanced.
Consider this: despite increasing crop and timber demands to feed a growing human population, despite the impacts of climate change on forests, and despite deforestation emissions in the tropics that are on par with those from the global transportation sector, global forests are a net sink for atmospheric carbon.  This is because:
(1) a large-scale re-growth of secondary forests in both temperate and tropical regions (Pan et. al. 2011; Canadell and Raupach, 2008), and
(2) evidence of considerable net sequestration in "intact"  tropical forests, which we have long assumed to be carbon neutral (Pan et. al. 2011; Wright, 2013).
In graphical form, here's what it looks like: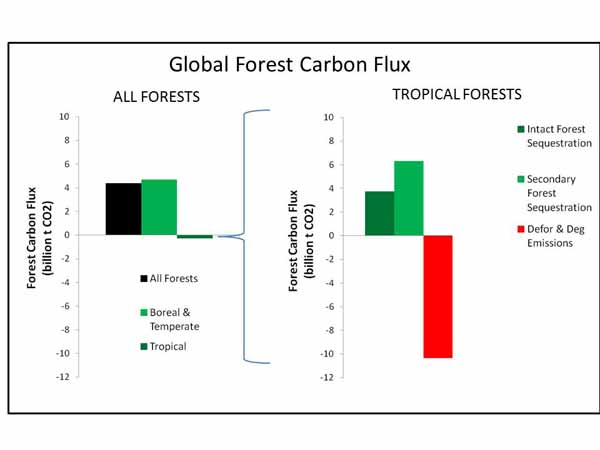 So, nature is hard at work mitigating climate change, even if human society is not. Forests are already acting as a major solution to climate change, despite taking it on the chin from human activities.
Not only are forest ecosystems a net sink, they also currently store twice the amount of carbon that is in the atmosphere (Canadell and Raupach, 2008). This represents a large risk, because forest carbon is vulnerable to climate change.  There is mounting evidence of this vulnerability, in particular due to drought and fire (Allen et. al. 2010). Despite these threats, there is surprising evidence that the land-forest sink is increasing (Ballantyne et. al. 2012).
Does this large role of forests in the greenhouse gas story translate to a large opportunity for an affordable forest solution to climate change?  A recent UNEP report estimates that, based on least-cost scenarios, forests offer about 1/5 of the global opportunities for reaching our goal of limiting climate change to 2⁰C (UNEP 2012).  This is based on emissions reductions opportunities by avoiding forest destruction.  Others argue that the combined opportunity of avoided emissions and enhanced sequestration (e.g. planting forests and extending logging rotations) offers 1/3 of the global least cost climate mitigation opportunities (Sohngen & Mendelsohn, 2003), and that sequestration mitigation opportunities are on par with avoided deforestation opportunities (Canadell and Raupach, 2008).
To summarize, forests are a climate superpower with large opportunities for addressing climate change for three reasons:
1)      Forests store double the amount of carbon that sits in the atmosphere.  At the very least we'd better hold on to the remaining forests;
2)      Forests already play an important role in mitigating climate change, with a net sequestration of four billion tons of CO2 per year, which seems to be growing (Ballantyne et. al. 2012) despite large emissions from forest destruction in the tropics (Figure 1, Pan et. al. 2011).
3)      Forests are a large part of the solution to climate change.  Forests can provide about 20-30% of global climate mitigation under least-cost scenarios (UNEP 2012, Sohngen & Mendelsohn, 2003).
Considering all the other values of forests beyond carbon (water filtration, flood control, biodiversity, ozone absorption, timber production, etc.), we should go beyond the above least-cost studies concluding that forests are price-competitive machines for mitigating 20-30% of climate change.
Under a dream scenario where tropical deforestation and degradation was halted, and a global program was launched to double forest sequestration through reforestation, low impact logging, and extended rotations, forests could offset over half of global human CO2 emissions (my back of the envelope math based on Pan et. al. 2011).
This might just be possible if we can expect declining global farmland alongside increasing food production (Ausubel et. al. 2013), and if we can convince the McDonalds Hamburglar to switch to cultured beef (Tuomisto and Teixeira, 2013).
Of course I am also banking on break-out success of a variety of forest-climate strategies The Nature Conservancy and our global partners are pioneering.  All told, I'm optimistic that part of our solution to climate change will be bringing nature back to 51%, with forests as a rising global climate superpower.