This is the final essay in a three-part  series featuring blogs by student prize winners at the University of Queensland's  Student Conference on Conservation Science, the first such conference held in Australia. The Nature Conservancy sponsored prizes for each winner, and asked them to submit an introduction to their research for Cool Green Science. Today, poster winner Michelle Venter explains why locally based monitoring may be just as effective as monitoring done by professional scientists.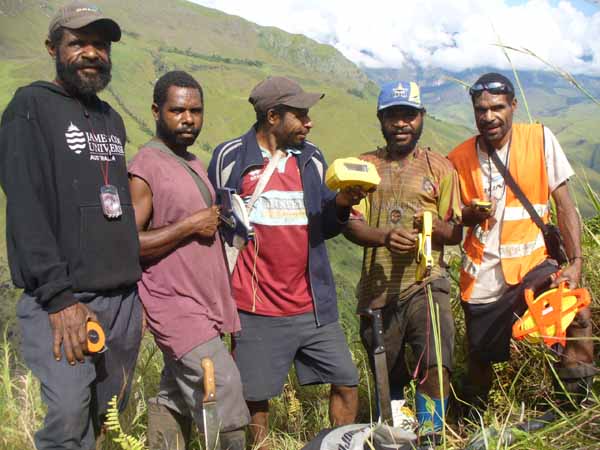 Locally Based Monitoring: Are Scientists at Risk of Losing Their Day Jobs?
By Michelle Venter, PhD candidate, James Cook University
Are scientists at risk of losing their day jobs? Well, maybe. A recent study shows that people from remote areas of Papua New Guinea (PNG) are able to collect quantitative data as accurately as trained scientist, but for a fraction of the cost.
The YUS (Yopno-Urua-Som) conservation Area is the first and still the only place to be gazette under the PNG's Conservation Area Act. The area holds tremendous natural beauty, with pristine forests rising from sea level to over 3500m.  The YUS conservation initiative was started by a local NGO (the Tree Kangaroo Conservation Project) and involves clans from over 30 villages setting aside land to preserve the endangered Matchies' tree kangaroos.
Like all conservation projects in the developing world, the people who live in or near the YUS conservation area are crucial for the initiative's success.  For one, people who use natural areas possess a wealth of knowledge of these ecosystems, making it a no brainer to involve local people in conservation. But, going one step further and engaging local people to collect quantitative data used for scientific purposes is still a topic of debate.
From the beginning, the YUS initiative was committed to working with local communities and training local rangers to monitor population trends of the tree kangaroo. Because monitoring data are often essential for protected area management or to determine conservation outcomes, it has become common practice within conservation agencies to engage local people to collect data on species or on conditions of natural areas.  While these programs seem to be successful so far, few studies have actually set out to test the accuracy of quantitative data produce by these programs.
I led a study that set out to test just this with three teams of people who have pledged their land to the YUS conservation area.  The participants, none of which completed high school, underwent three days of training on how to conduct forest biomass assessments. And subsequently, they set 45 plots in their forests in which they independently recorded the girth and height of over 1500 trees.  The plots were then entirely re-measured by scientists and the data was compared for accuracy.
If a scientist measures the height of the same tree on two occasions, you might expect a difference of 5 percent or less between those measurements, this is what we call acceptable error. When we compared the measurements from program that employed local people to those of scientist, we found on average less than 2 percent difference; for the thousands of measurements we compared between scientist and local people. In other words, the errors were negligible.
While conservation projects could benefit from locally-based monitoring that produce robust data sustainably and at a low cost, field ecologists might soon find themselves locally extinct.
Michelle Venter completed a BSc. Ecology in 2005 in Montreal and spent the next five years working in remote corners of the globe as a field biologist. This ranged from snorkelling in frigid waters of the Miramichi River to study Atlantic salmon behaviour to, living aboard the "Dangerous Catch" fishing fleets of the Bering Sea as fisheries observer, to roaming from one sheep station to the next in Outback Australia in order assess biodiversity values and carbon stocks they hold. She started her PhD in 2010 at James Cook University in Cairns, and settled to working in remote and rugged tropical forest of Papua New Guinea. Her thesis explores how tropical forest carbon stock varies across 3100 m of elevation and how local management practices can improve carbon sequestration as well as provide long-term benefits for local landholders in the YUS Conservation Area.