The Spine of the Continent: The Race to Save America's Last, Best Wilderness. By Mary Ellen Hannibal. Lyons Press, 2012. 272 pages.
Hiking and fishing the Idaho backcountry, as I did yesterday, it can seem like the country stretches forever. You stand on a ridge top and see nothing but big, wild space to the horizon—forests and frothing rivers and granite peaks. It's the terrain of elk and wolverine and mountain goat. The endlessness is an illusion, of course. But as a conservationist, I can't help leaving such wild places with optimism, with the sense that maybe this time we can get it right.
And that's really the heart of Mary Ellen Hannibal's wonderful Spine of the Continent: a book that makes an impassioned case for protecting and restoring connections in the wild landscapes of the western United States. She aptly chronicles the diversity of conservation efforts spanning the West: restoring beavers and wolves to their rightful places as true landscape architects, protecting migratory pathways, helping critters adapt to a changing climate.
Taken together, Hannibal writes, these efforts could protect a huge swath of land stretching along 5000 miles of the Rockies, from Canada to Mexico. It would be a space where large predators still ruled, where pronghorn and elk followed their ancient paths, where the great drama of evolution could continue to play out.
Spine of the Continent (out in paperback this month) is an impressive journalistic account of this conservation, brought to life through stories of people on the front lines. But it's more. Hannibal provides one of the best, most accessible overviews yet written of conservation biology – its history, its key figures, its issues and arguments and aspirations. If you want to understand this scientific field and its key concepts, this book would be the place to start.
Hannibal cuts through the jargon and gets to the reality of conservation biology – this is science with emotion. With heart. Hannibal understands the science well, but she doesn't believe that must make one a dispassionate observer. Quite the opposite.
She believes that when you know and understand the science – and the world of the aspen and the wolf and the pika—you'll be filled with a need to take action, to connect. While time may be running out for wild landscapes, here we do still have the chance to get it right – and books like this can help us find the way.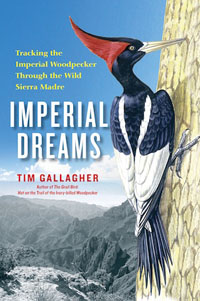 Imperial Dreams: Tracking the Imperial Woodpecker Through the Wild Sierra Madre. By Tim Gallagher. Atria Books, 2013. 306 pages.
The imperial woodpecker – a stunning bird, the largest of its kind – has been declared extinct for decades. But there continue to be tantalizing reports of its continued existence in the Sierra Madres of Mexico, igniting hope in ornithologists, birders and conservationists.
One problem: the area with the most credible imperial woodpecker sightings also happens to be a hotspot in Mexico's disastrous drug war, a war that has claimed more than 50,000 lives. Anyone searching for possibly extinct woodpeckers has to enter an area inhabited by some of the most ruthless and violent people on the planet.
Enter Tim Gallagher. Gallagher was one of the key figures in the controversial rediscovery of the ivory-billed woodpecker. Editor of the Cornell Lab of Ornithology's Living Bird magazine, he has a passion for birds and their conservation, and a long-time fascination with imperial woodpeckers.
This book documents several expeditions he took in the Sierra Madre following leads and tracking down possible sightings. This was not a random search. He conducted extensive research on woodpecker habits and habitat. He mapped out reported sightings. He talked to people who had seen them alive. He brings friends who can re-create their calls.
This is not some quirky "quest" dreamed up by an author as a way to get a book contract and an NPR interview. Nor is it filled out with research gleaned from Wikipedia entries. Gallagher has a deep passion for birds that shows on every page. He's also a gifted storyteller. He goes to sometimes terrifying lengths to track his passion.
And he headed straight into Cormac McCarthy country. He tracks the demise of the woodpeckers, a heartbreaking story made all the more so by the fact that it was almost avoided. This intersects with an often-troubling human history, a land where Apaches and Pancho Villa made their last stands. And that history continues today with notorious narcotraficantes; indeed, many people Gallagher meet relate horrific stories of their close calls in the drug war.
Quite simply, this all makes for one hell of a book. It's that rare nature book that is a page-turning adventure yarn. But Imperial Dreams is also a page turner with great information on birds, conservation, science, human and ecological history and more.
Gallagher is one of our best nature writers. If you're unfamiliar with his work, Imperial Dreams is a great place to start. It may be one of the few nature books that will keep you up into the night, and perhaps haunt your dreams. While it is unlikely to inspire you to book a trip to the Sierra Madre, it may well deepen your conviction to protect the spectacular wildlife that still is among us—before it's too late.