I'll never forget the excitement I felt when I watched a grainy B&W live TV image of Neil Armstrong take the first steps on the moon in 1969.
I had the same feeling today, only turned up to 11 on the thrill & wonder dial.  The Okeanos Explorer is currently on a mission to map and explore our Atlantic Coast submarine canyons, special places just off our shores yet never before been seen  by human eyes. (See live feed above.)
The Okeanos Explorer (America's Ship for Exploration) is pioneering what I think will become the new status quo model for ocean research – it's packed with technology and a state-of-the-art underwater research vehicle that streams high resolution video to any number of shore based scientists around the world. It's highly collaborative, cost efficient and no Dramamine is needed.
We at the Nature Conservancy have worked with partners for several years to advance understanding and conservation of ocean canyons – unambiguously special places from seafloor to sky where diverse marine life like ancient cold water corals, striped dolphin, marlin and storm petrels are found in higher abundance than anywhere else — concentrated ocean wealth that deserves special attention and stewardship.
Much of our ocean work at the Conservancy involves making maps and improving them with partners, in person and over the wires.  We look at colored dots, shapes, and lines showing how ocean life and people connect in special places and we find solutions that can sustain those connections in the face of a lot of daunting challenges.
But once in a while we need a nature-based reality check to remind us we really aren't talking about colored dots, to nourish the sense of wonder that drives us.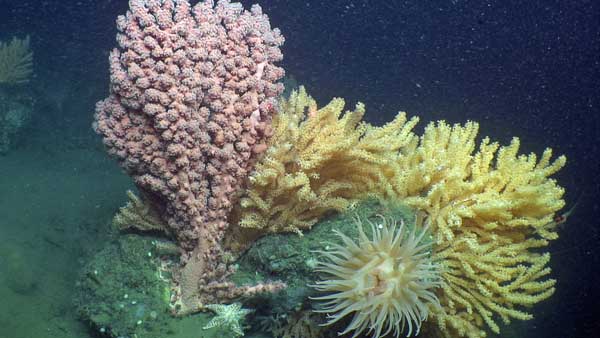 Today some of the Conservancy's scientists, government relations specialists, fundraisers, operations staff and partners turned on deep sea TV together and couldn't look away. This is what it sounded like (unedited comments compiled from numerous emails, text messages, and Skype chats):
"I wasn't going to tune in but you tempted me. It is SOOOOO cool!"
"It's like we're going diving together!"
"I wish I could steer it."
"I'm not sure I'm going to get any work done now!"
"It looks like it's snowing."
"It is marine snow. Floating down for billions of years and feeding all the crazy critters"
"WOW.  The minute I logged on, a right-eyed flounder swan right past the camera.  This could spell disaster for my afternoon."
I know – I'm glued to it!!!
"Is that purple thing an octopus??? And what was the big pink fish on the ledge?"
"OMG, what is that!"
"Is that a kind of Chimaera?  So much to learn!!"
"I totally want a huge whale or massive squid to swim in front of the camera out of the blue."
"My daughter watched the last feed with me for hours and wondered when we were going to see anything other than the "little white squigglies"
"Today's dive is amazing.  It really reminds me of watching the moonwalk as a young boy…only better."
"I know – the thought that that we are all seeing these scenes for the first time together!! 'Beauty too rich for use, for earth too dear!' as Shakespeare said…"
The Okeanos Explorer mission is scheduled to continue through August 16. Today's dive forecast is good for corals, fish and creatures that look like nothing you ever saw before (plus audio play by play and color commentary from some great scientists).   Check it out.